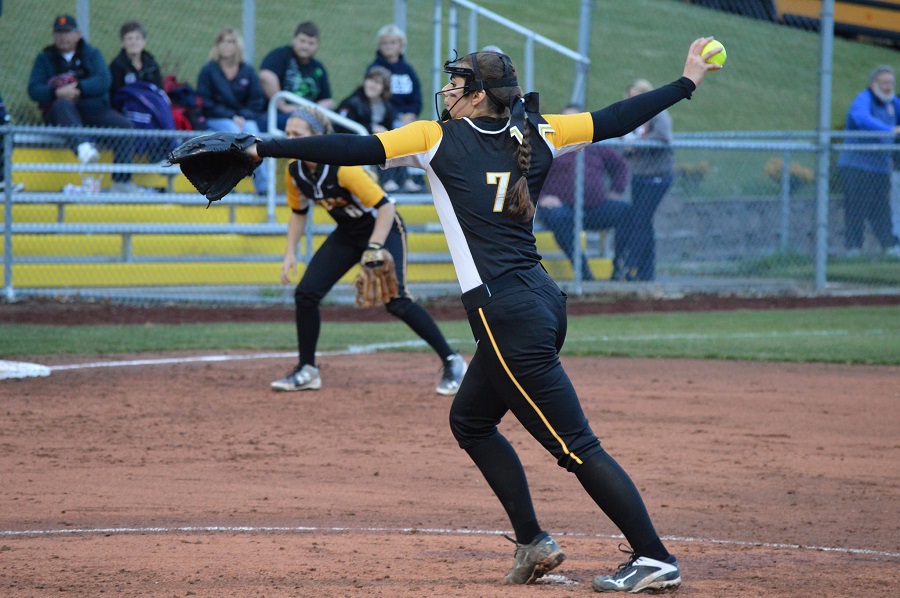 Tigers Trip Tribe To Take Title
The North Allegheny Varsity Softball Team traveled down McKnight Road into Ross Township to take on the North Hills Indians on Tuesday evening and came home with a an 8-0 victory to lock up its share of the Section 3AAAA championship. North Allegheny will share the title with the Shaler Area Titans, with whom they split this season, each team winning a one-run game on its home field. The teams finished with identical 13-1 section records.
North Allegheny senior pitcher Madi Beining recorded her seventeenth win of the season against only two losses in the shutout performance.  Beining allowed six hits, struck out eight, and did not walk a batter.
The Tigers struck in the top of the first when freshman designated player Kristen Chomos led off with a walk. Sophomore left fielder Anna Pilotta then roped a double into left-center field to advance Chomos to third. Following an out, freshman shortstop Rachel Martindale then doubled to right-center to drive in Chomos and Pilotta.  The score remained 2-0 until the fifth inning, when senior catcher Liz Scherer worked a walk and came around to score on Martindale's second double of the evening. Beining then doubled to drive home Martindale with run number four.
In the top of the sixth, the Tigers put it away with a four-run outburst. Junior right fielder Maddy DeRubbo, who had a three-for-four night, led off with a single. Chomos then followed with a single. Following a sacrifice by Pilotta, Scherer drove a ball to left field that was misplayed, allowing two runs to score. Martindale then walked, and following a wild pitch, Beining hit a single to drive in runs seven and eight. In addition to DeRubbo, Beining and Martindale also had three-hit performances for the Tigers.
The win also raises North Allegheny's overall mark to 17-2. The Tigers are scheduled to play at 7:00 tomorrow evening at NASH Softball Field vs. the Baldwin Highlanders, weather permitting.
Softball vs. North Hills, 5-10-16
| Score by Innings | 1 | 2 | 3 | 4 | 5 | 6 | 7 | | R | H | E |
| --- | --- | --- | --- | --- | --- | --- | --- | --- | --- | --- | --- |
| North Allegheny | 2 | 0 | 0 | 0 | 2 | 4 | 0 | | 8 | 13 | 1 |
| North Hills | 0 | 0 | 0 | 0 | 0 | 0 | 0 | | 0 | 6 | 2 |
WP - Madi Beining LP - Anna McNickle