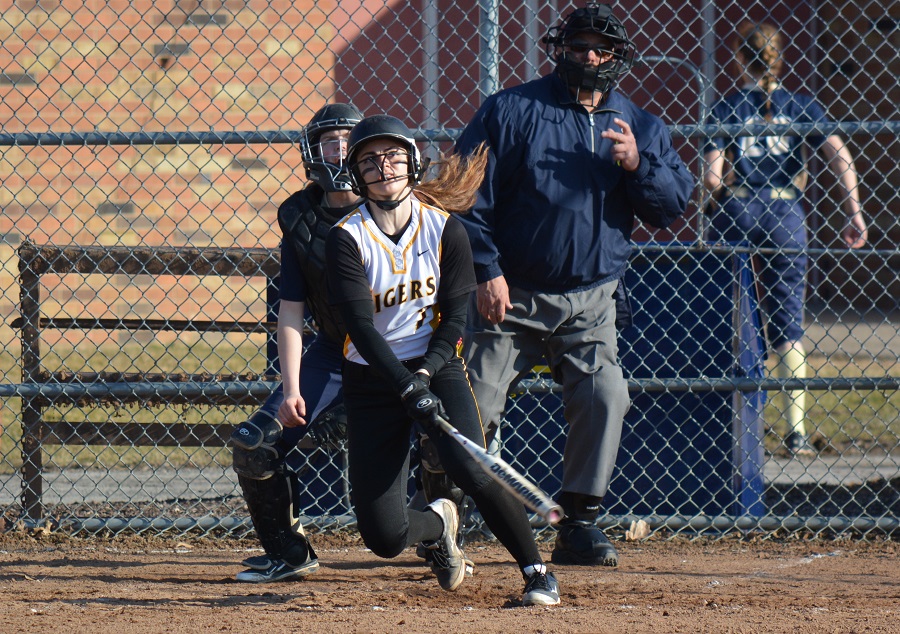 Tigers Turn To New Twist To Weather Tornado
The North Allegheny Varsity Softball Team traveled to Butler on Wednesday afternoon and, after discovering that it is indeed advantageous to score in the late innings, returned home with a solid 10-2 victory over the Golden Tornado at Butler High School. The Tigers never trailed, putting three runs on the board in the top of the first, with catcher Liz Scherer doubling home left fielder Mackenzie Gostomski, who had walked, and second baseman Emily Hogan, who had singled. The third run came across when first baseman Erica Jelinek, who had a three-for-four day at the plate, singled home courtesy runner Allie Green.  The Tigers added a single run in the third inning when Scherer lined a one-out single to center field. Pitcher Madi Beining reached on an error and Jelinek loaded the bases on an infield single.  Pinch hitter Logann Woodley then worked a walk to plate Green to give NA a 3-0 advantage.
Butler tightened the game with two runs in the bottom of the third when, with two outs, center fielder Hannah Hays and pitcher Emily McDonald both singled. A stolen base and an errant Tiger throw scored Hays and sent McDonald to third. An RBI single by shortstop Noel Pfabe tightened the score to 4-2, where it remained until the top of the seventh.
In the seventh, the Tigers exploded for six runs by sending ten batters to the plate.  The key hit in the inning was a three-run bases-clearing triple rocketed to deep left field by Gostomski, who, along with Scherer, also tallied three hits and three RBI's on the day. Center fielder Laura Cotter also had three hits and a Tiger RBI.
Pitcher Madi Beining picked up win number three with a complete game performance, allowing seven Butler hits, but also striking out seven while not walking a batter. The win raises the Tigers' record to 3-0 on the season and 3-0 in Section 3AAAA play. NA will next see action quickly when they travel to Brashear on Thursday for a 1:00 PM contest.
Line Score - NA Softball vs. Butler, 4/1/15
| Score by Innings | 1 | 2 | 3 | 4 | 5 | 6 | 7 | | R | H | E |
| --- | --- | --- | --- | --- | --- | --- | --- | --- | --- | --- | --- |
| North Allegheny | 3 | 0 | 1 | 0 | 0 | 0 | 6 | | 10 | 17 | 1 |
| Butler | 0 | 0 | 2 | 0 | 0 | 0 | 0 | | 2 | 7 | 1 |
WP - Madi Beining (3-0) LP - Emily McDonald