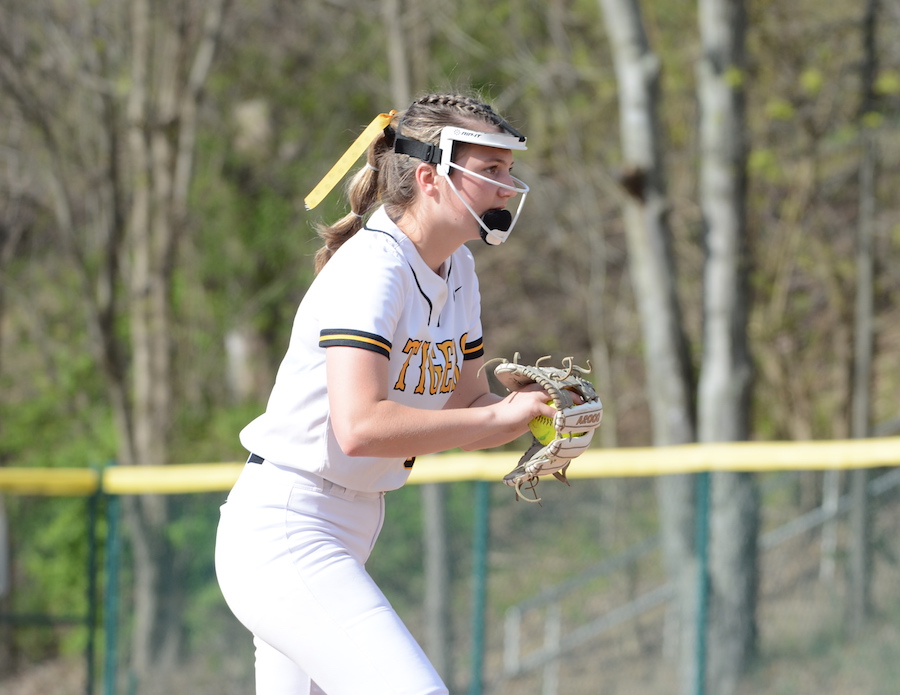 Tigers Upended by Rams In WPIAL Quarterfinals
For the second consecutive season, North Allegheny and Pine-Richland met up in the WPIAL Class 6A playoffs. Last year, the Tigers earned a 5-1 win over the Rams in the WPIAL semifinals. On Wednesday afternoon at Seneca Valley High School, the fifth-seeded Rams atoned for last year's defeat with a 5-1 victory over the fourth-seeded Tigers in the WPIAL Class 6A quarterfinals.
Pine-Richland starting pitcher, Izzy Sulesky, surrendered an RBI single to senior Meghan McDonough in the second inning as North Allegheny led early on, 1-0. With the bases loaded and only one out following the McDonough run scoring single, Sulesky wiggled out of the second-inning jam without any more damage. From there, Sulesky retired 17 consecutive batters to finish out the game as the winning pitcher.
The Rams tied the game at 1-1 in the fourth inning with an RBI single from Illy Aggelou. In the fifth inning with two runners on and two outs, junior Mackenzie Gillis delivered the biggest hit of the game with a go-head two-run double to pull Pine-Richland in front, 3-1. Pine-Richland added a pair of insurance runs in the top of the seventh thanks to a sacrifice fly by Marissa DeLuca and an RBI groundout courtesy of Aggelou. Aggelou went 2-for-3 with a walk and two RBI's.
Plotsko took the loss for the Tigers in a complete game effort in the pitcher's circle.
The senior class of McDonough, Mayson Brokos, Katie Lucas, Reagan Sheets and Sadie Kelly were named the Wright Automotive Players of the Game. Congratulations to all five players for a wonderful four-year career at North Allegheny. Additionally, congratulations to head coach Morgan Vescovi and all of the Tigers for another memorable season.
The 2023 season concludes for North Allegheny with a 14-7 overall record. The upstart Rams of Pine-Richland advance to the WPIAL semifinals with a 7-14 record to take on the top-seeded Seneca Valley Raiders.
Line Score - Softball vs. Pine-Richland - 05/17/2023
| Score by Innings | 1 | 2 | 3 | 4 | 5 | 6 | 7 | R | H | E |
| --- | --- | --- | --- | --- | --- | --- | --- | --- | --- | --- |
| Pine-Richland | 0 | 0 | 0 | 1 | 2 | 0 | 2 | 5 | 10 | 0 |
| North Allegheny | 0 | 1 | 0 | 0 | 0 | 0 | 0 | 1 | 4 | 0 |
WP - Izzy Sulesky LP - Sammy Plotsko (10-6)