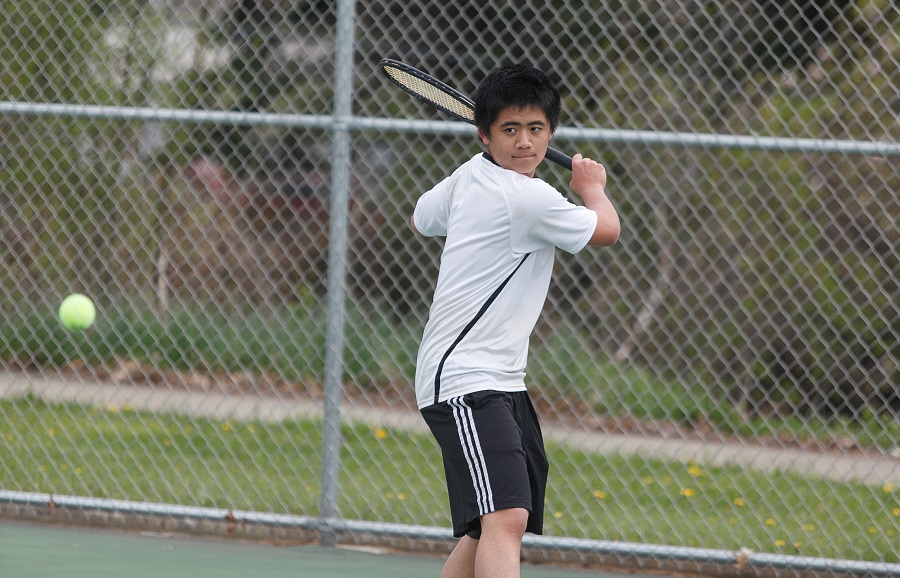 Tigers Welcome Hollidaysburg and Squeeze Out 3-2 Thriller
The Hollidaysburg Golden Tigers of District 6 traveled to Wexford on Wednesday afternoon to tangle with their Western PA counterparts in a new rivalry that started last season. North Allegheny made the first trip last season and Hollidaysburg reciprocated this year to play an exhibition match using the District 7 format. The end result was a 3-2 North Allegheny win, with all three points coming from singles play.
As the NA Tigers struggled in doubles play, senior Jared Isaacs defeated Max Sheetz at number one singles to record the first NA point and pull to within one point.  Sophomore Ivan Voinov defeated Sam Sky in straight sets in the number three slot to even the match at two each.  The clinching point came off the racquet of sophomore Richard Hofmann who battled past Rami Alkhafaji in a tense contest at number two singles.
The very talented Hollidaysburg squad pushed the Tigers to the limit, but NA was able to hang on and improve to 6-2 on the season. Thursday afternoon they travel to Knoch to resume Section 2 play, with match time scheduled for 3:30 PM.
Match Summary 3/30/2016
North Allegheny—3   Hollidaysburg—2
Singles
#1 Jared Isaacs (NA) def. Max Sheetz (H) 6-0, 6-0
#2 Richard Hofmann (NA) def. Rami Alkhafaji (H) 6-3, 7-5
#3 Ivan Voinov (NA) def. Sam Sky (H) 6-4, 6-3
Doubles
#1 Emre Cardakli/Josh Cobler (H) def. Andrew Xu/Andrew Chuirazzi (NA) 6-3, 6-3
#2 Anthony Menard/Nick Viduya (H) def. Mark Chuirazzi/Jerry Huang (NA) 4-6, 6-3, 6-2