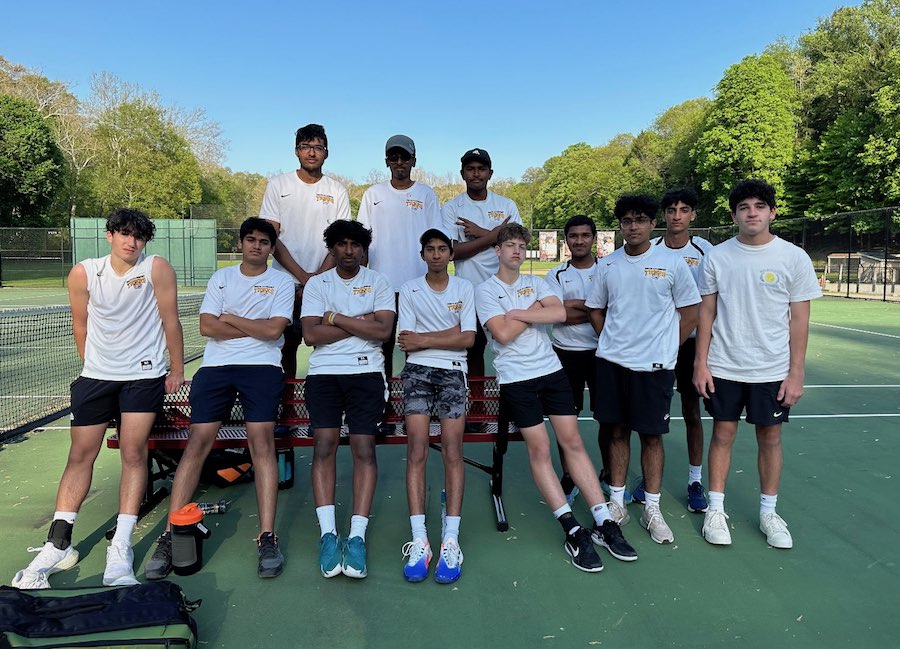 Tigers Win Come-From-Behind Thriller, Advance to WPIAL Finals
The WPIAL 3A Boys' Tennis Championships continued to unfold Tuesday and the Tigers found themselves in a dramatic match against South Hills rival, Upper St. Clair,  in the semi-final round at Sewickley Academy's Nichols Courts. Down by a 1-2 score and facing a match point in the 2nd doubles contest, the Tigers rallied to win a 3rd set tie-break to even the match.  Then a 3rd set win at 3rd singles decided the contest, with the Tigers taking the nail biter over the Panthers, 3-2.
First singles was manned by freshman Shaun Fernando, tangling with USC's ace, Ronan Gibbons.  Gibbons took the contest in a close match, 6-4, and 6-4, to give USC the early lead.  The Tigers evened the score from first doubles, where junior Amit Bhandari and sophomore Sri Thirumala won in straight sets, including a long tie break in the second.  Second singles concluded next as Ari Plutko defeated senior Manas Kathir to put the Tigers on the brink of defeat, trailing 2-1.  It seemed the best action of the afternoon was just starting.
Second doubles, led by freshmen Matt Kampi and Adhav Ramadas took the first set over Kyle Kerber and Jhoran Laffin 6-3.  They lost the 2nd by the same score.  The third set was appropriately tight and went to a tie break.  Facing a match point for the team contest, the duo dug in and reeled off three straight points to take the tie break (8-6) and their own contest, now tying the team match at 2.  All eyes then turned to center court, where freshman Evan Kaufman was battling at third singles with USC's Ari Plutko.  Kaufman took the first set at 6-3 and Plutko returned the favor in the 2nd with a 6-4 score.    The third set was contested in front of vociferous teammates, family, and friends and was an excellent display of competitive high school tennis.  Tied at 4-4, Kaufman broke Plutko 's serve  An early lead in the 5-4 game turned into a deuce game where Kaufman  then spun off two big winners to take the set, match, and team contest for the Tigers!
With the win the NA Tigers improve to 13-0 on the season and move to the championship round of the WPIAL playoffs.  It will be their first appearance in the final round since 2016.  The Tigers meet Gateway on Wednesday afternoon at the Swanson Tennis Center, located at Washington & Jefferson College, in Washington, PA.  Match time is scheduled for 3:30 PM.
Match Summary – 05/09/2023
North Allegheny 3, Upper St. Clair 2
Singles
#1 Ronan Gibbons (USC) def. Shaun Fernando (NA) 6-4, 6-4
#2 Daniel Wang (USC) def. Manas Kathir (NA) 7-6 (4), 6-2
#3 Evan Kaufman (NA) def. Ari Plutko (USC) 6-3, 4-6, 6-4
Doubles
#1 Amit Bhandari/Sri Thirumala (NA) def. Shawn Khurana (USC) 6-2, 7-6 (6)
#2 Matt Kampi/Adhav Ramadas (NA) def. Kyle Kerber/Jhoran Laffin (USC) 6-3, 3-6, 7-6 (6)