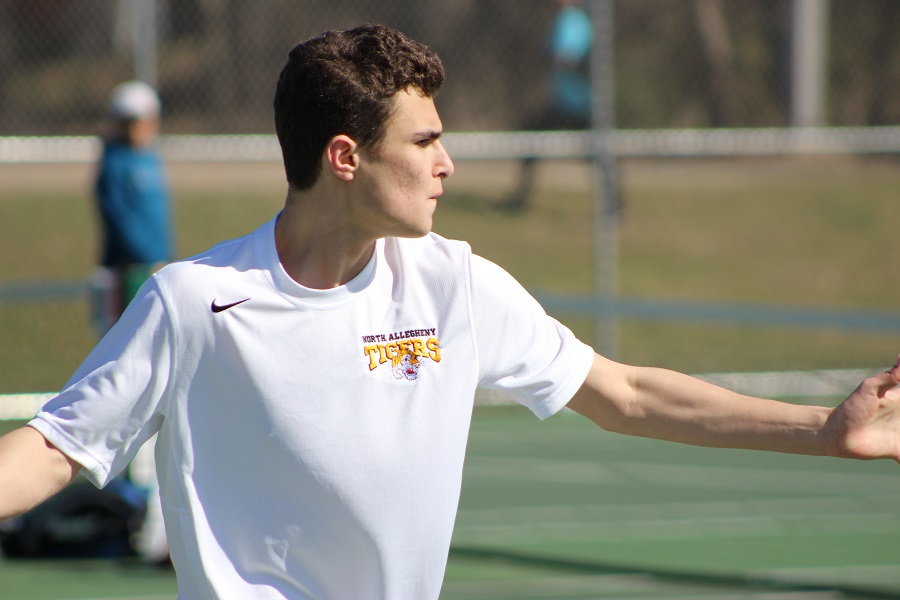 Tigers Win Critical Section Match 4-1 Over Pine-Richland
The Tigers continued Section 2 competition Friday afternoon indoors at the PURE Athletex complex constrained by a two hour time limit and used every available minute to defeat Pine-Richland in a tight contest. The strong rivalry played itself out again as two of the five matches reached a third set, and one match saw both sets decided by tie breaks.  When time ran out, the Tigers found themselves with the winning hand, 4-1.
The first team point came via number two doubles, as junior Reed Stasko and senior Anmol Anand breezed by Mike Brudy and Jared Roskin in straight sets.  Sophomores Mark Chuirazzi and Jerry Huang tangled with Jonah Krause and Nolan Rausch at first doubles and played an aggressive style that resulted in just enough service breaks to pull out a straight set victory.  The clinching Tigers' point came off the racket of third singles starter, junior Andrew Chuirazzi.  A first set win followed by a second set loss triggered a 3rd set which Chirazzi dominated from the start.  Adding to the Tigers' victory column was number two singles player, junior Ivan Voinov, who battled in a heavyweight style contest with Sid Iyer.  Both players traded multiple service breaks in each set resulting in two consecutive tie breaks, both of which were dominated by Voinov.  Rounding out play, two of the top singles players from Section 2 locked up in a three set match which Ben Vinarski took from junior Richard Hofmann.
With the win, the Tigers even their record to 4-4 on the season and 3-0 in section play. They continue Section competition Monday afternoon on the road against the Moon Tigers.  Match time is scheduled for 3:30 PM.
Match Summary – 03/31/2017
North Allegheny—4, Pine-Richland–1
Singles
#1  Ben Vinarski (P-R) def. Richard Hofmann (NA) 5-7, 6-2, 6-1
#2  Ivan Voinov (NA) def. Sid Iyer (P-R)  7-6 (3), 7-6 (2)
#3  Andrew Chuirazzi  (NA) def. Young Kim (P-R) 6-4, 2-6, 6-1
Doubles
#1  Mark Chuirazzi/Jerry Huang (NA) def. Jonah Krause/Nolan Rausch (P-R)) 6-4, 6-3
#2  Reed Stasko/ Anmol (NA) def. Mike Brudy/Jared Roskin (P-R) 6-1, 6-2