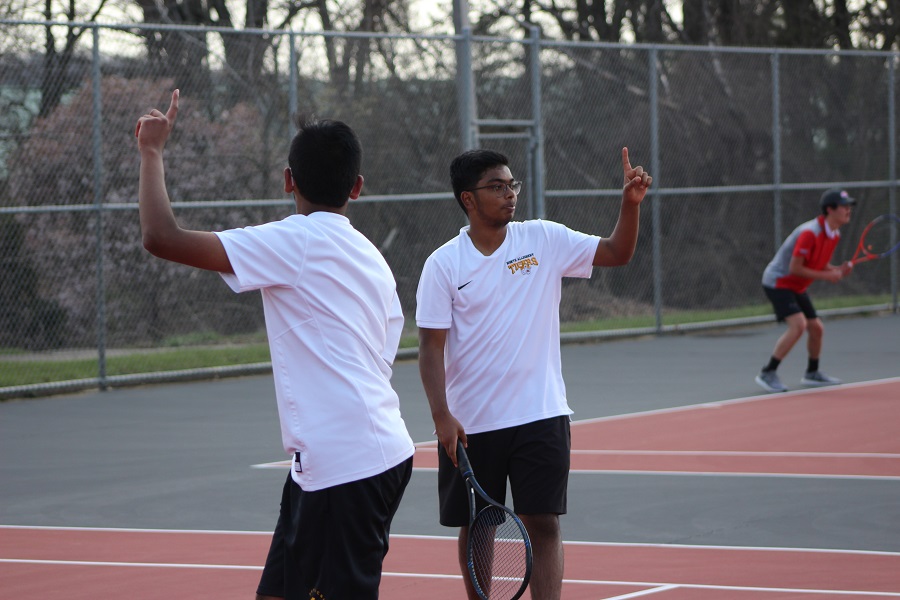 Tigers Win Section 2 Championship, Beat Sewickley Academy 4-1
The Tigers traveled to Nichols Field in Sewickley and won their 11th consecutive match and 7th straight section match by controlling Sewickley Academy for a 4-1 decision and the Section 2 crown.  On a perfect spring Monday, the Tigers' scoring started with junior Milun Jain and senior Greg Phillips at number two doubles, beating Neev Lamba and Aidan Ragoowansi in straight sets.  Next, Shomik Telang took the two singles match by beating Rohan Shah, also in straight sets.  The third and championship clinching point came from the rackets of sophomore Sri Bellamkonda and senior Krishna Naik as they defeated the tandem of Tage Mitra and Navin Rana in straight sets.
Rounding out play after the match was decided were two, three-set contests.  Sophomore Raj Ginde fell to Cole Rychel in three sets at three singles.   Perhaps the battle of the day was at one singles, in a contest that took two hours and forty-five minutes to complete.  Chase Davidson and Jonathan Varghese waged an epic battle of outstanding cross court shots with incredible pace.  Davidson took the first set 6-2 and Varghese counterpunched quickly with a 6-3 win in the second.  The third set saw Davidson's intensity and ability to fend off the Sewickley ace for a 6-3 decision, giving the Tigers their 4th point on the day.
With the win, the NA Tigers improve to 11-1 on the season (7-0 in Section 2) and await their seed for the WPIAL Team Playoffs scheduled to begin next week.    They now pause team play as they send two duos to the WPIAL AAA Doubles Championship Tuesday afternoon at Shady Side Academy.  First round competitions are scheduled to begin at noon.  Check in with the North Allegheny Sports Network for updates and scores.
Match Summary – 04/26/2021
North Allegheny  4    Sewickley Academy  1
Singles
#1  Chase Davidson (NA) def. Jonathan Varghese 6-2, 3-6, 6-3
#2  Shomik Telang (NA) def. Rohan Shah (SA) 6-1, 6-4
#3  Cole Rychel (SA) def. Raj Ginde (NA) 5-7, 6-4, 6-2
Doubles
#1  Krishna Naik/Srivatsa Bellamkonda (NA) def. Tage Mitra/Navin Rana (SA) 6-2, 6-3
#2  Greg Phillips/Milun Jain (NA) def. Neev Lamba/Aidan Ragoowansi (SA) 6-2, 6-1