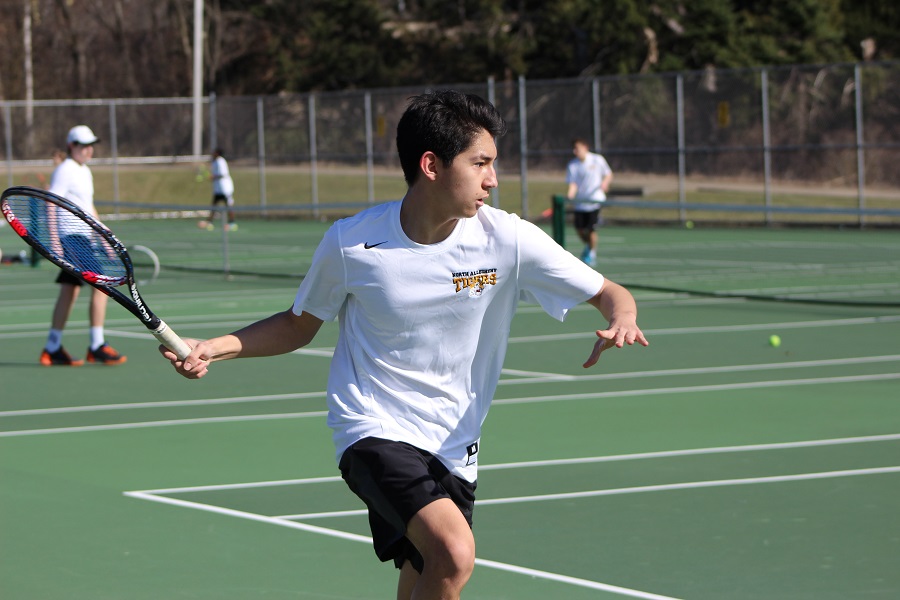 Tigers Win Section Opener 5-0 Over Seneca Valley
The Tigers Varsity Tennis Squad opened Section 2 play Friday afternoon, indoors at the PURE Athletex Complex, against the Seneca Valley Raiders. The Tigers captured the match with a shutout of their Butler County rivals, 5-0, taking each individual contest in straight sets.
The Tigers continued with a senior dominated line-up at singles in the form of Richard Hofmann, Ivan Voinov, and Andrew Chuirazzi.  Juniors manned first doubles with the duo of Mark Chuirazzi and Jerry Huang.  The second doubles pairing consisted of senior Reed Stasko and junior Rohan Cowlagi, making his season debut.
With the win, the Tigers evened their early season record at 1-1. The Tigers return to action with more section play Tuesday afternoon, as they travel to Pine-Richland High School to take on the Rams.  The starting time is scheduled for 3:30 PM.
Match Summary – 03/23/2018
North Allegheny —5,  Seneca Valley -0  
Singles
#1 Richard Hofmann (NA) def. Jeremy O'Connor (SV) 6-1, 6-0
#2  Ivan Voinov (NA) def. Luke Peffer (SV) 6-0, 6-0
#3  Andrew Chuirazzi (NA) def. Jarrett Johnston (SV) 6-0, 6-0
Doubles
#1 Mark Chuirazzi/Jerry Huang (NA)  def. Stephen Vandrak/Jacob Johnston (SV) 6-3, 6-0
#2  Reed Stasko/Rohan Cowlagi (NA) def. Parker Logue/Joe Bajwa (SV) 6-0, 6-0