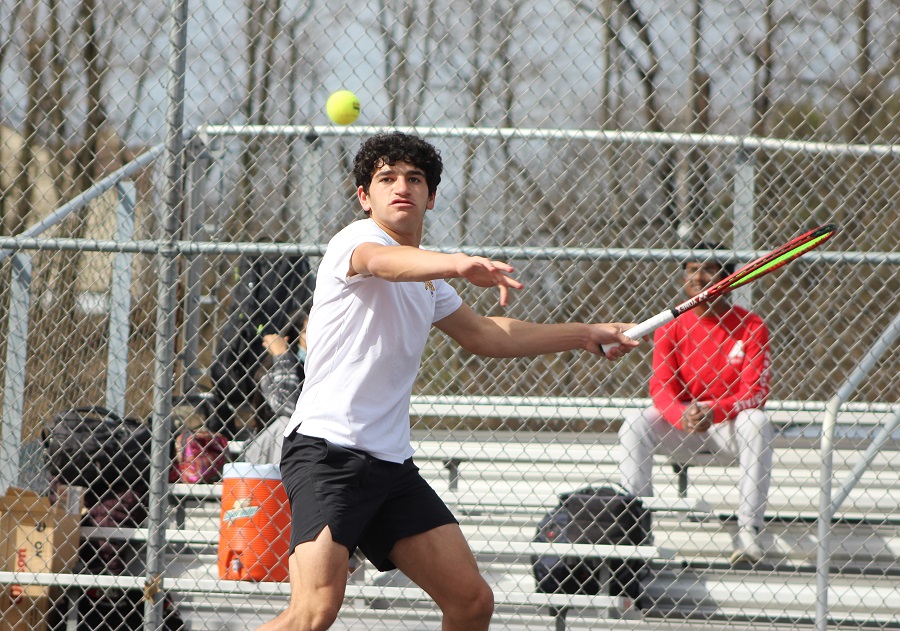 Trey Davidson Reaches WPIAL Singles Championship
Junior Trey Davidson and junior Manas Kathir represented both the Tigers and Section 2 at the WPIAL 3A Boys' Singles Championship, held at Bethel Park High School Tuesday afternoon.  Seeded 11th overall, Kathir tangled with Shady Side Academy's ace and the tournament's sixth seed, David Mnunskin, in the first round.  Kathir controlled the pace starting several games into the contest and pulled away with a 10-2 win in the pro set.  Davidson, the second overall seed, faced 15th seeded Braden Yokopenic of Baldwin in the first round and shut out his opponent 10-0 in their pro set.
The quarterfinals took a different turn for Kathir.  Facing Franklin Regional senior Andrew Allen, the third seed, Kathir traded outstanding shots with the Franklin Regional ace.  Down 8-6, he appeared ready for a break that would have had him serving to tie the contest.  Instead, Allen held.  Kathir held to keep it at 9-7, but Allen then served out the set for a 10-7 win in a tightly contested, well-played match-up.  Davidson's quarterfinal opponent was Mt. Lebanon's number one player, senior Phil Gorun, the tournament's seventh seed.  Davidson was able to keep Gorun off balance for most of the match and completed his contest with a 10-2 win.
Reaching the semi-finals, Davidson's opponent was Andrew Allen, who competed against Kathir in the quarters.  Davidson took the first set by a 6-1 score.  Ahead 3-1 in the second, Davidson saw Allen fashion a furious comeback to take the set 6-4.  The third and deciding set was an instant classic.  Up 3-2, Davidson was hobbled by debilitating leg cramps.  Allen held serve and then quickly broke to take a 4-3 lead.  Summoning an inner courage while literally playing on one leg, Davidson then won three games in a row by breaking Allen, holding serve, and breaking him again to fashion a 6-4 win in the set and the match.  Both players received a well-deserved standing ovation at the end of the exciting contest for their outstanding play.
Davidson will play South Fayette's Jake Patterson, the No. 1 seed, for the WPIAL Championship Wednesday afternoon at the PURE Athletex complex.   Davidson will square off at noon with Patterson, the defending champion.  Both players have qualified for the 3A PIAA Singles Championship Tournament next month in Hershey. Congratulations to Trey Davidson and Manas Kathir for their exceptional play.
WPIAL AAA Boys Singles Championship – 04/12/2022
 First Round
#2 Trey Davidson (NA) def. #15 Braden Yokopenic (B) 10-0
#11 Manas Kathir (NA) def. #6 David Mnunskin (SSA) 10-2
Quarterfinal Round
#3 Andrew Allen (FR) def. #11 Manas Kathir (NA) 10-7
#2 Trey Davidson (NA) def. #7 Phil Gorun (Mt.L) 10-2
Semifinal Round
#2 Trey Davidson (NA) def. #3 Andrew Allen (FR) 6-1, 4-6, 6-4