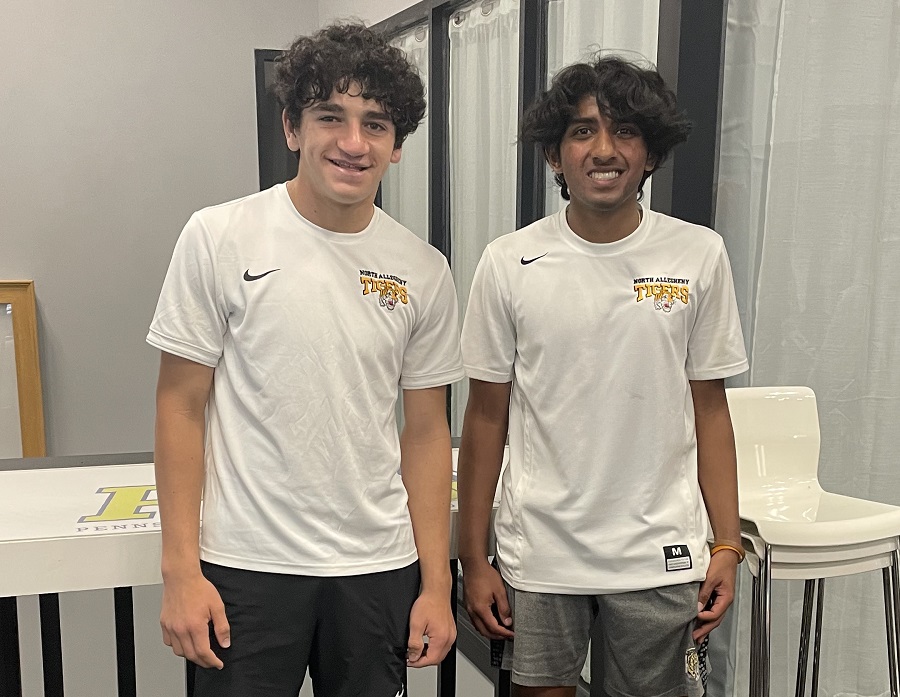 Trey Davidson Wins Section 2 Singles Championship
Moved indoors to the PURE Athletex facility due to weather conditions, the WPIAL AAA Section 2 Singles Tournament resumed Thursday afternoon, starting with the semi-final round.  The No. 1 seed, North Allegheny's sophomore, Trey Davidson, defeated Sewickley Academy's freshman and the overall fourth seed, Severin Harmon in straight sets.  The other semi pitted North Allegheny's junior, Manas Kathir, the No. 4 seed against Moon's junior, Anthony Lounder, the No. 2 seed.  Lounder, Moon's ace player, won the match-up in straight sets.
The third-place match saw Kathir bounce back to take the contest against Harmon in straight sets.  The first set was decided in a tie-break and Kathir forced several breaks to take the second.
The championship match between Davidson and Lounder was a rematch of the team competition against Moon last week, where Davidson had prevailed.  Using a dominant serve that played very hard to return, Davidson was able to establish net presence to control the match in straight sets and earn the crown of section champion.  Trey Davidson joins his brother, Chase, who won the Section 2 tournament last year, also against Lounder. Congratulations to Trey and Manas for representing North Allegheny so well in the Section 2 Tournament.
All four competitors move on to the WPIAL Singles Tournament to be held April 12 and 13.  The competition draw will be established and posted by the WPIAL Tennis Committee by Friday evening. In the meantime, the Tigers' return to team action on Friday with an important section match on the road at North Hills.  Match time against the Indians is scheduled for 3:30 PM.
Section 2 Singles Tournament Match Summaries – 04/07/2022
Semi-Finals:
#1 Trey Davidson (NA) def. #4 Severin Harmon (SA) 6-1, 6-4
#2 Anthony Lounder (MA) def. #3 Manas Kathir (NA) 7-5, 6-1
 3rd Place Match:
#3 Manas Kathir (NA) def. #4 Severin Harmon (SA) 7-6 (4), 6-3
 Championship Match:
#1 Trey Davidson (NA) def. #2 Anthony Lounder (MA) 6-3, 6-1