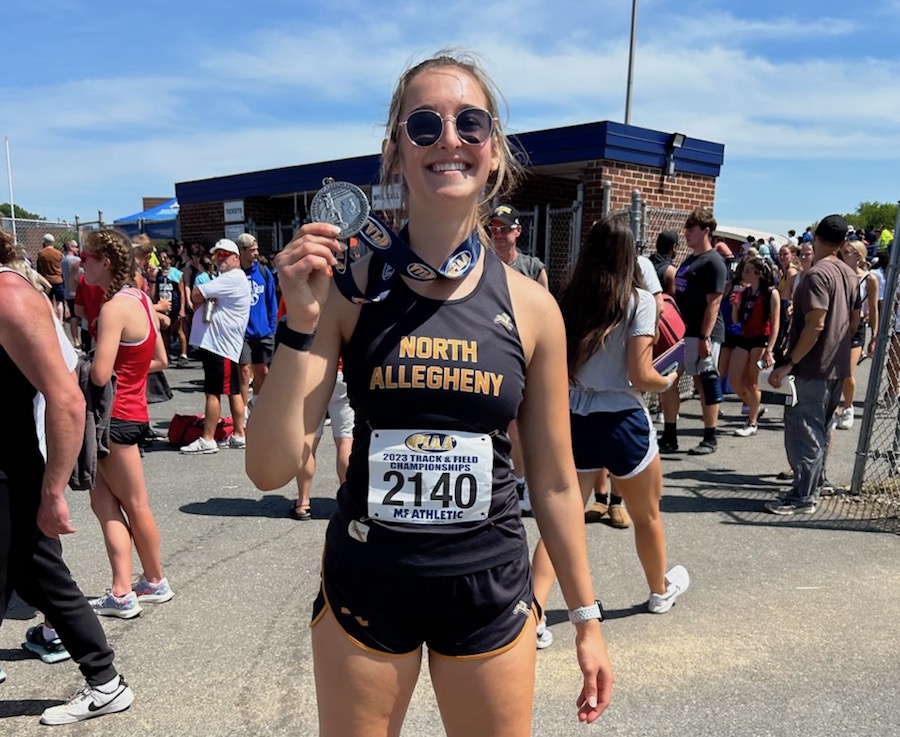 Two School Records Broken At PIAA Championships
Two North Allegheny school records fell on Saturday at the PIAA Class AAA track and field championships at Shippensburg University. Senior Alaina Fantaski won state silver with a record-breaking performance in the Javelin Throw. Fantaski's throw of 143-3 shattered a record that stood for 22 years. The former mark of 134-8 was set in 2001 by Missy Cekan.
Sophomore Robin Kucler placed fourth in the 3200-meter run and set a new school best in the process. Robin Kucler's time of 10:21.38 broke Clara Savchik's former school-record time of 10:21.65 set in 2017.
In addition to Robin Kucler's fourth-place finish in the 3200m, her twin sister Wren Kucler followed right behind with a fifth-place medal-winning performance. In day one of the PIAA Championships, Wren Kucler also took eighth place in the 1600m Run.
Rounding out the podium-performances for the Lady Tigers was sophomore Isabella Costa with a fifth-place effort in the Long Jump with a leap of 17-11.50. Overall, the NA Girls totaled a team score of 22, good for seventh place and just 29 points shy of state champion Haverford.
The NA Boys also had a medal-winning performance courtesy sophomore Jack Bertram, who placed eighth in the 3200m Run with a time of 9:09.64.
Additionally, during the course of the weekend's festivities, head coach John Neff was formally inducted into Pennsylvania High School Track and Field Hall of Fame.
The PIAA championships concludes another outstanding season for the North Allegheny track and field team, which included a WPIAL championship for both the NA Boys and Girls teams. Congratulations to head coach Neff and the entire team for a memorable 2023 season.
(Photo above of WPIAL medal winners in the 3200m courtesy of the WPIAL).