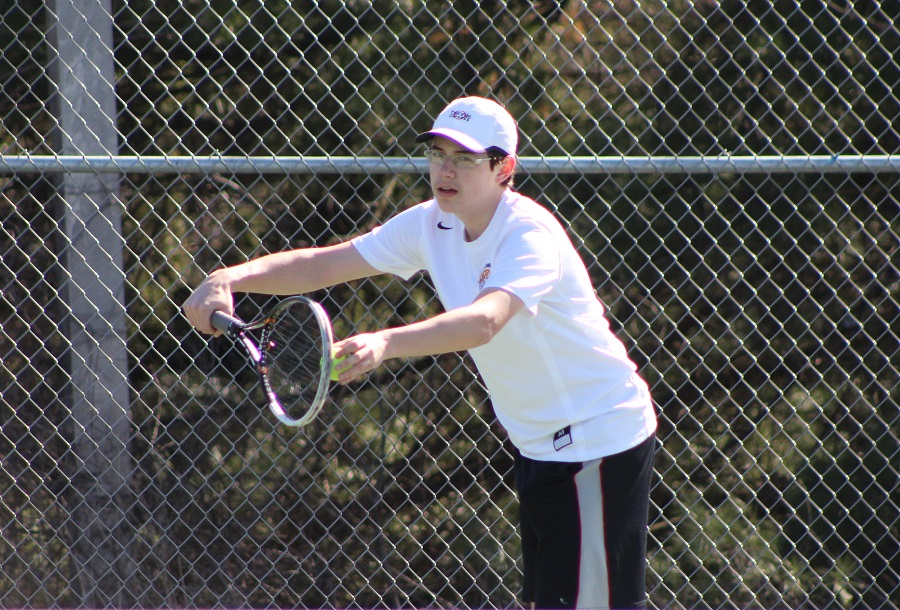 Voinov Advances to Section 2 Singles Final
On a warm and windy Wexford Monday, two Tigers made their mark on the WPIAL AAA Section 2 Singles Tournament. The first day of play was conducted on the NASH courts, and senior Ivan Voinov and junior Jerry Huang represented North Allegheny's tennis program.  The contest is single elimination, and rounds one and two consisted of single, 10 game pro-sets.  In first round action, Voinov defeated Zach Greene of Mars while Huang defeated Stephen Vanerak of Seneca Valley.  The quarterfinal round saw Voinov take on Pine-Richland's number one singles player, Young Kim, and Voinov prevailed again.  Huang ran into the number one seed and defending champion, Logan D'Angelo, of Moon in the quarters, where he led early and played valiantly but eventually bowed out.  The next phase came for Ivan Voinov in the semi-final round.  The number four overall seed in the tourney, Voinov was matched against the number two seed and Hampton's number one singles player, sophomore Ben Ringeisen.
The duo traded early service breaks but Voinov secured one more late in the first set to take a 1-0 lead. Again, trading breaks in the second set, Voinov pulled away on the windy day and took the contest in straight sets.  Voinov advances to the championship match Tuesday afternoon against Logan D'Angelo, of Moon.  Match time is set for 2:00 PM on the NASH courts.
WPIAL AAA Section 2 Singles (Day 1)
Round One
Ivan Voinov (NA) def. Zach Greene (Mars) 10-0
Jerry Huang (NA) def. Stephen Vanerak (SV) 10-1
Qtr. Finals
Ivan Voinov (NA) def. Young Kim (P-R) 10-2
Logan D'Angelo (Moon) def. Jerry Huang (NA) 10-6
Semi-Finals
Ivan Voinov (NA) def. Ben Ringeisen (H) 6-4, 6-3
Logan D'Angelo (Moon) def. Ted Donegan (H) 6-0, 6-0