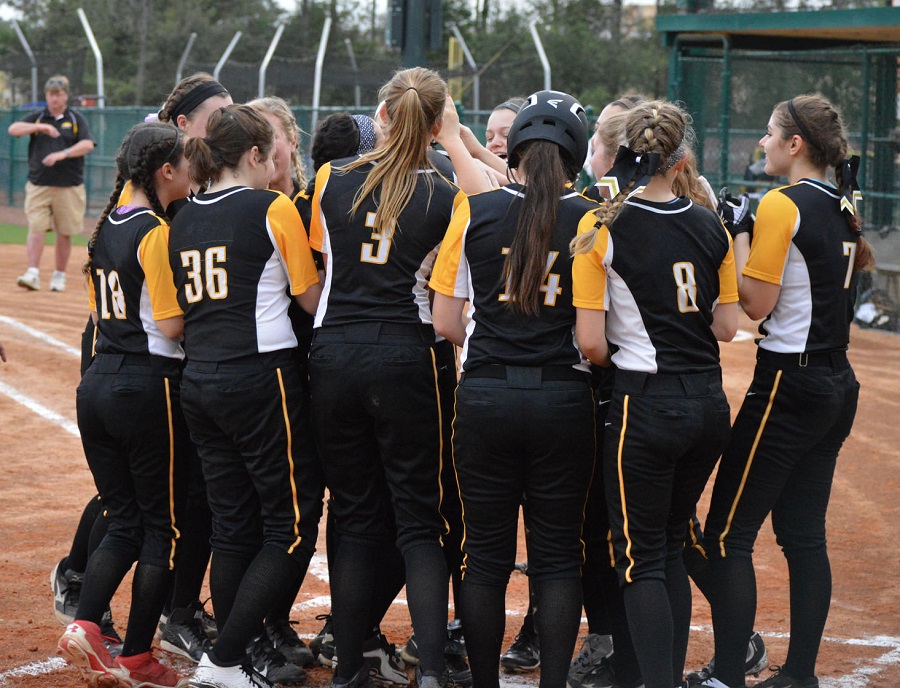 Wildcats End Tigers' Run, 3-0
The Greater Latrobe Wildcats brought an end to the North Allegheny Varsity Softball Team's 2016 campaign with a 3-0 victory on Tuesday afternoon at California University's Lilly Field. As has been the case on previous occasions, the Tigers left seven runners on base, including three in an exciting bottom of the seventh. Latrobe scored the only runs of the game on a two-out, three-run home run over the left field fence by shortstop Karley Kovatch. A Tiger error earlier in the inning made the runs officially unearned, but Kovatch's hit nonetheless proved to be the difference.
North Allegheny staged a strong comeback attempt in the bottom of the seventh. Freshman designated player Kristen Chomos singled to shortstop, and following two outfield fly-ball putouts, senior first baseman Mollie Benvenuto singled to right center to advance Chomos to second. Senior second baseman Lacey Hilderbrand kept NA's hopes alive by singling to left field to load the bases, but the Tigers could get no closer as a Tiger popup to second base ended the threat as well as NA's season.
Meredith Carr earned the win for Latrobe, with Tiger senior Madi Beining taking the loss despite a strong performance, allowing seven hits while striking out four and walking two. Despite the loss, the Tigers finished an excellent season with a record of 19-4, with the four losses coming by a total of seven runs. Tuesday's finale marked the only time in 2016 that NA was shut out. The 19-4 record included a 13-1 mark in Section 3-AAAA play, where they shared the Section Championship with the Shaler Area Titans, with whom they split the season series.  North Allegheny also advanced to the W.P.I.A.L. Semi-Final Round, where they dropped a 2-1 decision to the reigning Quad-A Champion Hempfield Spartans.  Congratulations to the Tigers on an outstanding season, and best wishes to graduating seniors Madi Beining, Mollie Benvenuto, Allie Green, Lacey Hilderbrand, Laura Ryder, and Liz Scherer for excellent NA Softball careers.
Softball vs. Latrobe, 5-31-16
| Score by Innings | 1 | 2 | 3 | 4 | 5 | 6 | 7 | | R | H | E |
| --- | --- | --- | --- | --- | --- | --- | --- | --- | --- | --- | --- |
| Latrobe | 0 | 0 | 0 | 0 | 3 | 0 | 0 | | 3 | 7 | 0 |
| North Allegheny | 0 | 0 | 0 | 0 | 0 | 0 | 0 | | 0 | 7 | 2 |
WP - Meredith Carr LP - Madi Beining