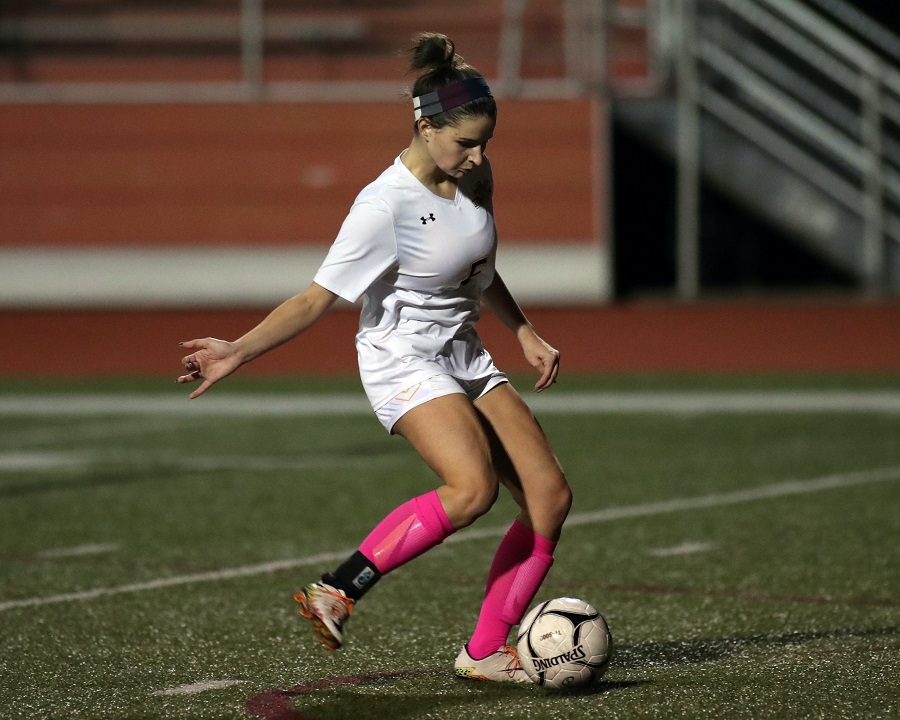 NA Student-Athlete Profile: Senior Defenseman Bella Pietropola
A three-year starter since her freshman season, senior Bella Pietropola had been an integral part of the North Allegheny girls' soccer team. However, an injury to her right ankle prior to the 2019 season left the NA defenseman disheartened about the prospects of playing her senior year.
Following surgery on Aug. 16, a tough road of rehab and physical therapy loomed ahead. Throughout the rehab process, Pietropola continued to support her teammates even though she couldn't actively participate on the field.
"I went to every practice and every game and I was as encouraging as I could," said Pietropola. "I think the favor was returned when I came back and my teammates were just as supportive when I stepped on the field."
Initially, Pietropola had targeted a recovery by the start of the WPIAL playoffs. Ahead of schedule, and after a seven-week absence, Pietropola made her return to the pitch on Oct. 9 during a 3-0 win over Butler.
"That game, I was extremely nervous because it was my first time back. All of my teammates were so encouraging and helpful that they really made my transition back onto the field easier."
Being extra careful with his standout defenseman coming off an injury, North Allegheny head coach Chuck Kelley proceeded with caution and judiciously played Pietropola in the subsequent games. While she didn't return to a starting role, her mere presence on the field was an inspiration to her teammates.
Pietropola's most awe-inspiring moment came in the WPIAL Class AAAA semifinals against Peters Township. With North Allegheny and Peters Township deadlocked 1-1 through double overtime, the contest proceeded to penalty kicks. As the final Tiger to take her shot in PK's, Pietropola delivered the game-clinching goal that propelled North Allegheny to the WPIAL championship game. Her teammates swarmed on to the field as a memorable celebration ensued following Pietropola's dramatic marker.
"I think even though my senior season was difficult for me, that moment is one that I'll remember forever. I was so happy to finally be able to contribute my senior year and help the team on their journey."
The Tigers trek toward a title continued just days later with a 2-0 win over Norwin in the WPIAL championship game for the first District 7 title in NA girls' soccer program history.
"It was amazing. It was like a dream come true."
Pietropola's dreams of playing soccer began when she was seven-years old. Playing for the North Allegheny travel youth soccer team, Pietropola learned the game from her father, Joe, who was the youth team's head coach.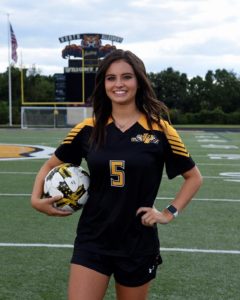 "I think because (my Dad) has a coaching background – he's been able to help me extra. He always gave me pointers before the games and after. That really helped me carry on throughout high school as well."
While playing for the NA youth travel team, Pietropola also formed an extraordinary relationship with a group of teammates that she would ultimately win a championship with years later.
"A lot of us had played together since we were very young, and played on the NA travel team and middle school team. To come such a long way and win a WPIAL title with them was such an amazing experience that I know none of us will ever forget.
"I think the bond that we created from playing for so long is ultimately what led us through the playoffs together."
With her athletic career concluding triumphantly at North Allegheny, Pietropola will not play soccer in college. Next year, Pietropola will begin her studies at Ohio State University where she'll pursue a degree in nursing.
(Featured photo above courtesy of David Hague/Pittsburgh Soccer Now.)