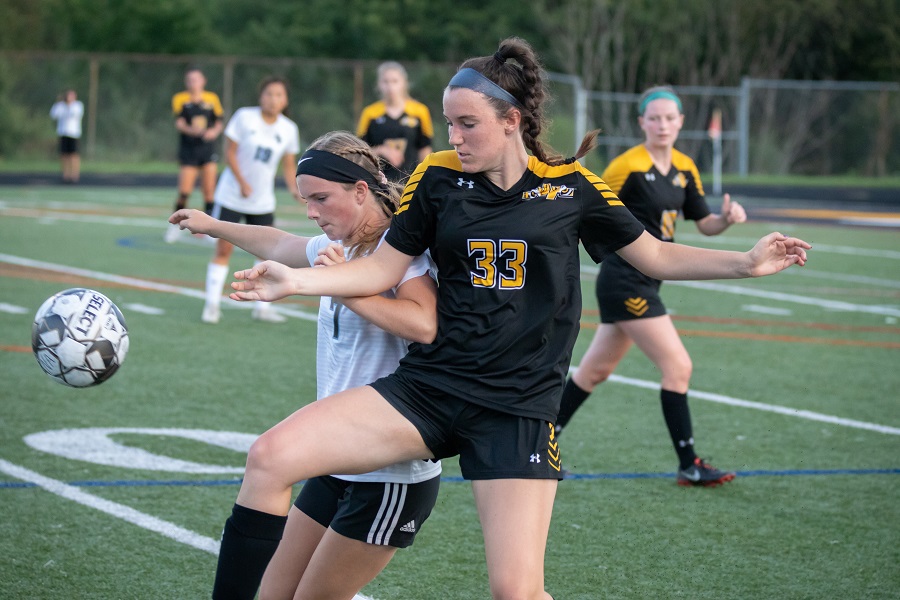 Student-Athlete Profile: Senior Defenseman Natalie Mudd
During a banner season for the 2019 North Allegheny girls' soccer team, the Tigers captured their first undefeated section crown and the first WPIAL title in program history. While the Tigers boasted several explosive players on offense, the black and gold also owned a defense that left opponents black and blue.
The NA defense, along with junior goalie Madison Vukas, blanked nine opponents during the course of the season, the most since posting nine shutouts in 2017. The backbone of this stingy unit was senior Natalie Mudd. Anchoring the left center back position, Mudd collaborated with fellow defenders Riley Miara, Alexa Spano and Tulasi Syamala to compose one of the best defensive groups in the WPIAL.
"I think working with your other defenders is key," said Mudd about NA's defensive teamwork. "It's impossible to play defense by yourself. As long as you work with your teammates, and you know what you should be doing, and do it with confidence, you can play good defense."
Communication was another important component of the Tigers' suffocating defense. With her positioning on defense, Mudd essentially served as the quarterback of the back line.
"I definitely yell my fair share while I'm out there. I think it comes as a defensive center back's job to be vocal just because they can see the field and tell people what's happening."
Originally from Colorado, Mudd and her family moved to western Pennsylvania when she was 10-years old. Playing a variety of sports growing up, Mudd narrowed her focus on soccer by the time she reached middle school.
"My eighth-grade year, we started winning games and I thought it was fun. I got to be a starter and that's when I started playing defense. I never played defense until then. (The coaches) put me on defense and I really liked the position."
Ready to begin her high school career, Mudd sustained a setback prior to her freshman season when she suffered a torn plantar fascia. The injury cost Mudd half of her freshman year and she spent time on the JV roster through her sophomore season.
As a sophomore, Mudd continued her physical therapy throughout the year and her hard work paid off by seasons end. During the 2017 WPIAL playoffs, one of the starting center backs went down with an injury. Now fully healthy, Mudd made her first career varsity start for North Allegheny in the WPIAL quarterfinals against Pine-Richland. The Tigers upset the top-seeded Rams and Mudd was part of a defense that posted a shutout in a 2-0 victory over their archrivals.
The following season in 2018, Mudd was a full-time starter on defense and she maintained that position through North Allegheny's sensational run to a WPIAL title in 2019.
"It was honestly the perfect year. I loved my teammates. They're all such sweet people and hard-working people. The fact that we were a great team together, we liked each other and worked well together, it worked out for us and everything kind of clicked."
When they reached the WPIAL championship game last fall, the Tigers faced a Norwin team that had knocked them out of the playoffs in 2017 and 2018. This time around, however, the North Allegheny defense made sure the high-powered Norwin offense was not a factor.
"We kept holding our line and we kept on pushing. In the second half, we hit them with more energy than they hit us with. That was a big turning point for us."
After a scoreless first half, second-half goals by Sarah Schupansky and Hannah Kirkpatrick was all that NA needed as the defense shutout the Knights, 2-0, for the program's first WPIAL crown.
"It didn't really hit me until later that night. I think I was crying tears of joy. I was just really proud of everyone more than anything."
Off the pitch, Mudd is the leader of the National English Honor Society and is a member of the National Honor Society at North Allegheny. Next year, Mudd will leave her soccer career behind and will return to her native state of Colorado where she will attend the Colorado School of Mines.
"My extended family all lives in Colorado so it'll be nice to see them. I loved the school itself, the atmosphere, the campus and its goals for majors as well. I'm a very STEM-oriented person and I wanted to go to a school that focused on those areas."
Mudd plans to major in Biochemistry and is considering a minor in Pyrotechnics.