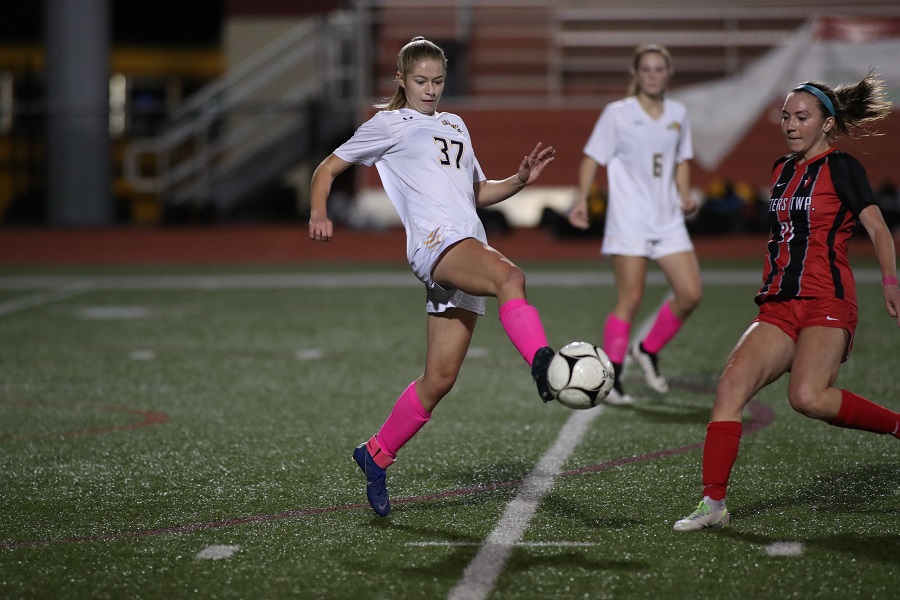 Student-Athlete Profile: Senior Midfielder Sophia Spano
On most championship teams, there is often a close-knit and family-like atmosphere between the players and coaches. For Sophia Spano, a senior midfielder on the 2019 WPIAL champion North Allegheny girls' soccer team, that metaphor is instead a reality.
Spano took up soccer in kindergarten and has spent most of her life playing alongside, or against, her younger sister Alexa.
"In our free time, we were always outside practicing and we definitely made it as competitive as we could, because you know, it's my sister," said Spano with a laugh. "We definitely didn't make it easy on each other."
With just two years separating them, the Spano sisters have spent the past two seasons playing together on the North Allegheny girls' soccer team. On the 2019 squad, Sophia served as a starting midfielder and Alexa, a sophomore, was a starting defenseman. Both played pivotal roles on NA's path toward a title.
"Not only was it great to win WPIALs my senior year, but the thing that really made it special was being able to win it alongside my sister.
"Because we both play soccer and we're so close in age, we definitely made it more competitive for each other when we were practicing and doing different drills. She definitely motivated me to be a better player as well."
With the Spano sisters helping pave the way, North Allegheny had its best season ever. The Tigers earned their first undefeated section crown with a 12-0 record, won the first WPIAL championship in program history, reached the PIAA quarterfinals and finished the year with a remarkable 18-3-1 overall record.
"It was definitely a season to remember. It was great to leave that legacy at North Allegheny."
Spano's interest in soccer began at a young age. Her father, Phil, starred on the pitch at Shady Side Academy and trained as a goalkeeper with the Pittsburgh Spirit, a professional Major Indoor Soccer League team in the 1980's, as part of their practice squad while in college.
"He gave me the insight on soccer before I learned the sport itself," said Spano of her father. "Since I had someone so close to me (to learn from), I was able to get a better grasp on the sport and learn it quickly."
After playing defense through most of middle school, Spano was moved to the midfield by the time she reached high school. It was a position she would keep for the remainder of her North Allegheny career.
Serving as the Tigers anchor in the midfield, Spano was named second-team all-section by the Big 56 Conference in back-to-back seasons in 2018 and 2019. Prior to her senior season, Spano was voted a team captain by her peers.
"That was really such an honor as well…My teammates voted for who they thought best fit the position of a captain so for them to look up to me as a teammate and a leader, really felt great."
Not only a leader on the pitch, Spano is also leader in the classroom and the community. Involved in a number of extra-curricular activities, she is a member of the National Honor Society, Key Club, National English Honor Society and Ski and Snowboard Club. She was a leader for GOLD (Girl's Only Leadership Development), tutored young students at the Vincentian Home, and volunteered at World Vision and the Light of Life Mission in downtown Pittsburgh.
Additionally, and one of Spano's favorites, she assists North Allegheny head coach Chuck Kelley at various soccer camps for seventh and eighth graders.
"The girls can learn from the upperclassmen what it's really like to play soccer. It felt great to inspire them and to show them what they can be when they get to high school."
Coming from a long line of Buckeyes within her own family, Sophia will attend The Ohio State University next school year where she'll study at the Fisher School of Business. She also hopes to continue playing soccer on the OSU club soccer team.
(Featured photo above courtesy of David Hague/Pittsburgh Soccer Now.)