View News For
2023-2024 News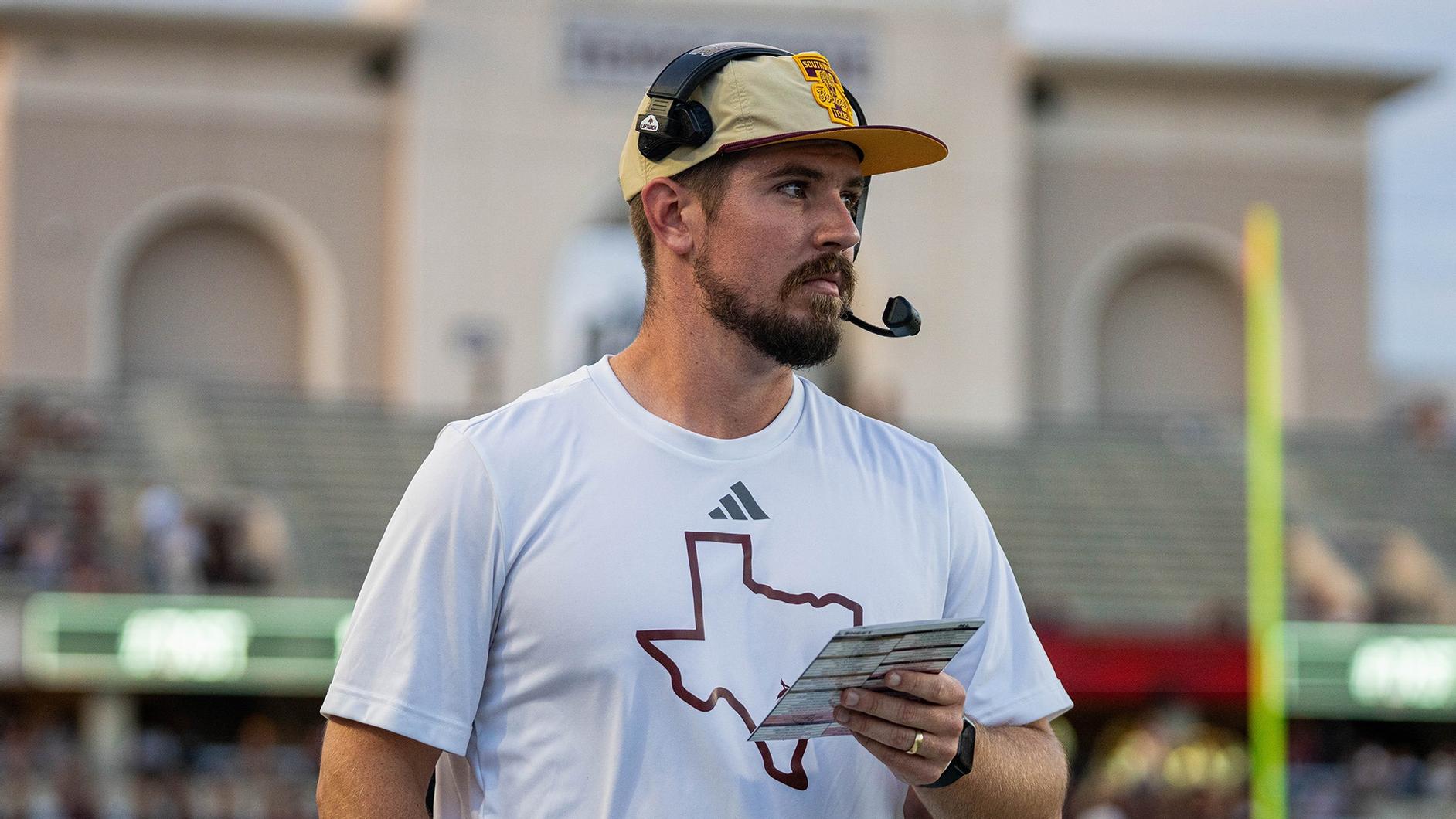 SAN MARCOS, Texas – Texas State offensive coordinator Mack Leftwich, and former North Allegheny state star quarterback, was named a nominee for the 2023 Broyles Award, which is an annual honor given to the best assistant coach in college football.
Leftwich, who works with the Texas State quarterbacks in addition to his play-calling duties, was one of 57 nominees announced by the Broyles Foundation for this year's award.
In his first season as the Bobcats' offensive coordinator, Leftwich has helped lead Texas State to being the Sun Belt Conference's top offense and one of the best units in the nation. The Bobcats are averaging a Sun Belt-best 34.9 points per game, which is 21st in the country, and 463.1 yards per game, which is 13th in the nation. The offense is powered by a run game that ranks 16th in the country with 200.7 yards per game.
The Broyles Award, which has been celebrating excellence in assistant coaching since 1996, will announce its semifinalists on Tuesday, Nov. 21 and finalists on Tuesday, Nov. 28. The winner will be announced on Tuesday, Dec. 5 at the Statehouse Convention Center in Little Rock, Ark.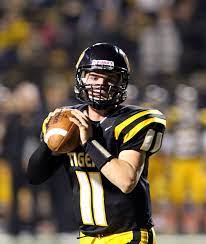 At North Allegheny, Leftwich was a two-year starter at quarterback and led the Tigers to a PIAA championship in 2012 and back-to-back WPIAL crowns in 2011 and 2012. As a senior, Leftwich was named the Quad-A State Player of the Year by the Pennsylvania Sports Writers. Leftwich, one the most prolific passers in North Allegheny history, became only the third quarterback in WPIAL history in 2012 to throw for over 3,000 yards in a single season. For his career, Leftwich amassed over 7,000 yards of total offense, along with 91 total touchdowns (65 passing, 26 rushing).
(Coaching information and above photo courtesy of Texas State Athletics).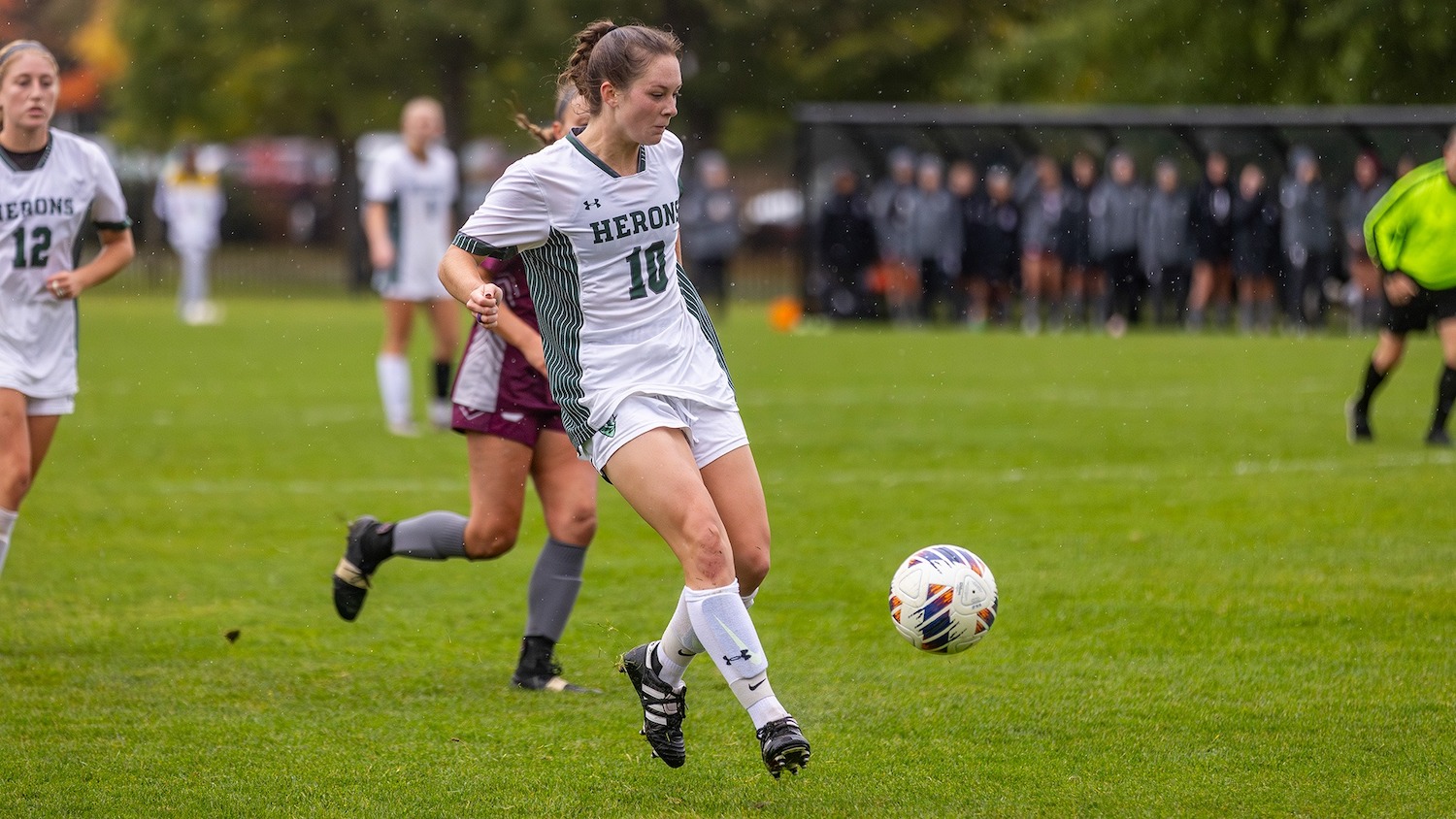 LIBERTY LEAGUE PLAYER OF THE YEAR: Ava Ruppersberger, Senior, Midfielder, William Smith College
William Smith College senior midfielder and former North Allegheny standout, Ava Ruppersberger, was recognized as Liberty League Player of the Year. Ruppersberger has played and started all 17 games for the Herons this season while pacing the team and league in scoring with 22 points. She also leads the league in shots (59), shots per game (3.47), goals (9), goals per game (.529), and points per game (1.29). She dished out four assists and recorded three game-winning tallies, tying her among league leaders. Ruppersberger had a season-high six points in the Liberty League semifinals and totaled 10 shots in the tournament en route to William Smith capturing its 19th overall league title and first since 2021.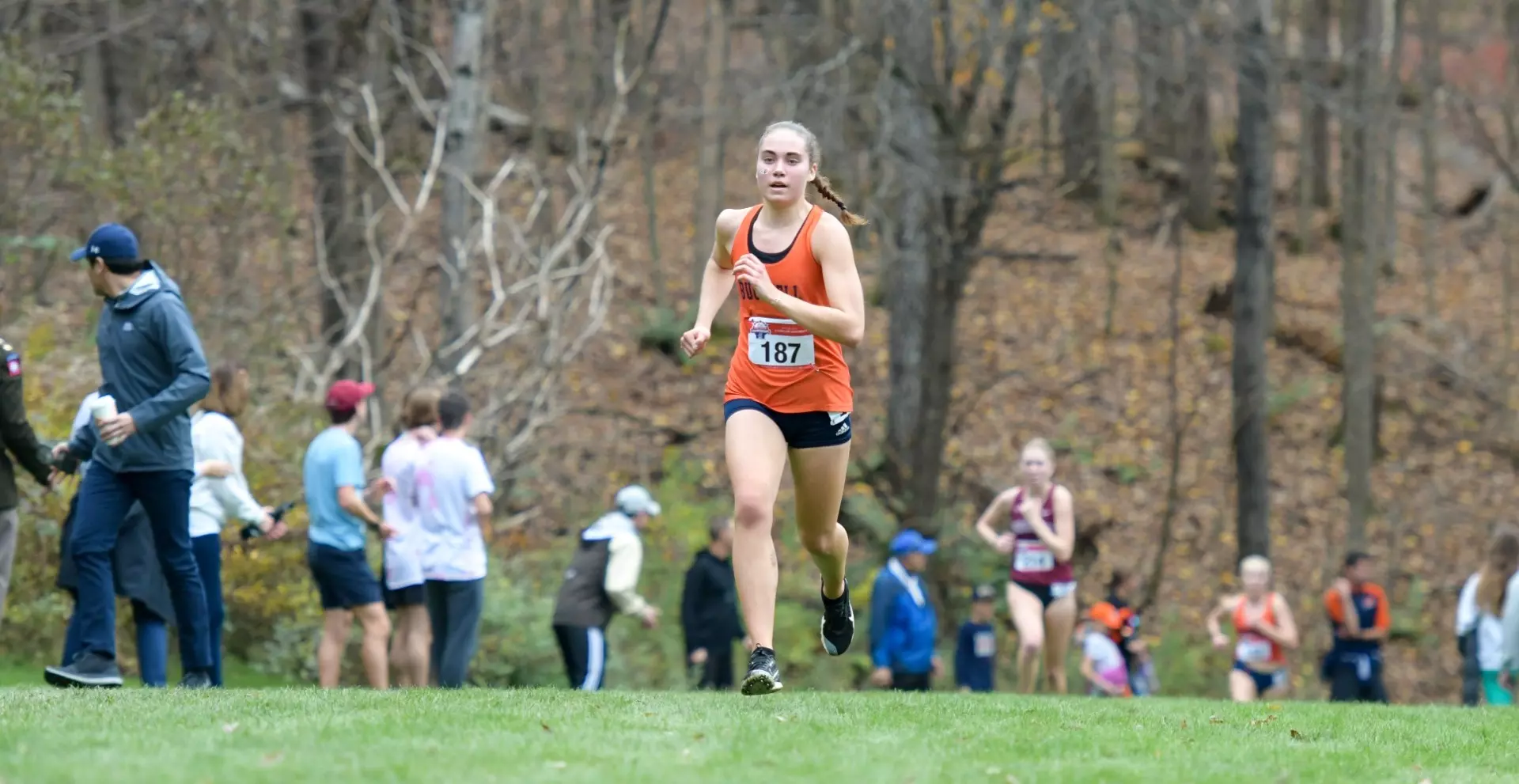 LEWISBURG, Pa.- The Bucknell Bison women's cross country team continued its historically strong academic standing by placing junior runner Keeley Misutka on the league's annual Academic Team.
Misutka, a chemistry major from Pittsburgh and North Allegheny High School, owns a sparkling grade point average of 3.96, an outstanding mark regarding chemistry's demanding coursework and the rigorous responsibilities of Division I athletics. She has been just as successful on the running fields. She was a 2022 All-League performer. In the 2023 season, Misutka collected four top-20 placements. She started the season, finishing 20th at the Harry Lang Invitational. Misutka earned 11th running in her home territory outside Pittsburgh at the RMU Colonial Invitational. In the ECAC/IC4A Championships Open Race, the junior finished fourth. At last weekend's Patriot League Championships, her 20th place finish was the third-best Bison time, allowing the squad to grab fourth.
Misutka and the Bison aren't finished with the season. They will run at the Mid-Atlantic Regionals on Nov. 10. Lehigh University will serve as the host site. Bucknell already raced on Lehigh's course at the Paul Short Run on Sept. 30.
(Press release and photo courtesy Bucknell University Athletics).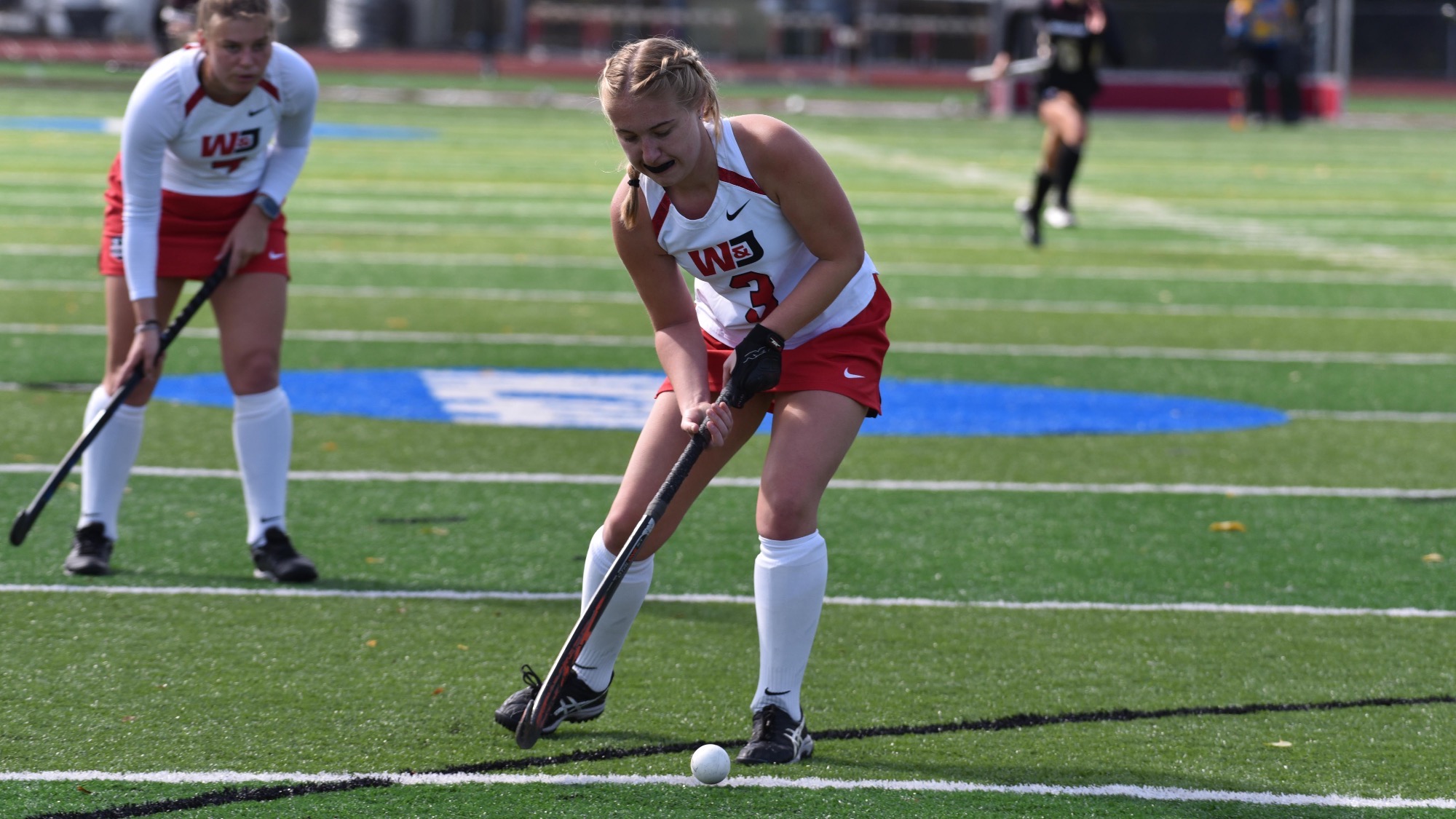 Former North Allegheny field hockey standout and Washington & Jefferson College senior forward, Hailey Wachowiak, was named to the 2023 All-North Coast Athletic Conference Team on Monday.
The All-NCAC Teams and award winners were determined based on a vote on the conference's 11 head coaches.
Following the conclusion of the regular season, Wachowiak ranked second in goals (14) and second in points (32) in the NCAC. Wachowiak posted team highs in goals, points and shots this season en route to the First Team recognition.
Wachowiak earned all-conference honors in each of her three seasons for the Red and Black. This marks her second First Team honor, as she received that status from the Empire 8 following her junior season. Wachowiak finishes her career fifth in program history with 40 goals and fifth in program history with 92 points.
W&J finished 4-6 in its first season in the NCAC. The Presidents posted a 6-10 overall record.
(Press release and photo courtesy of W&J College Athletics).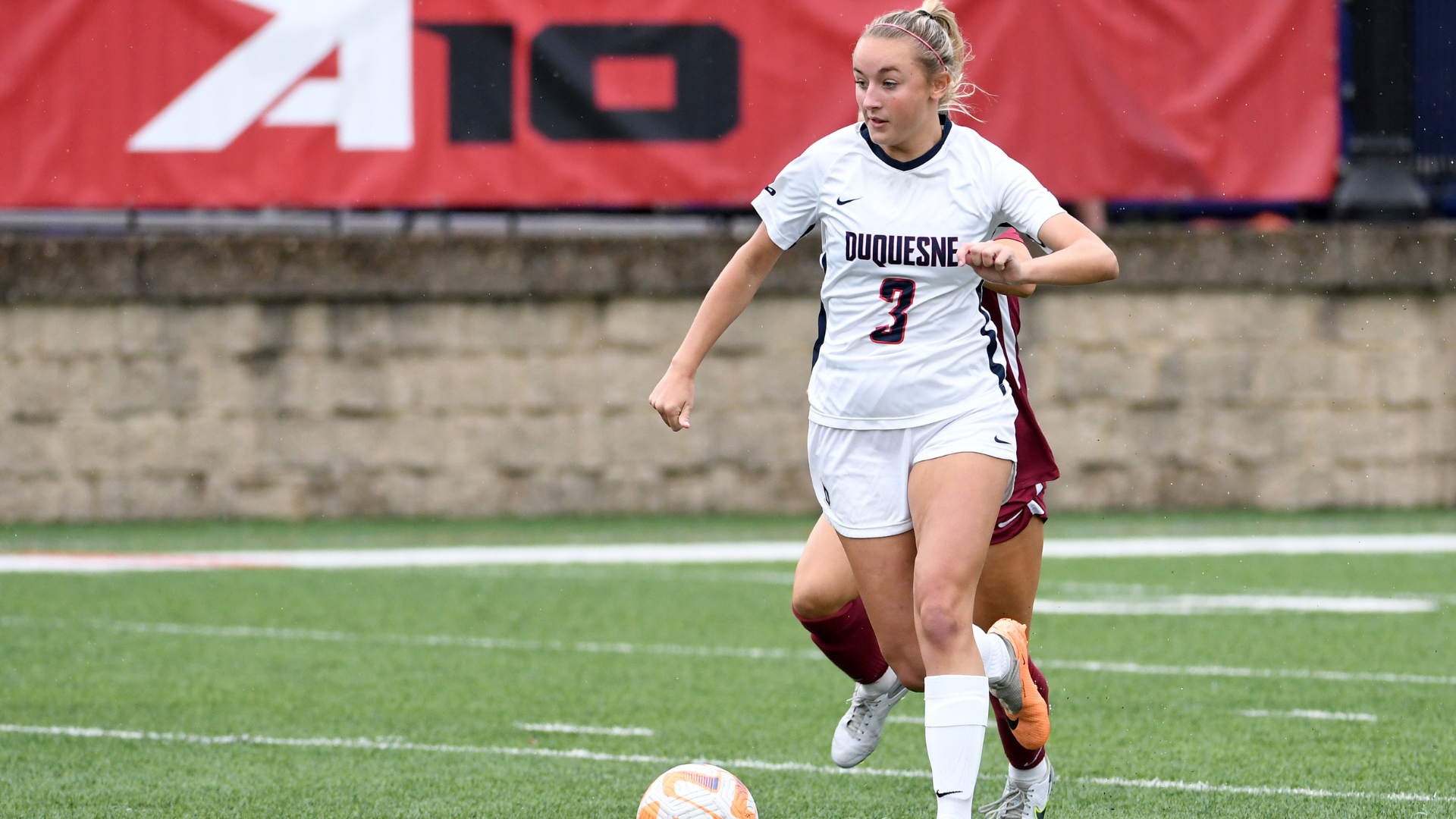 WASHINGTON, D.C. – Former North Allegheny standout and Duquesne freshman, Anna Bundy, has been named to the Atlantic 10 All-Rookie Team for the 2023 season, released today in the End of Season Awards announcement by the conference office.
Bundy netted three goals in her freshman campaign ranking third on the team. She played impactful minutes in all 20 matches and was named the A-10 Rookie of the Week on Sept. 25 after scoring the game-winner in a 1-0 road win at Rhode Island. Bundy scored two of her three goals in conference play and finished the year with seven shots, four of which on goal.
Duquesne finished the season with an 8-8-4 record, the highest win total since 2017, and made the program's third-ever A-10 semifinal appearance.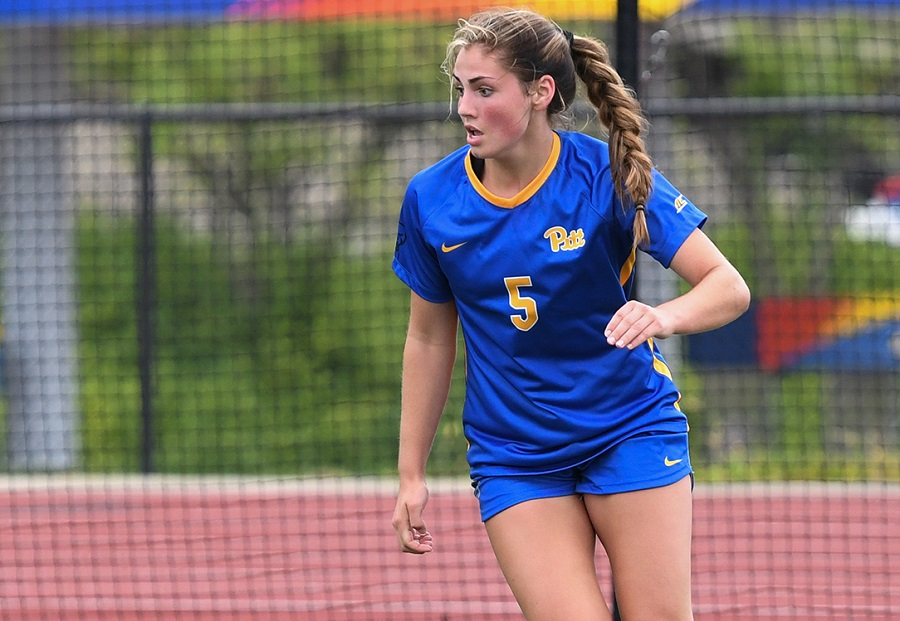 Former North Allegheny standout, Sarah Schupansky, was selected to the All-ACC First-Team – becoming the only Panther to ever receive this honor. The forward is paving the way for the Panthers – leading in goals (10), assists (10) and points (30). Schupansky earned the ACC Offensive Player of the Week honors in the first week of play this season after her key set pieces in the matchup against Bucknell. Her efforts throughout the season have helped the Panthers make history by upsetting Duke, breaking the program record in goals, assists, points, ACC Wins and first ever win in the ACC Championships. In the historic game against UNC, Schupansky posted the second assisted on the game winning goal. This was the first ever win against the Tar Heels in program history which secured the Panthers' spot in the ACC Championship Semifinals.
Schupansky is currently ranked in the top-10 in the ACC for assists per game (0.53), game-winning goals (3), goals per game (0.53), shot accuracy (0.500), points per game (1.58), shots per game (2.95), shots on goal per game (1.47), total assists (10), total goals (10), and total points (30). Schupansky also earned a spot on the TopDrawerSoccer mid-season Top-100 list – coming in at No. 42.
(Press release and photo courtesy of University of Pittsburgh Athletics).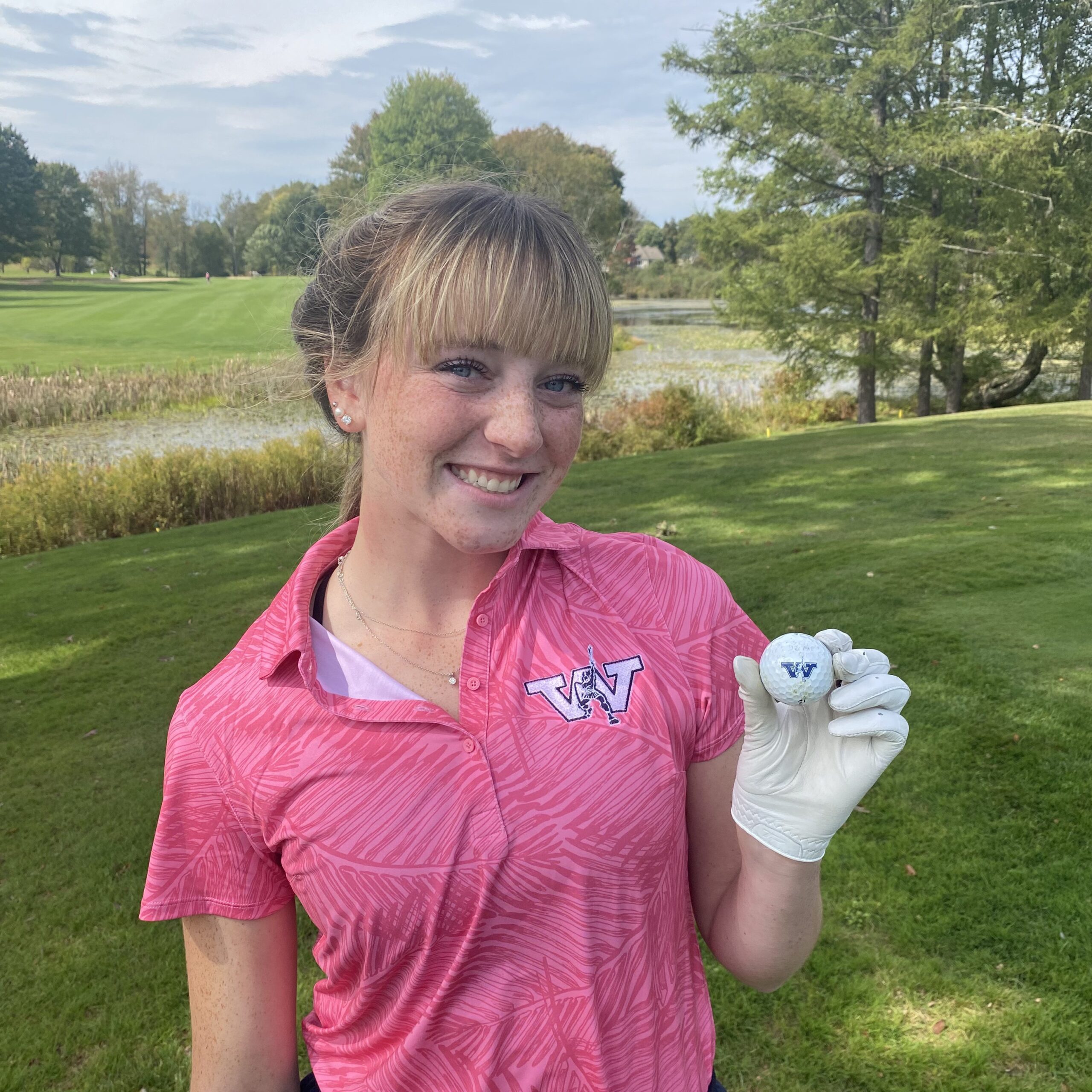 Former North Allegheny golfing standout and Westminster College freshman, Katie Rose Rankin, helped the Titans to a first-place finish at the Grove City Invitational on Thursday.
Westminster posted a team score of 334 at the eight-team invitational, which was hosted by the Grove City Country Club.
Rankin earned medalist honors after firing a 78. She highlighted the round with a hole-in-one on No. 5 (151 yds.) using a nine iron.
(Photo and press release courtesy Westminster College Athletics).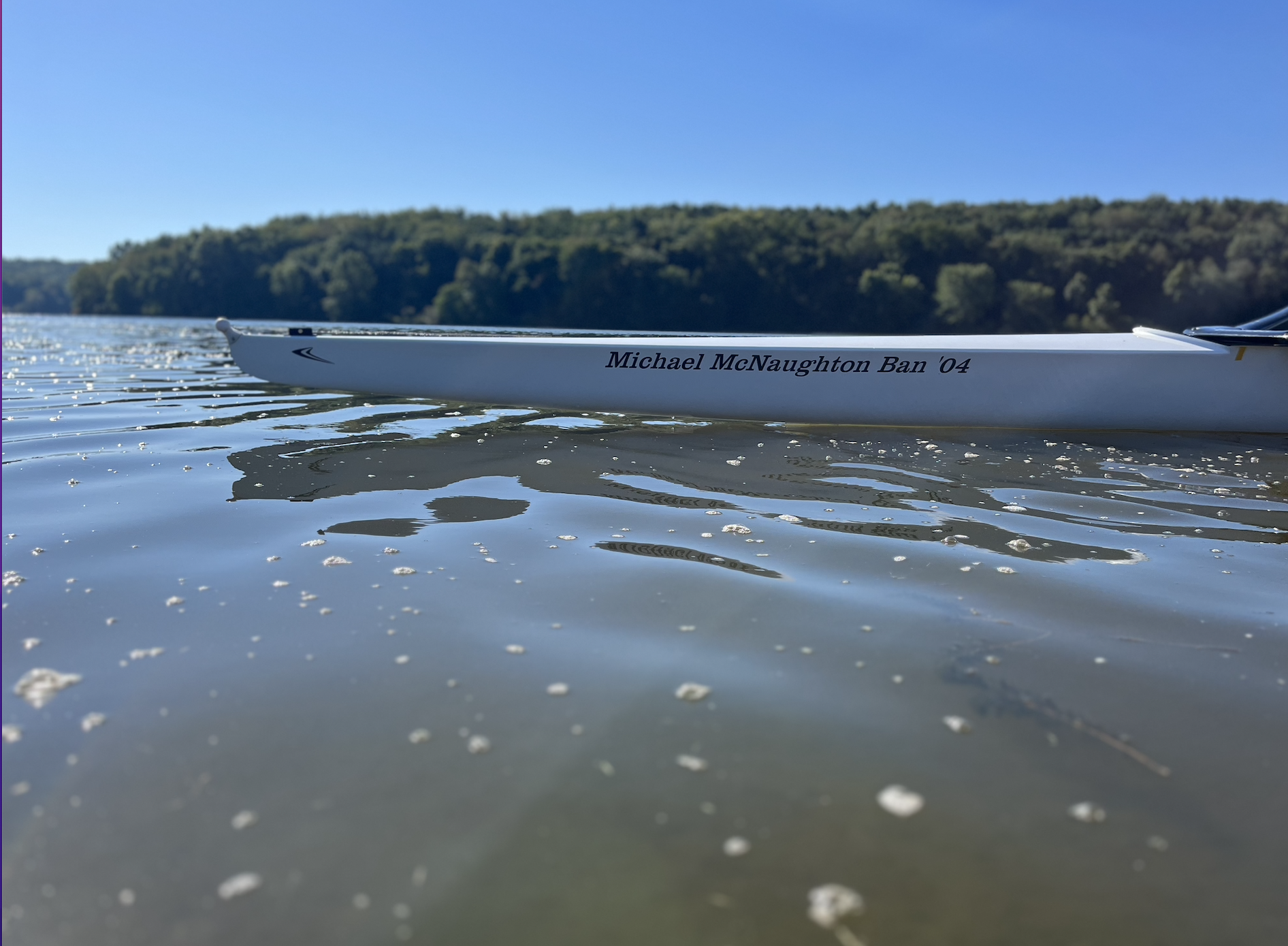 On Saturday September 16th generations of the NA Rowing community gathered at Moraine State Park to row in mixed lineups and reminisce about their experiences and achievements as NA Tigers. All said, 26 alumni jumped back into racing shells, and even more stayed on land with families and current rowers to cheer on their teammates.
The day started with two heats and progression to an A and B Final. The morning wrapped with a picnic and presentation of the Micheal McNaughton Ban Alumni trophy to the day's winners, who rowed in the Michael McNaughton Ban '04 4x shell (which was christened last fall). The line-up was composed of Christopher Ban '01 Jordan Ellis '04  Bill Francis '07 and Anthony Bertucci '25.
Alumni gathered again later in the evening for dinner and to honor Class of '04 Grad Michael McNaught Ban whos legacy as a fierce competitor, role model, brother, and scholar of the sport the team is working to memorialize in conjunction with the Ban family in the in the form of the Michael McNaughton Ban Memorial Boathouse.
NARA looks forward to hosting the event again next year and encourages alumni to contact na.row.info@gmail.com and follow the team on social media if they were not contacted for this year's event.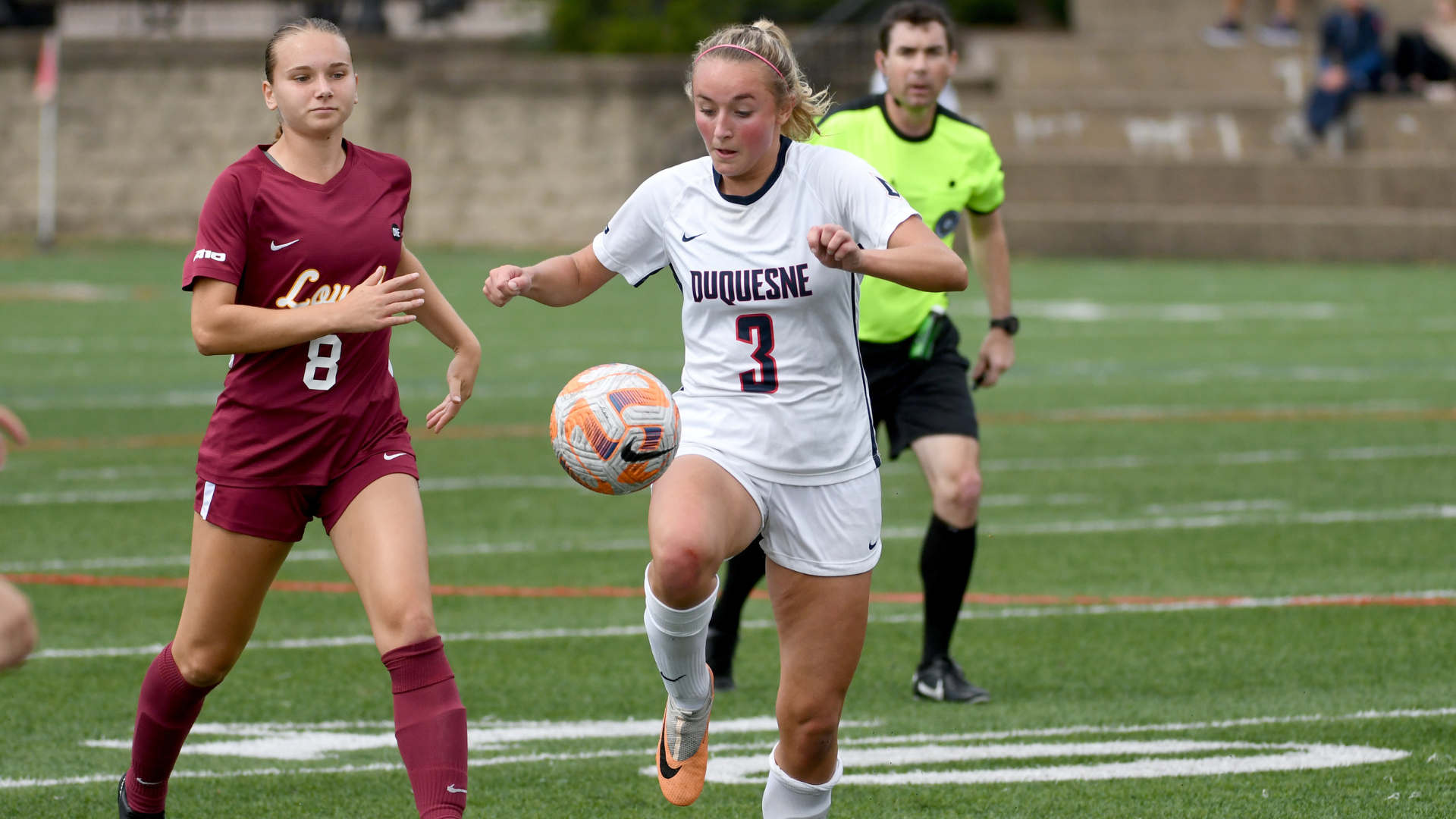 WASHINGTON, D.C. – Duquesne freshman and former North Allegheny standout, Anna Bundy, has been named the Atlantic 10 Conference Rookie of the Week, announced by the league office on Monday afternoon.
Bundy, a freshman forward from Wexford, Pa., propelled the Dukes to their first conference victory of the season on Thursday at Rhode Island with a game-winning goal in the 84th minute of the 1-0 victory. In a game destined for a tie, scoreless nearing five minutes to play, Bundy raced down the field and set herself up in perfect position to receive a pass from Margey Brown and tapped in the game-winner from five yards out. It was the second goal of Bundy's career and first game winner.
(Press release and photo courtesy of Duquesne University Athletics).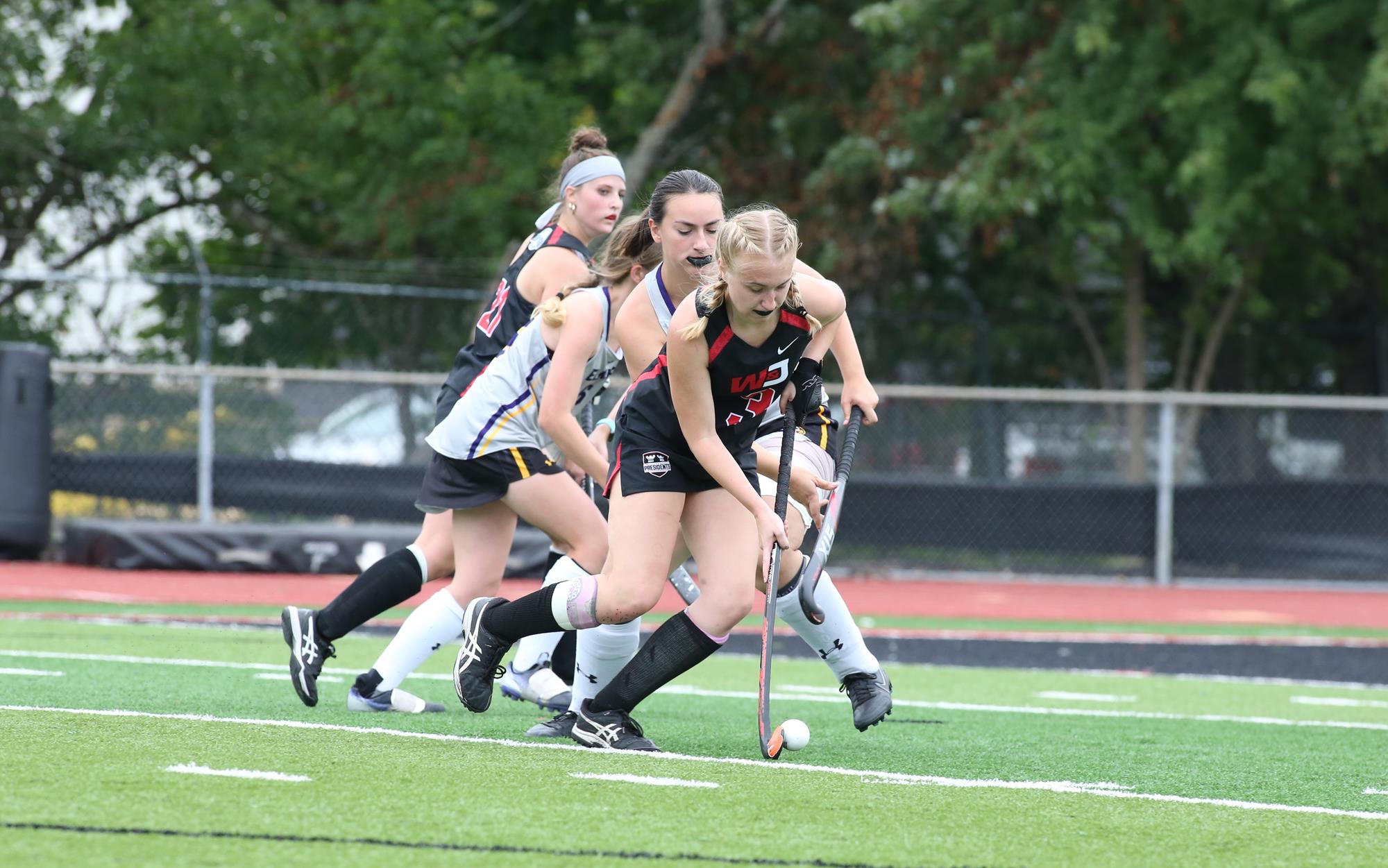 CLEVELAND, Ohio — Washington & Jefferson College senior Hailey Wachowiak (Wexford, PA/North Allegheny) picked up North Coast Athletic Conference (NCAC) Field Hockey Player of the Week honors, the conference announced Monday afternoon.
Wachowiak tallied nine points last week as the Presidents opened up NCAC play. Wachowiak netted her fourth career hat trick in a tough 4-3 overtime loss to Allegheny. The senior then added a goal and an assist in W&J's 4-0 win over Oberlin. Her 32 goals now ranks fifth all time on all the W&J all-time goal list.
This is the fourth Player of the Week honor during Wachowiak's career.
(Photo and press release courtesy of W&J College Athletics).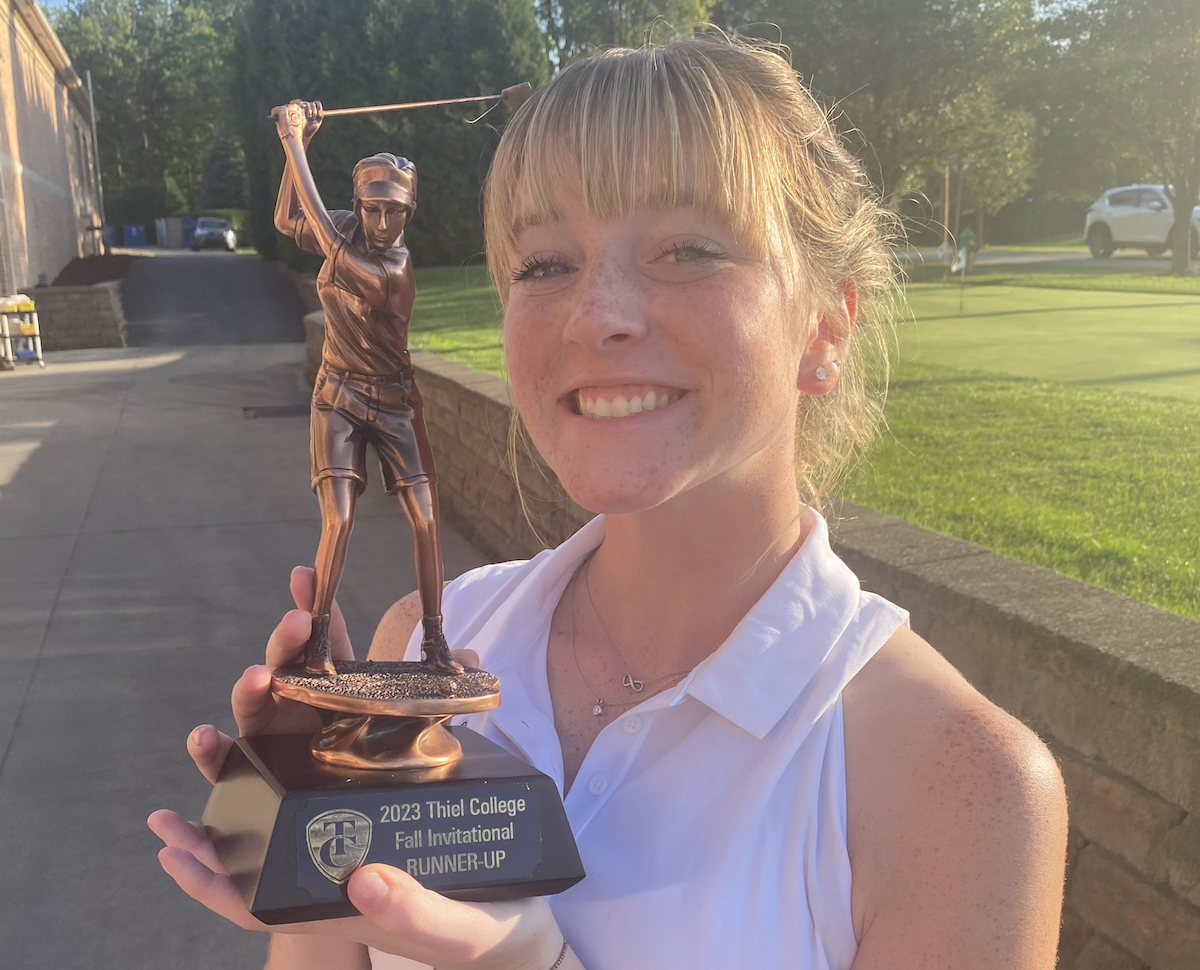 Westminster College senior freshman Katie Rose Rankin (Sewickley, Pa., North Allegheny) earned Presidents' Athletic Conference (PAC) Women's Golf Newcomer of the Week honors on Tuesday.
Rankin finished last week's three rounds with a 79.7 scoring average. She tied for 15th with a 162 (80-82) at the Kyle Campbell Memorial Tournament before finishing as the runner-up at the Thiel Invitational with a 77.
Westminster posted a program record round of 315 Monday to win Thiel's six-team event.
(Photo and press release courtesy of Westminster College Athletics).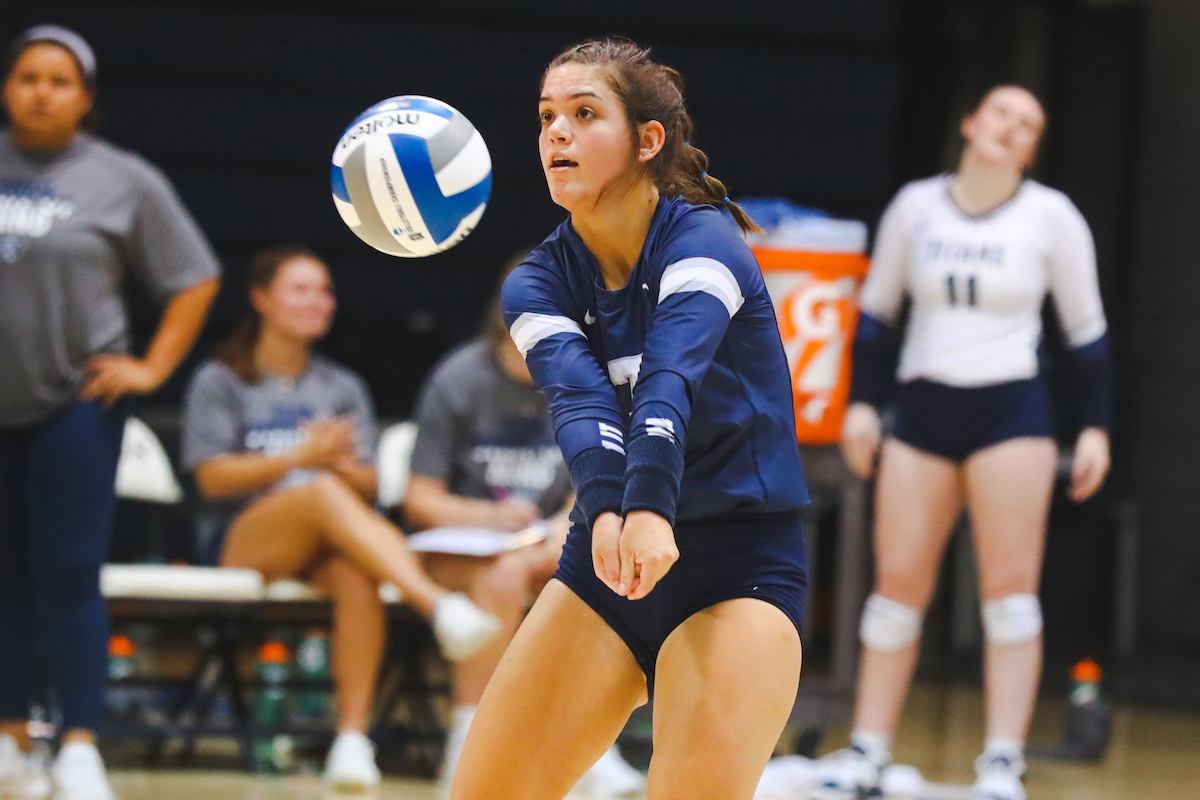 TRAFFORD, Pa.–Westminster College libero and former North Allegheny defensive standout, Malia Duffy, was named the Presidents' Athletic Conference (PAC) Defensive Player of the Week Monday afternoon.
It was Duffy's third time earning the honor. Her 1,102 career digs rank 22nd in program history.
Duffy finished Westminster's opening 3-0 week at Saint Vincent's Bearcat Invitational by piling up 46 digs (5.11/s) and three service aces (.33/s). In a straight-set victory over Franciscan University Friday, she registered 17 digs and recorded a pair of service aces (.667/s). She posted a match-high 13 digs in a 3-0 win against Gallaudet University to close out the day Friday. On Saturday she totaled 16 digs in the three-set win over Penn State Altoona.
Duffy was named to the All-Tournament Team, along with classmate Lauren Lampus (Sarver, Pa., Freeport), Saturday evening.
Westminster will participate in the Penn State Behrend Invitational next weekend. The Titans open with Alfred State Friday at 5:30 p.m. at the Junker Center in Erie.
(Photo and Press Release courtesy of Westminster College Athletics).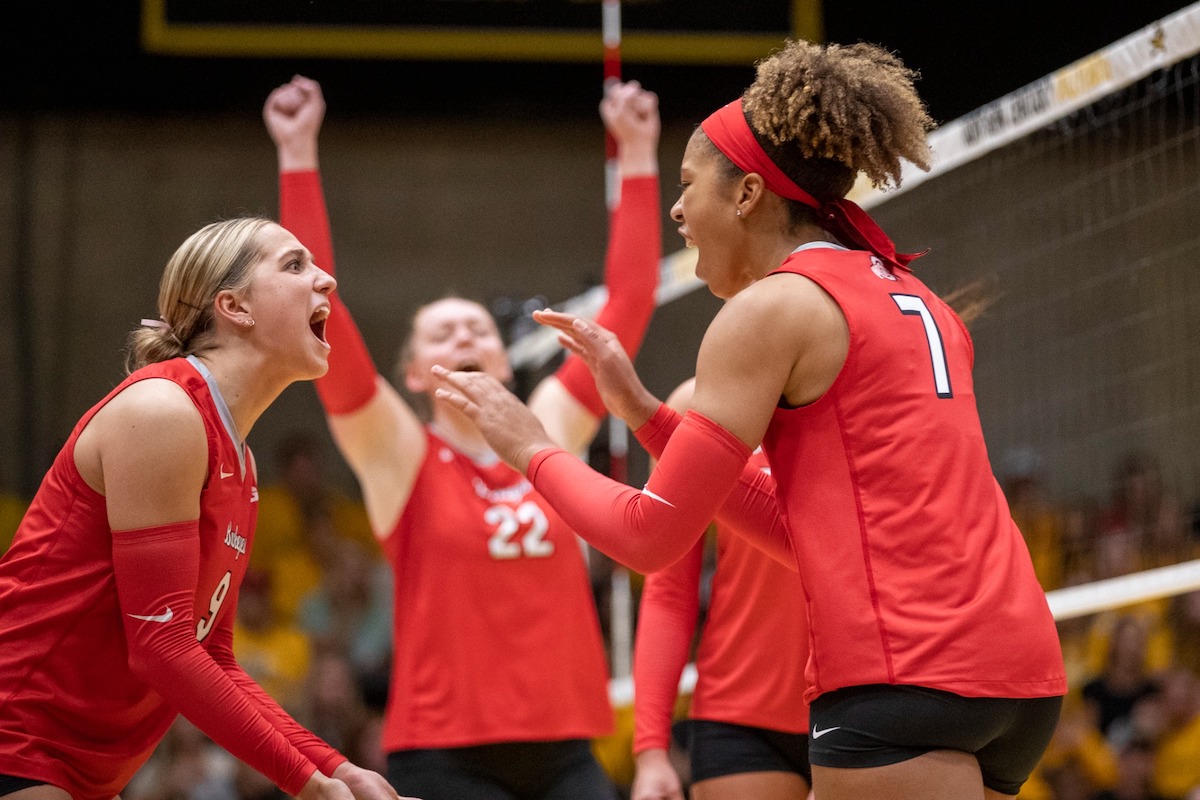 The Big Ten announced its weekly women's volleyball awards for the first time of the 2023 season on Monday. Freshman setter and former North Allegheny standout, Mia Tuman, was named Big Ten Setter of the Week and earned a spot on the all-tournament team for her opening-weekend play at the NKU Tournament.
Tuman began her collegiate career in dominant fashion, averaging 11.60 assists per set through Ohio State's three wins (at least 11.00 assists per set in each of the three matches). She also averaged 2.40 digs per set and hit .500 on the weekend. Tuman's 2.40 digs per set led the team among non-liberos playing more than one set during the weekend. Tuman earned her first career double-double in a five-set win against Bowling Green, finishing the match with 55 assists and 14 digs (just one shy of OSU's libero for the match-high) and adding four kills on five swings without an error (.800 hit percentage). She totaled 37 assists and eight digs in the season-opening sweep at NKU, also recording an ace and a kill. Tuman wrapped up the weekend with 24 assists, two service aces and two digs in two sets in the sweep of ETSU.
(Photo and press release courtesy Ohio State University Athletics).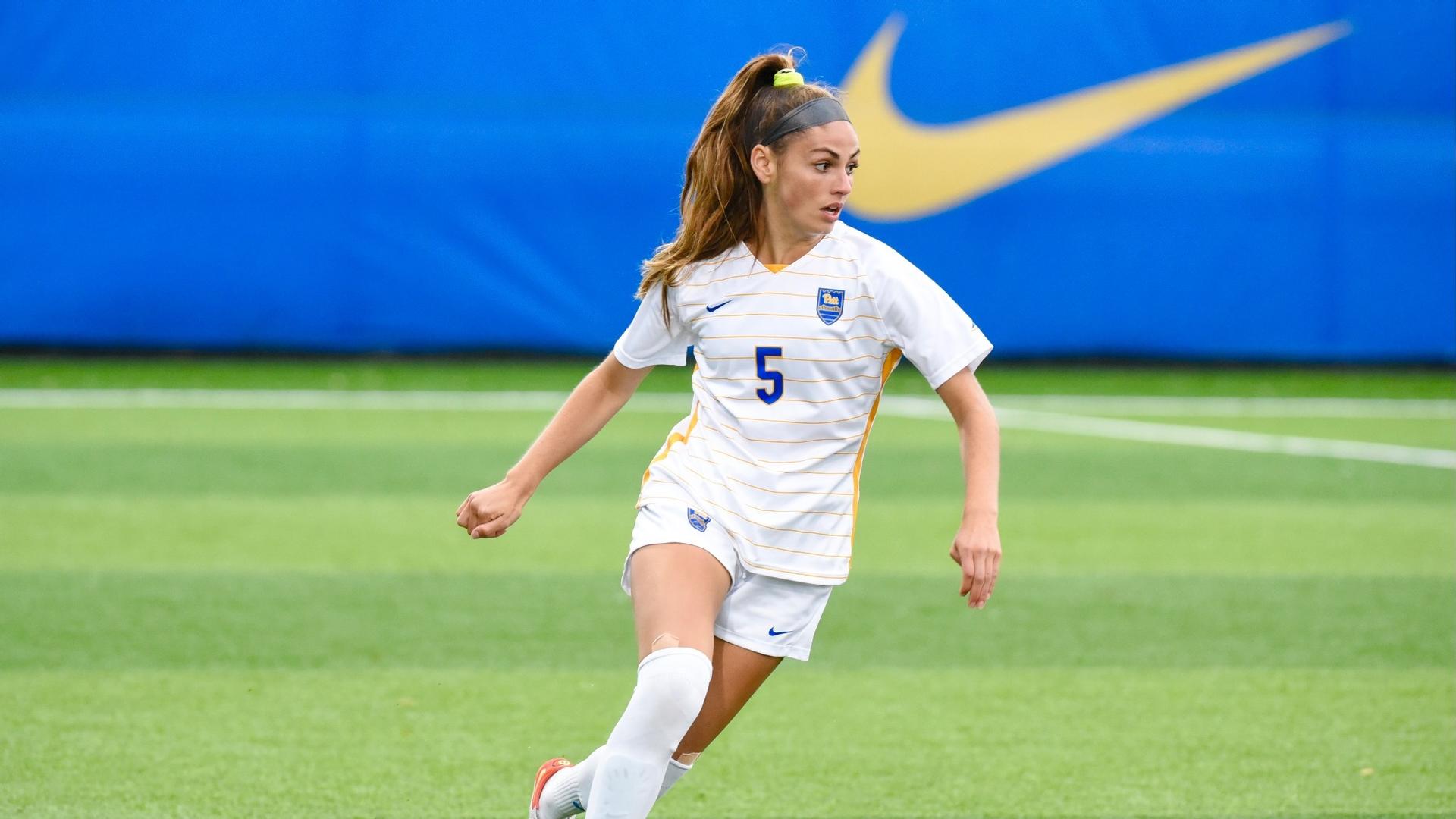 Pitt women's soccer junior forward and former North Allegheny standout, Sarah Schupansky, has been named ACC Offensive Player of the Week, the league announced Tuesday. This is Schupansky's first time receiving this honor.
Schupansky is the No. 21 Pitt Panther's leader in points so far this season, totaling nine points. In Thursday evening's matchup against Kent State, Schupansky launched an impeccable corner kick for the assist of freshman Lainie Fuchs who scored the game winning goal. The junior secured two more goals on the week in the matchup against the Bucknell Bisons. Schupansky's first goal was a direct shot on goal that found the back of the net after Bucknell's goalie helped tip it in. Her second goal of the afternoon came from a beautiful decision made in her penalty kick. This shot brought the Panthers up to a 5-0 shutout against Bucknell. The Pittsburgh, PA native has recorded four goals and two assists thus far in the 2023 season, totaling 153 minutes.
Schupansky extended her career records in points (51), assists (15) and goals (18).
(Photo and press release courtesy of University of Pittsburgh Athletics).