View News For
2022-2023 News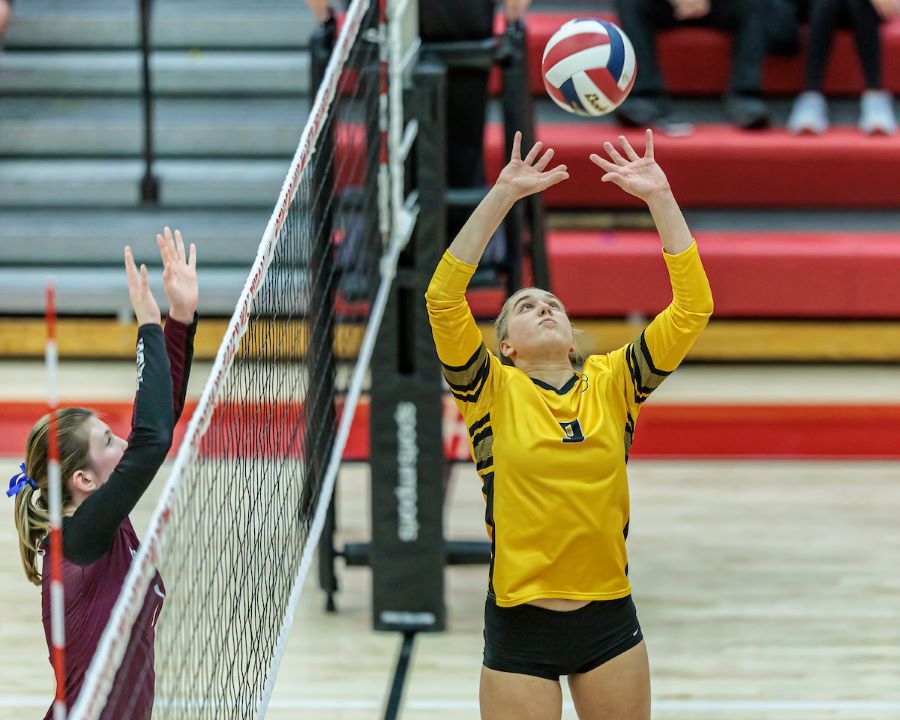 North Allegheny senior setter Mia Tuman has been the Player of the Year by the Pittsburgh Post-Gazette for the second consecutive season. The Ohio State University commit propelled the Tigers to a 22-1 season in 2022 and a sixth consecutive PIAA championship.
Tuman quarterbacked the high-powered North Allegheny attack with a team-high 841 assists, while adding 171 kills, third best on the team. Tuman also flummoxed opponents with her serves, tallying a team-high 70 aces and totaled a team-best 64 blocks. She posted 287 digs on defense, second best on the squad.
The Player of the Year award from the PG adds on to an already impressive trophy case for Tuman for just this season alone. She was recently named First Team All-State by the PVCA, First Team All-WPIAL and First Team All-Section by the Big 56 Conference.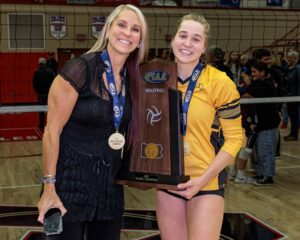 The 2022 season marks the third straight year a North Allegheny girls' volleyball player has won the Post-Gazette Player of the Year award. Former Tiger and redshirt freshman at the University of Louisville, Paige Morningstar, earned the same honor from the PG in 2020. Tuman has now earned POY honors from the PG in 2021 and 2022.
Tuman's older brother, Canyon, was the Post-Gazette's Boys Volleyball Player of the Year recipient in 2018. He is now a grad student men's volleyball player at Saint Francis of Brooklyn following an outstanding four years at Penn State University.
Tuman is pictured above with her mother, Molly, who is also an assistant coach at North Allegheny, following the PIAA Class 4A championship win against Garnet Valley. Molly (Dreisbach) Tuman was an outside hitter on the U.S. National Team and remains second all-time in kills at the University of Kentucky.
For more on Mia Tuman's Pittsburgh Post-Gazette 2022 Player of the Year award and Ken Wunderley's Article, click here.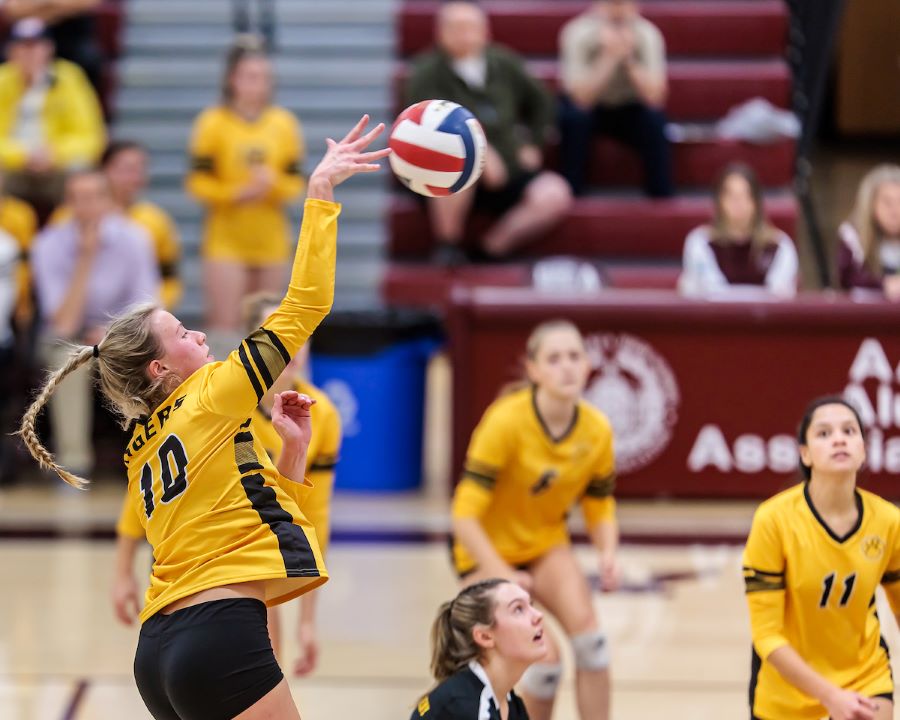 The WPIAL Class 4A Girls Volleyball All-Stars were released this and six North Allegheny Tigers were represented on the list, including three First Team honorees.
Earning First Team All-WPIAL accolades were senior libero Caroline Curran, senior outside/right side hitter Ella Deeter and senior setter Mia Tuman.
Second Team laurels went to senior outside hitter Carissa Treser and senior middle hitter Ella Zimmer. Receiving Third Team recognition was senior middle hitter Maddie Fickess.
For a look at the entire WPIAL Class 4A All-Star Team, click here.
All six Tigers have helped the North Allegheny girls' volleyball team to a 21-1 record this season and a sixth consecutive appearance in the PIAA Class 4A championship game. The Tigers will take on Garnet Valley on Saturday at 6:00 p.m. The match will be broadcast live by the North Allegheny Sports Network.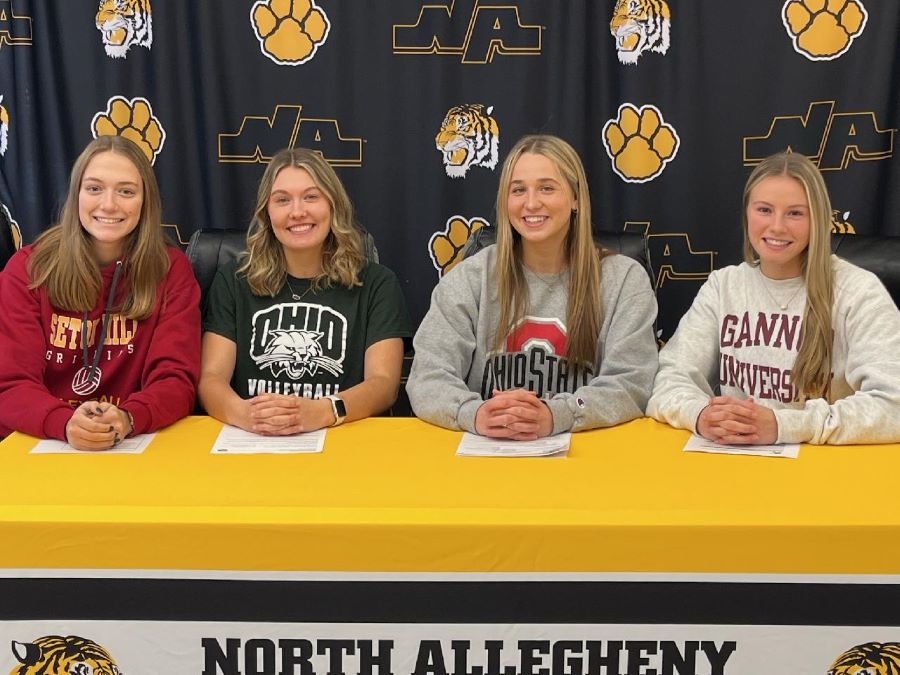 Four members of the North Allegheny girls' volleyball team made their plans official on Wednesday by signing their letters of intent to continue their academic and athletic careers at the collegiate level. Seniors Caroline Curran (Ohio University), Ella Deeter (Seton Hill University), Carissa Treser (Gannon University) and Mia Tuman (Ohio State University) all inked their LOI's on National Signing Day.
Curran, North Allegheny's starting libero, is the team leader with 285 digs on the season and ranks second on the squad with 28 aces. Curran is a two-time All-WPIAL selection (sophomore and junior years) and an All-State honoree by the PVCA in 2021.
A versatile player with a powerful swing, Deeter is second on the team in kills (200) and ranks fourth on the team in digs (175). She also has posted 28 blocks, 23 aces and 20 assists so far this year. Deeter was a Third Team All-WPIAL selection and Second Team All-Section pick last season as a junior.
The top player on the team in kills is Treser with 201 on the 2022 campaign. She has also tallied 76 digs, 25 blocks and nine aces. Like Deeter, Treser was also a Third Team All-WPIAL selection and Second Team All-Section pick as a junior. Treser will join a Gannon University program that currently is ranked No. 1 in the NCAA Division II Regional Rankings in the Atlantic Region.
The Tigers starting setter, Tuman has dished out a team-high 715 assists so far this season, while also leading NA in aces (63) and blocks (53). She also ranks second on the team in digs (244) and third in kills (134). Tuman was the Pennsylvania Gatorade Girls Volleyball Player of the Year for the 2021-2022 school year. Additionally, Tuman was named an All-American by PrepVolleyball.com and was the 2021 Pittsburgh Post-Gazette Girls Volleyball Player of the Year. She is also a two-time First Team All-State, All-WPIAL and All-Section selection in her high school career.
With All-WPIAL and All-State honorees yet to be announced for 2022, surely all four players will add more laurels to their already well-decorated trophy rooms.
All four players have played a pivotal role in extending North Allegheny's run of PIAA championships to five consecutive seasons. The quartet is looking to make it six state titles in a row for the Tigers in 2022. The team returns to action on Saturday against Landisville Hempfield in the PIAA Class 4A quarterfinals.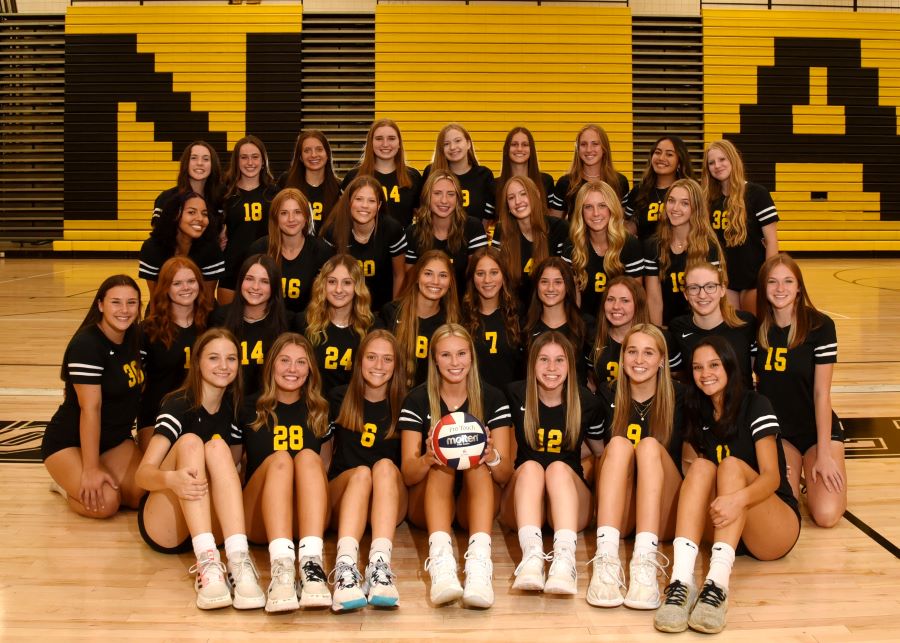 The WPIAL released its volleyball playoff pairings on Friday afternoon and the North Allegheny girls' volleyball team received the No. 1 seed in the Class 4A bracket. With a first-round bye, the five-time reining state champs will begin in the quarterfinal round on Thursday, Oct. 27. The Tigers will face the winner between eight-seeded Bethel Park and ninth-seeded Norwin, who will duel in the WPIAL first round on Tuesday.
The North Allegheny Sports Network will have coverage of all NA playoff games.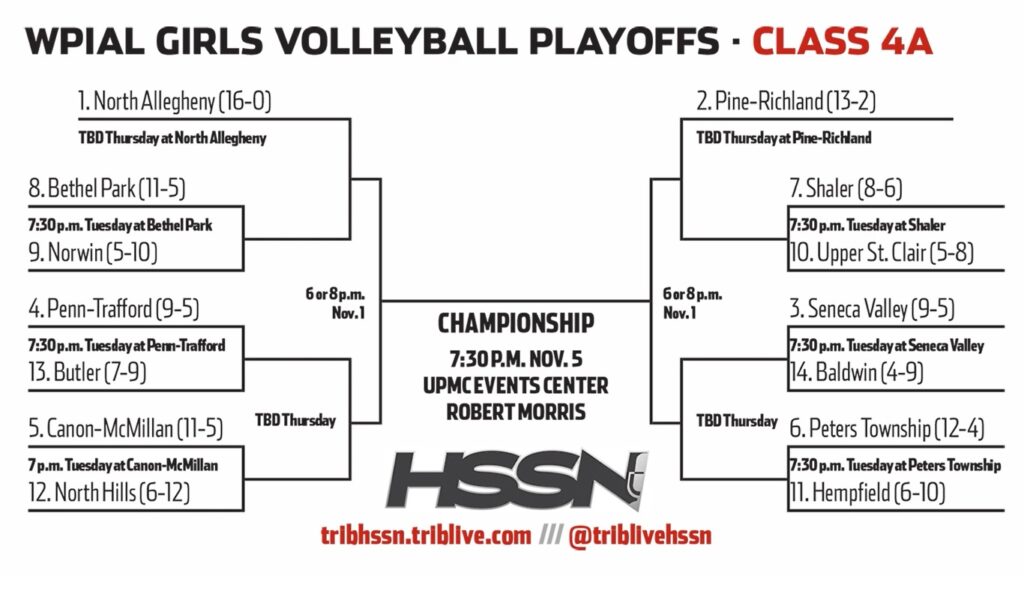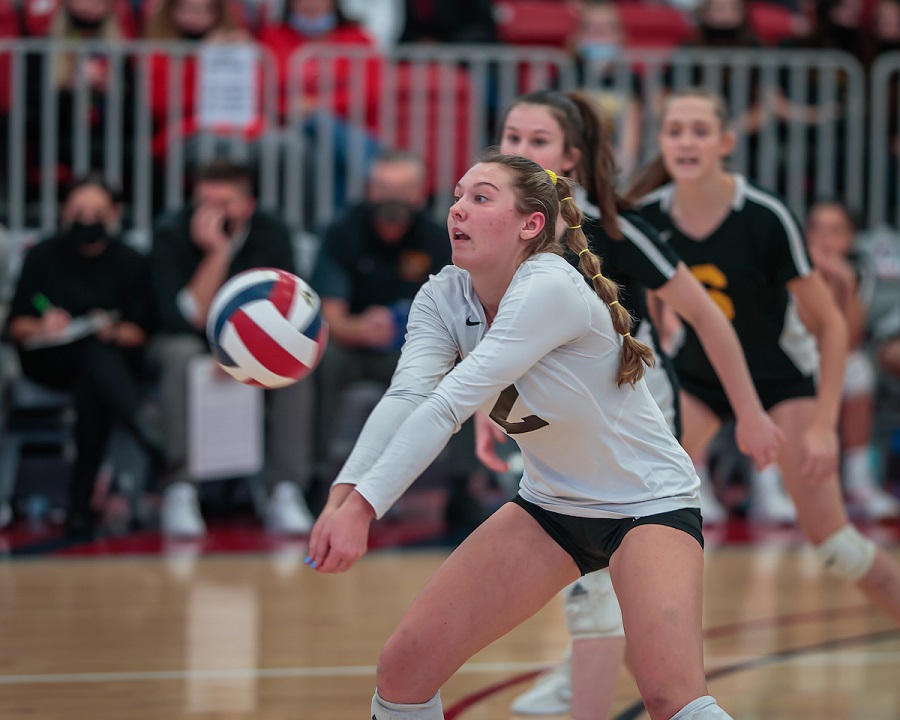 North Allegheny senior libero Caroline Curran will continue her athletic and academic career at Division I Ohio University. Curran announced her verbal commitment via social media on Saturday.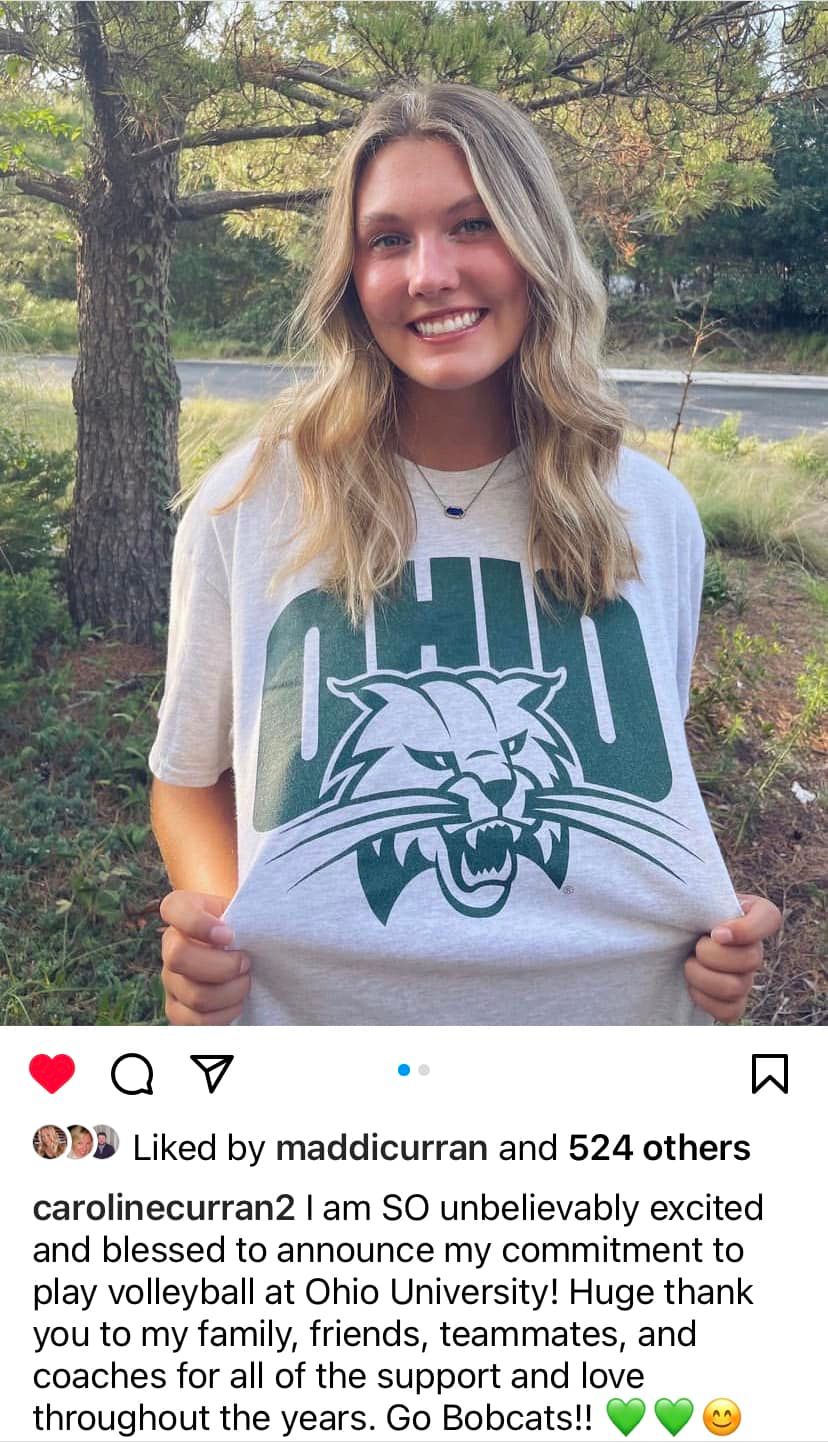 A significant contributor to North Allegheny's run of dominance in the PIAA since her freshman year, Curran had her best season thus far in 2021. Last fall, Curran led the Tigers with a team-high 412 digs and added 62 assists, third best on the squad in that category. Additionally, she kept opponents off-balance with her outstanding serves and totaled 16 aces on the campaign.
Curran took home plenty of postseason hardware, earning All-State honors from the Pennsylvania Volleyball Coaches Association. She was also named second-team All-WPIAL and first-team all-section from the Big 56 Conference. With the help of Curran, North Allegheny went 20-1 last year and won a fifth straight PIAA Class 4A championship and fourth WPIAL title in the last five seasons.
Caroline Curran will join her older sister, Madi, in playing NCAA Division I volleyball. Madi Curran will begin her junior season at Saint Francis University in the Northeast Conference this fall.
Caroline Curran and the North Allegheny Tigers will open the 2022 season at home against Freeport on Monday, August 29. The Tigers will vie for a sixth consecutive state championship.