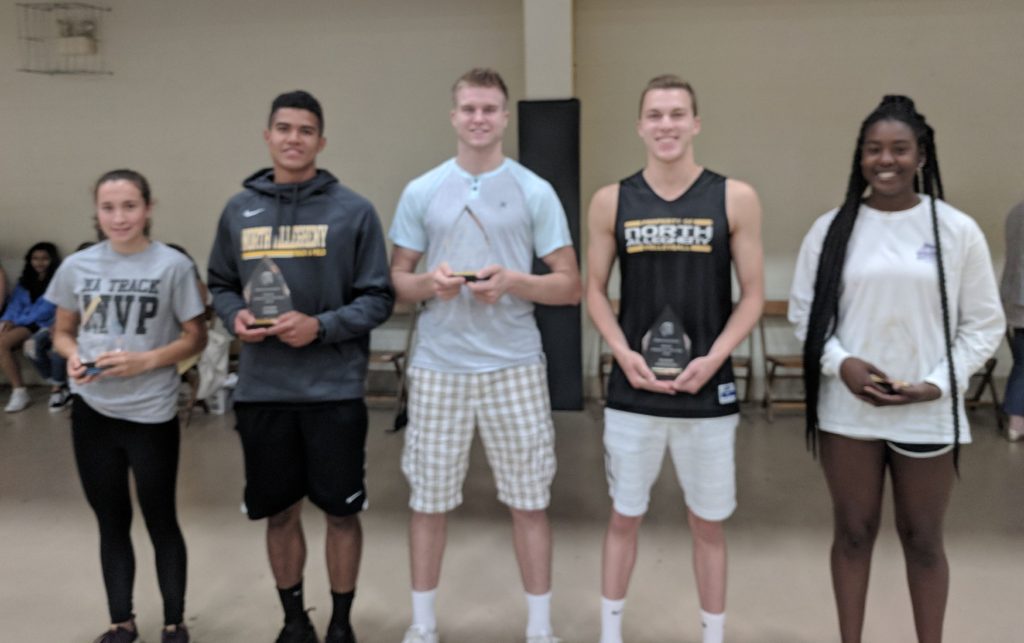 2017-18 North Allegheny Athletes Of The Year
Congratulations Canyon Tuman, Ayden Owens, Mason Gonzalez, Kayla Dinkins, and Clara Savchik who were named 2017-18 North Allegheny Athletes of the Year! We wish you the best of luck in your future endeavors. Below are capsules on what each individual was able to accomplish throughout their time at North Allegheny.
Canyon Tuman
Tuman is fresh off helping the boys' volleyball team complete a 23-0 season that ended with the school's sixth state championship. In the Championship Game, Tuman led the Tigers with 16 kills. During the WPIAL Championship Game this season, Tuman surpassed Tommy Kiesling's school record of all-time kills with 1,232. The new record now stands at 1,295. Tuman also ranks second in career aces at North Allegheny with 139 and third in blocks with 267. He was recently named to the Volleyball Magazine Fab 50, voted by NCAA Division I and Division II coaches. He will be continuing his volleyball career at Penn State University.
Ayden Owens
Owens will go down as having one of the most impressive track and field careers at North Allegheny. In his senior season, Owens led the Tigers to a gold medal in the WPIAL Championships and PIAA Championships. In March, Owens won a National Title and broke a state record in the 60-meter hurdles at the New Balance Indoor Track and Field Nationals. He set the record with a time of 7.59 seconds. Owens is also a two-time national champion in the decathlon. He will be continuing his track and field career at University of Southern California.
Mason Gonzalez
Gonzalez has been an outstanding swimmer at North Allegheny, having been named an All-American in all four years of his high school swimming career. As a gold medalist in his events as a sophomore, junior, and senior, he contributed to three WPIAL and PIAA Championship teams. Gonzalez was also a part of the 400 free relay team that broke the Bolles National High School record. Gonzalez will be continuing his swimming career at Stanford University.
Kayla Dinkins
Dinkins helped lead the girls' volleyball team to a perfect 24-0 record and state championship. With their impressive season, Dinkins and the Tigers was named to the MaxPreps Tour of Champions, which is a national award reserved for 100 of the top teams in the country. In the WPIAL Championship Game, Dinkins led the Tigers with 10 kills and six blocks. Dinkins will continue her volleyball career at Tulane University.
Clara Savchik
Savchik has been an outstanding member of the Cross Country and Track and Field teams at North Allegheny throughout her high school years. Among her accomplishments, Savchik was the 2016 WPIAL Individual Cross Country Champion and the 2016 PIAA Runner-Up. In 2017, she was the Individual WPIAL Runner-Up, and the WPIAL Track Runner-Up in the 3200 Meter Run, the 2016 WPIAL Champion in the 3200 meter, and the 2017 PIAA Indoor Championship Runner-Up in the 3000 meter. She attained All-American honors at the 2017 New Balance Indoor Nationals in the 2- mile, and holds the North Allegheny school record in the 3200 meter. Clara plans to attend Duke University next year as a D-1 track and field/cross country.