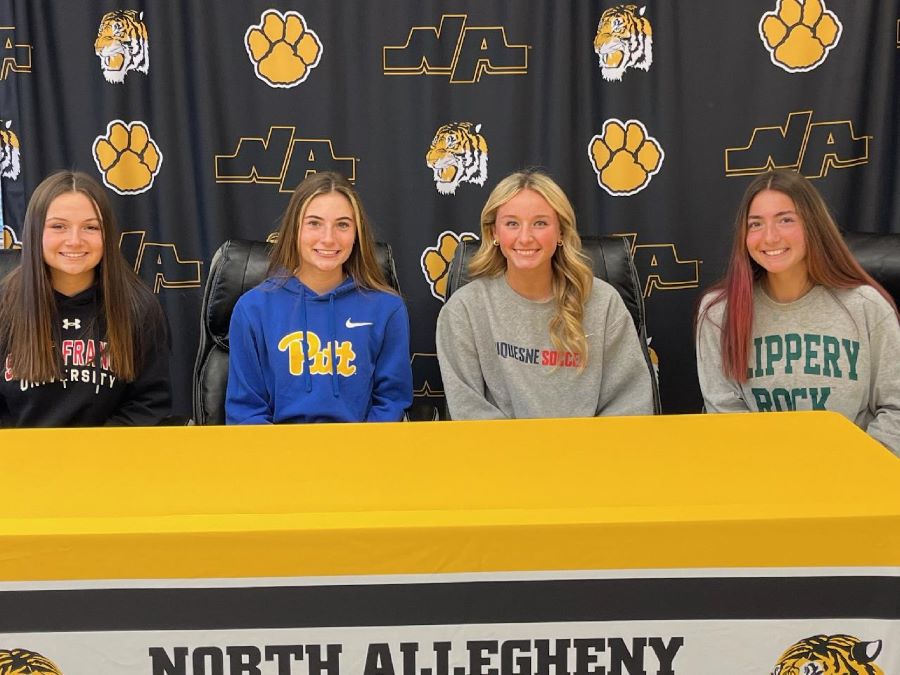 Four Tigers Make College Choices Official On National Signing Day
Four members of the WPIAL Class 4A champion North Allegheny girls' soccer team signed their letters of intent on National Signing Day. Seniors Anna Bundy (Duquesne University), Riley Cerqua (Saint Francis University), Sophia Palermo (Slippery Rock University) and Lucia Wells (University of Pittsburgh) all inked their letters to play at the next level on Wednesday.
Bundy was recently named All-WPIAL by the Western Pennsylvania Soccer Coaches Association and has tallied eight goals on the season, giving her 23 for her career. Bundy is a two-time Second Team All-Section honoree from the Big 56 Conference. She will join older sister, Emma, on the pitch at Duquesne University.
Cerqua is reliable midfielder with a strong leg, also handling corner kicks and throw-ins. She has two goals on the season for NA and joins a Saint Francis University (PA) women's soccer program that competes in the Northeast Conference.
Like Cerqua, Palermo is another reliable midfielder with four goals on the campaign and 13 on her career. She was recently honored as an All-WPIAL selection for a second consecutive year. Palermo is a two-time First Team All-Section recipient from the Big 56 Conference for her sophomore and junior seasons.
Wells, North Allegheny's all-time leader in goals scored with 80 in her career, has topped the team charts with 30 goals in 2022. She was named All-WPIAL for a third consecutive season last week. Following her junior year, Wells was named All-State by the Pennsylvania Soccer Coaches Association and was selected to the United States Coaches Association All-America Team (Region II-East). At the University of Pittsburgh, Wells will be reunited with former Tiger Sarah Shupansky, who is currently in her sophomore season with the Panthers.
All four players received All-Section honors today from the Pittsburgh Post-Gazette. The official all-section teams for the 2022 season from the Big 56 Conference have not yet been released.
Bundy, Cerqua, Palermo and Wells have been instrumental in North Allegheny's success in recent years, including winning a third WPIAL Class 4A championship in four years thanks to a thrilling 2-1 win over Peters Township in an overtime PK shootout. (Please note, goals scored by Cerqua, Palermo and Wells in the PK shootout do NOT count toward the individual players' season goal total).
The NA senior quartet and the entire North Allegheny girls' soccer team will now vie for a state title and continue their quest for PIAA gold on Saturday with a quarterfinal matchup with Central Dauphin at 1:00 p.m.