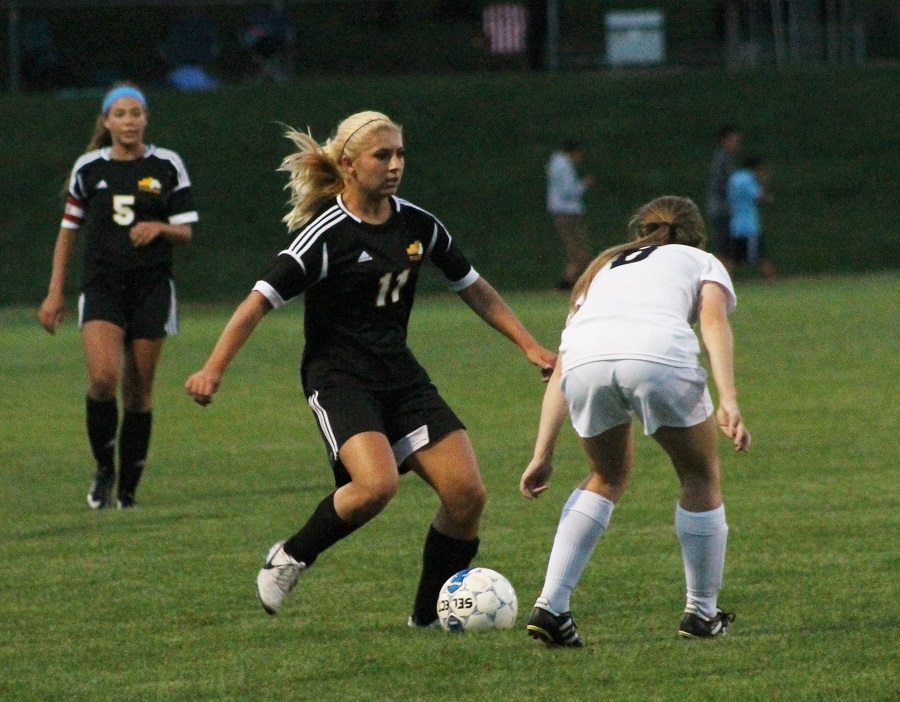 LADY TIGERS DROP NON SECTION MATCH TO PT 5-1
The NA Girls soccer team hosted the #8 MSA ranked Lady Warriors of Penn Trafford and PT showed they merited that spot if not higher.  On a beautiful sunny Saturday afternoon the Warriors took little time to get their offense going as they put in 3 goals in the first half.  Two minutes into the game Italia Biondi took a pass from midfield and beat the NA keeper for the 1-0 lead.  Just five minutes later Kristina Wallace put a perfect corner kick in to Athena Biondi who headed the ball into the net.  Before the Tigers could muster any pressure the Warriors scored off a corner again in the 13th minute and the Tigers trailed 3-0 and would carry that score into half time.
The Tigers regrouped at half and just three minutes into the second half Amanda Miller delivered a cross to Maria Gonchar who headed the shot into the back of the net.  Trailing 3-1 would be as close as NA would come as PT went on to score two more goals and seal the 5-1 victory.  The Tigers fall to 7-5 overall and resume section play on Wednesday with a pivotal match up at Pine Richland as these teams are tied for second in Section 2.  The Tigers pulled off an overtime victory earlier this season at home. Match time is set for 7:30pm.