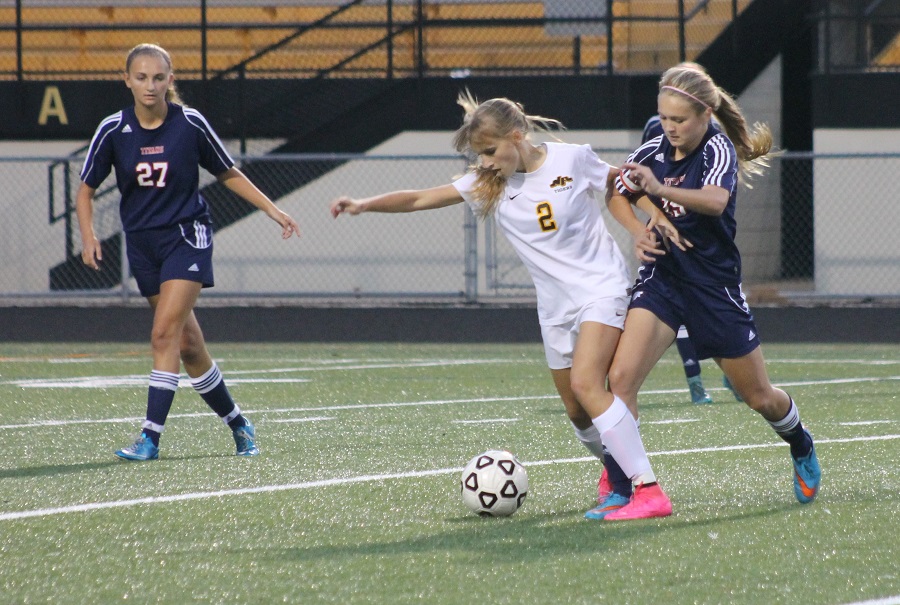 Lady Tigers Shoot Down Shaler, 5-1
Bouncing back from a last-second loss on Monday night, the North Allegheny girls' soccer team smashed the Shaler Titans Wednesday night at Newman Stadium, 5-1. The Lady Tigers outshot the Titans, 23-2, in a lopsided victory over their section foe.
North Allegheny began the contest with intense pressure in the Shaler zone and posted three shots in the first five minutes of the game. In the 10th minute, the Lady Tigers cashed in for the game's first goal when freshman Isabella Pietropola was awarded a corner kick and drove the ball over the Shaler keeper's hands for a 1-0 lead. The Tigers continued its relentless pressure and scored again in the 15th minute on a rebound goal by freshman Ava Ruppersberger to bring the score to 2-0, North Allegheny.
It was more of the same in the second half as the Tigers generated several scoring chances before scoring again in the 34th minute. Sophomore Alex Adams took a shot from 18 yards out that rung off the post, but junior Morgan Anderson was there to knock home the rebound to bring the score to 3-0.
In the 43rd minute, junior Hayley Stultz found junior Hannah Anderson with a crossing pass for a goal and a 4-0 lead. The Tigers scored their final goal of the night in the 53rd minute courtesy of a Jetta Kroll marker for a 5-0 advantage. Shaler scored a meaningless goal in the 73rd minute to break the shutout and bring the final score to 5-1, North Allegheny.
With the win, North Allegheny evens its overall record to 2-2 and Section 1-AAAA record to 1-1. Shaler falls to 3-2 overall and 0-2 in the section. The Lady Tigers visit Hampton on Saturday at 3:30 p.m. in a non-section meeting.
Girls Soccer Summary vs. Shaler, 9-14-16
| GAME SUMMARY | | | |
| --- | --- | --- | --- |
| SCORE BY HALVES | 1 | 2 | FINAL |
| Shaler | 0 | 1 | 1 |
| North Allegheny | 2 | 3 | 5 |