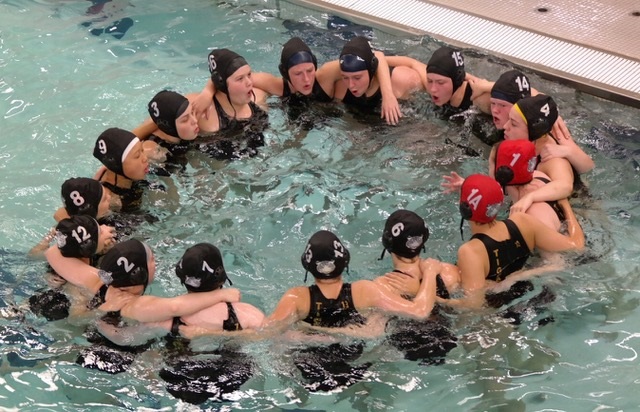 Lady Tigers Take 6th Place At State Championship
The North Allegheny girls' water polo team took part in the State Championship over the weekend and came away with a sixth-place finish. The Lady Tigers went 1-2 at the state tournament, including an exciting double overtime win over Wissahickon, 13-12.
North Allegheny opened with an 11-3 loss to North Penn. Ryley McClellan scored all three goals for NA. Goalie Marissa Dorman played in her first game in net and had a solid debut with seven saves.
Game two was a thriller between North Allegheny and Wissahickon, culminating on a game-winning goal by Sarah Koehler in the second overtime. Koehler was the sparkplug for the victory, scoring a team-high eight goals, two of which on breakaways. Emma Halle added a pair of goals. Anna Kegel, Shannon Kress and McClellan also netted goals in the victory. Dorman reeled in eight saves and earned the victory in net.
In the fifth-place consolation game, North Allegheny fell to Villa Maria by an 11-4 decision. Halle netted a hat trick and Emma DeMeo tallied a marker as well. Defensively, Koehler corralled a team-best six steals and goalie Kate Sekinger made 15 saves, some of which of the spectacular variety.
Following the state tournament, four Lady Tigers were named to the all-state team. Freshman Anna Kegel was an honorable mention pick and the Co-Rookie of the Year award recipient. Second-team selections were junior Sarah Koehler and senior Ryley McClellan. Garnering third-team laurels was sophomore Emma Halle.
The North Allegheny girls' water polo team concludes the season with a 6-15 record.  Congratulations to seniors Ryley McClellan, Kate Sekinger, Nicole Marnell, and Shannon Kress on a terrific water polo career at North Allegheny and best of luck in their future endeavors.