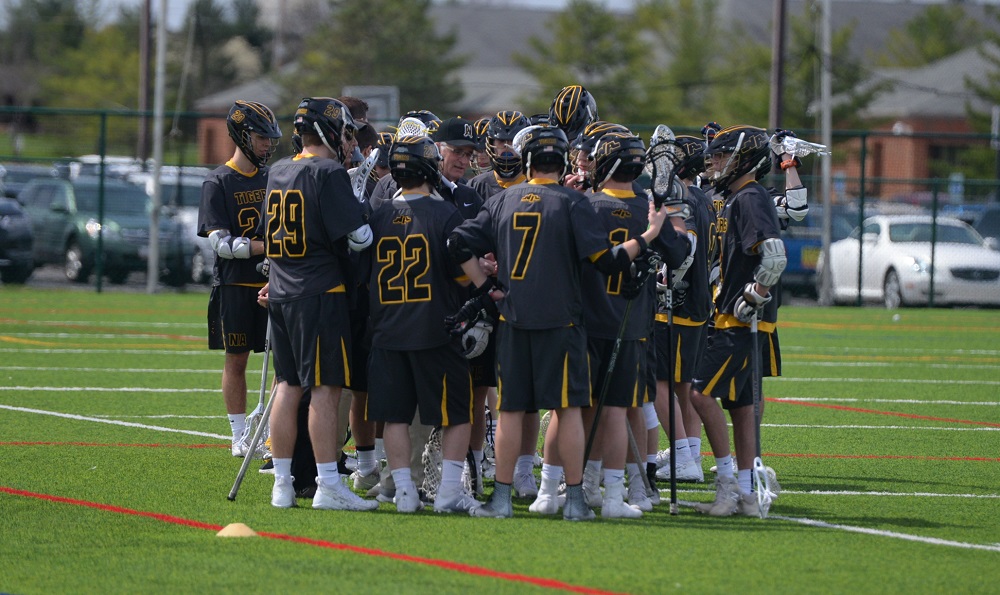 NA Bows Out Of PIAA Playoffs With Loss To Manheim Township
The North Allegheny boys' lacrosse team fell in the opening round of the PIAA playoffs on Tuesday night at Penn Manor High School with a 14-5 defeat to District 3 champion Manheim Township.
In the early going, the North Allegheny defense slowed down the Blue Streaks allowing the Tigers to own a 2-1 lead late in the first period. The Tigers received a strong effort from Antonio O'Barto who led the defensive unit of Judd Powell, Kole Ludwig, Mitch Arnold, Luke Rafferty and Zach Chick. The defensive midfielder unit of Jake Williams, Alex Raketich, Mike Egnaczyk and Ben Rohan added to the defensive effort.
While NA flustered Manheim Township early on, the Blue Streaks began to hit their stride when Bryce Hutchinson evened the score at 2-2 before the end of the first period. From there, Manheim Township gained control of the game and pulled away for the PIAA first round win. Junior attack Tre Freeman led all scorers with four goals and senior Tommy Mann tallied a hat trick for the Blue Streaks.
Offensively for the Tigers, Isaiah Davis led with two goals, while Wes Powell, Kyler Byerly and Chris Eck posted goals as well.
Despite facing a bombardment of shot attempts from Manheim Township, freshman goalie Aiden Miller made 10 saves for NA, while multiple defenders added several blocked shots. At the X, senior Alex Hays won close to 50-percent of the draws.
Manheim Township improves to 23-1 overall and will face Pine-Richland in the PIAA quarterfinals. North Allegheny's season comes to a conclusion with a 13-9 record. Congratulations to North Allegheny head coach John Rullan and the entire boys' lacrosse team for an outstanding 2018 season.
Boys Lacrosse Summary vs. Manheim Township, 5-29-18
| GAME SUMMARY | | | | | |
| --- | --- | --- | --- | --- | --- |
| SCORE BY QUARTERS | 1 | 2 | 3 | 4 | FINAL |
| North Allegheny | 2 | 1 | 0 | 2 | 5 |
| Manheim Township | 3 | 3 | 3 | 5 | 14 |