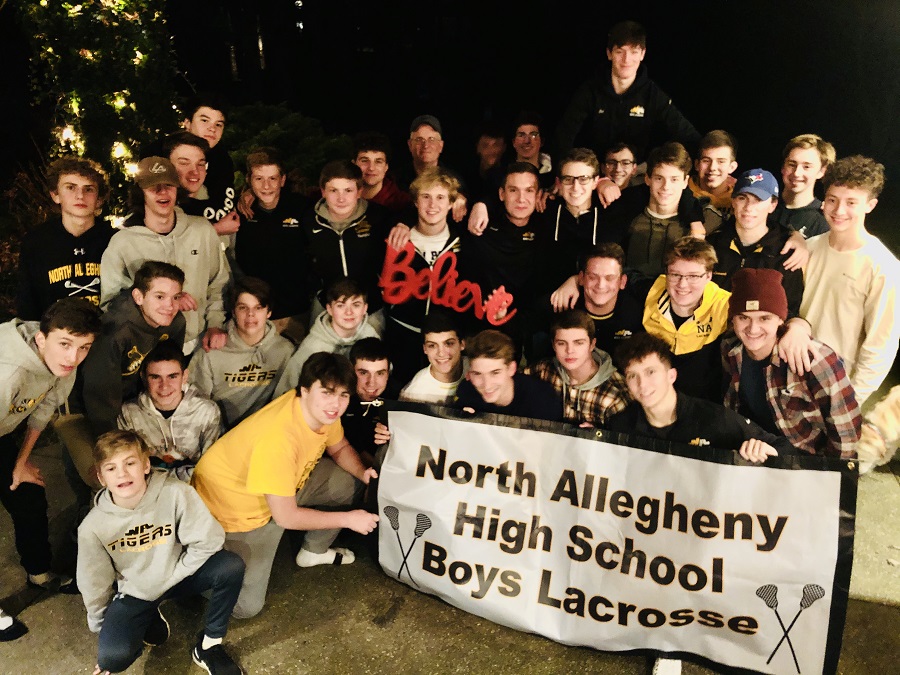 NA Boys Lacrosse Spreads Holiday Cheer
The North Allegheny boys' lacrosse team is giving back to the community this holiday season.  Forty players spent the evening focusing on charity work for the community.  The team wrote holiday letters and cards for deployed US Navy Midshipmen, shopped for and wrapped presents for 4 students on behalf of The Toys for Tigers program, baked and decorated cookies for local families. In addition, the team collected over four large boxes of toiletries, gloves, hand warmers, and socks to donate to two North Side shelter programs: Light of Life Rescue Mission and the Pleasant Valley Men's shelter. The team also came together and donated $245 dollars as well $170 in gift cards to assist the Toys for Tigers families through the school's UBO program.
"Our goal was to show the boys that giving back is important. While sports are an important part of their life right now, we also want to focus on charity and thoughtfulness during the holiday season," said John Rullan, head coach of the team who also participated in this event.
This is the second year the team has gathered for this holiday service program.