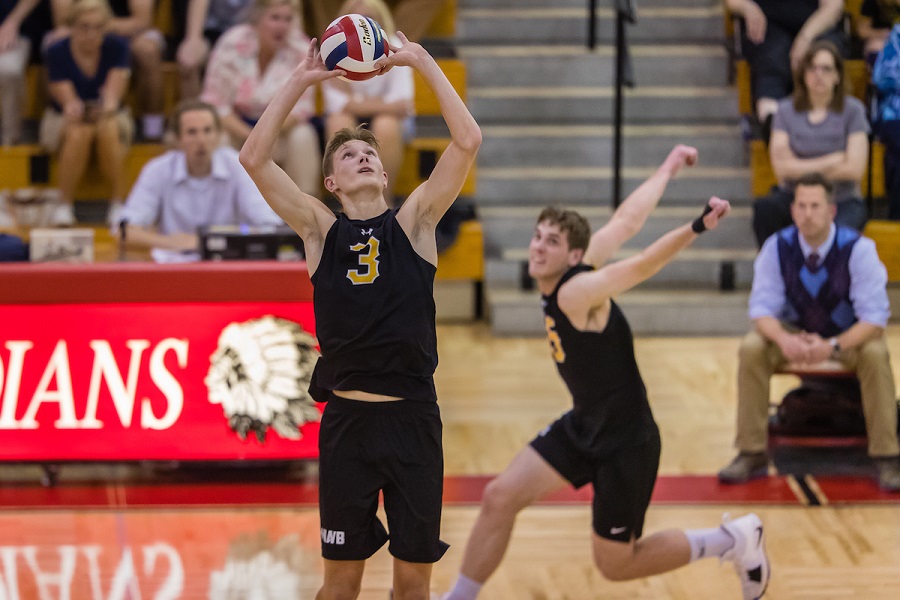 NA Sweeps Butler To Reach WPIAL Championship
By Jared Barton
North Allegheny continued their undefeated set streak with a clean sweep of Butler 3-0 in the WPIAL Semi-finals at North Hills Tuesday night.
In the first set, Butler's Nash Bryan opened the scoring with a kill and an ace. The Golden Tornado and Tigers would trade points back and forth early on. North Allegheny scored five straight points to take an 11-7 lead behind the strong play of Alex Zubrow and Jason Stiefvater. Butler eventually tied the match at 14, and the back and forth scoring continued. NA pulled away to win the first set 25-19.
In the second set, the Golden Tornado kept the pace with the Tigers, but Stiefvater continued a dominating performance with five kills and an ace. The Tigers took middle frame 25-21.
Butler looked like the better team at times in the third set, leading the frame 19-13 towards the end of the match. North Allegheny dug themselves out of the hole at 22 apiece. A pair of Canyon Tuman kills followed by an A.J. Schmidt kill finally ended the match with a 25-22 victory.
Stiefvater ended the day with 13 kills and 2 aces. Tuman recorded 12 kills and an ace. Zubrow had nine kills and a dig while taking home Wright Automotive Player of the Game honors for his work on the front line.
The win sends the Tigers to the WPIAL Class 3A Championship Game against Bethel Park. The match will be held at Baldwin on Thursday night. That match will be broadcast live by the North Allegheny Sports Network. Butler will face Seneca Valley in the 3-A consolation match at the same location.
Boys Volleyball Summary vs. Butler, 5-22-18
| GAME SUMMARY | | | | |
| --- | --- | --- | --- | --- |
| SCORE BY SETS | 1 | 2 | 3 | FINAL |
| Butler | 19 | 21 | 22 | 0 |
| North Allegheny | 25 | 25 | 25 | 3 |