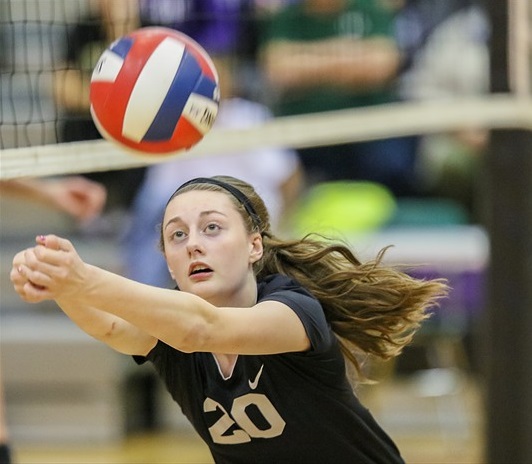 Piper Morningstar Selected Amongst Top Freshmen In Nation
North Allegheny freshman volleyball player Piper Morningstar has been named as a Highest Honorable Mention to the Frosh 59 list as compiled by PrepVolleyball. The Frosh 59 list is a compilation of the nation's most outstanding varsity-playing freshmen for the 2014 fall season. Below is what PrepVolleyball had to say about the Tigers setter.
Piper Morningstar, 5-10 S, North Allegheny (Wexford, Pennsylvania) – By averaging 12.3 assists, 1.7 Blocks and 2.1 kills per set, Morningstar helped lead the Tigers to a second place finish in the WPIAL and fifth place in the State Tournament last fall. She tallied 840 assists for the year and was honored for her efforts by being the only freshman named to any WPIAL Team.
"I would argue that no one player in the area had more impact on their team's success, including her sister, Meg Morningstar, who was named Gatorade POY," says Renaissance VBC's, Brian Begor. "If Piper doesn't step up and take over the setter's role after the injury to the starter, they aren't anywhere near the team they turned out to be. Her attributes are that she is a great athlete and has good size, but in this case her confidence in herself and competitiveness were the real difference makers."
Older sister Meg Morningstar, who has accepted a scholarship to play at Notre Dame next season, was named to the 2014 PrepVolleyball.com's list of High School All-Americans.
Both Morningstar sisters are also members of the North Allegheny girls' basketball team which will play its first WPIAL playoff game on Tuesday night against Latrobe.