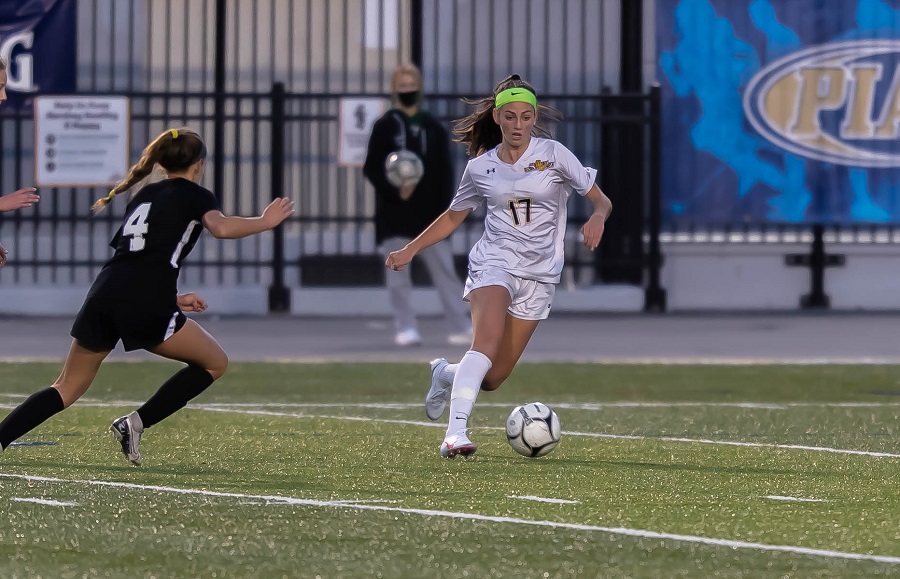 Sarah Schupansky Named 2020 Moe Rosensteel Player of Year
North Allegheny senior Sarah Schupansky was honored on Sunday as the recipient of the 2020 Moe Rosensteel Player of the Year Award. The University of Pittsburgh commit was a finalist for the award as well last season. The award is given to the top girls' soccer player in Western Pennsylvania.
Thank you so much! This is an amazing honor. This award means so much to so many, and I am beyond grateful to be a part of Moe's legacy. @elliecoffield1 and @TessaDellarose are incredible players and friends, and it was an honor to be nominated with them.💜🧡 https://t.co/oVNRUidbCu

— Sarah Schupansky (@sarahschupansky) November 22, 2020
With 60 career goals, Schupansky led the Tigers to their two best seasons in program history. In 2019, Schupansky netted a team-best 23 goals and directed NA to its first WPIAL crown. As an encore, Schupansky scored 24 goals in just 16 games in 2020 and helped pave the way for a second straight WPIAL title and NA's first ever appearance in the PIAA championship game in Hershey.
Below is the official announcement:
The 2020 Moe Rosensteel Player of the Year Award winner is Sarah Schupansky of North Allegheny Senior High School. Sarah Schupansky was a finalist in 2019 for the award. Sarah is coming off an incredible season leading her team to back to back WPIAL titles and a PIAA Finalist in Class 4A. Sarah has recently signed her National Letter of Intent to play at the collegiate level at the University of Pittsburgh. 
This year, 2020, marks the second annual Moe Rosensteel Player of the Year Award to be awarded to a female high school soccer player in Western Pennsylvania.
Kaitlyn "Moe" Rosensteel was taken from us June 13, 2019. She was loved by her family and friends.  Moe grew up playing the game she loved with her sister and her friends. The game of soccer built those  long-lasting friendships and created many others. The game gave Moe the opportunity to play at the  collegiate level, though she would never get a chance to take the field. The Kaitlyn "Moe" Rosensteel  Scholarship Foundation provides this award in her memory.
Work Hard in Silence, Let Success Make the Noise 
2020 Moe Rosensteel Player of the Year Award Finalist
Thank you, 
Ed Rosensteel – President
Shelley Rosensteel – Vice President
Keith Genicola – Treasurer