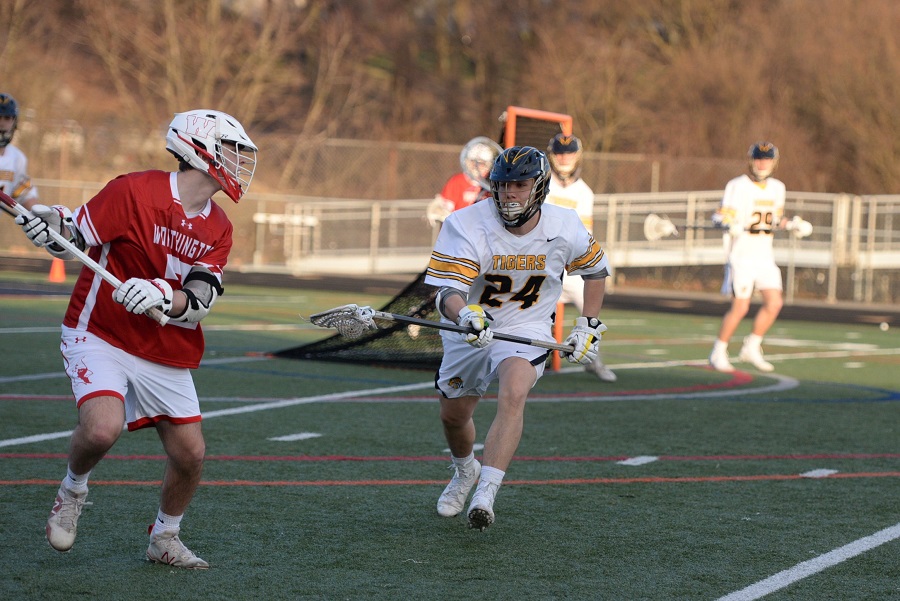 Student-Athlete Profile: Senior Defenseman Judd Powell
A trademark of the North Allegheny boys' lacrosse team over the years is a staunch and bone-rattling defense. One of the leaders of the Tigers defense over the past two seasons is senior long-pole Judd Powell.
A starter since his sophomore season and a three-year letterman, Powell has honed his defensive chops thanks in part to the NA coaching staff and his older brother, Wes, who is currently a sophomore attack at Kenyon College.
"(Wes) worked with me daily and still does," said Powell of his older brother. "We make each other better every day. He pushes me to be the best I can be. It also helps that he plays offense and I play defense so we've played against each other for years. We have a net in the backyard and it's a lot of fun."
With his older brother currently playing at the collegiate level in Division III's North Coast Athletic Conference, there is a direct benefit for Powell and his backyard practices.
"My brother knows a lot of the moves all of the attackmen do in college. He practices dodging from up top on me, from behind the net, everywhere on the field and it gets me ready for any in-game scenario there could be."
For one year, in 2018, the brotherly Powell duo played on the same field together at North Allegheny. That season, the Tigers reached the WPIAL championship game and the PIAA playoffs. To get to the title tilt, North Allegheny came through with one its most memorable victories, a 7-6 overtime thriller over archrival Pine-Richland in the WPIAL semifinals. Matt Osten's game-winning tally in the extra session is Powell's favorite memory of his North Allegheny career.
"The crowd went in insane and it was just a feeling I've never had. We worked so hard to beat Pine…It was a huge moment for us as a team."
Last season, with the assistance of Powell on defense, the Tigers returned to the WPIAL semifinals but came up just short of the championship game with a narrow loss to Mt. Lebanon, 10-8. North Allegheny had hopes of once again going deep in the playoffs and potentially winning a championship in 2020. Unfortunately, due to COVID-19, Powell and the Tigers won't have that opportunity.
However, looking back on the past two seasons at North Allegheny is something unique and exceptional for Powell and his teammates.
"Every day going to practice, it was like a band of brothers. We were a family and it was just like going to your other home by going to practice.
"It was great to see the coaches and everyone loves the coaches and everyone loves the team. We've always meshed really well and I think that's a big part in how we win."
Similar to his older brother, Powell will also take his lacrosse career to the collegiate level next season at Roanoke College in Salem, Virginia. He will join a Division III program that has won 18 Old Dominion Athletic Conference (ODAC) championships, with the most recent coming in 2013.
"It is a really challenging conference. It's a great team I'm going to and hopefully I can give it my best and earn some (playing) time next year. I'm definitely going to work as hard as I can to make an impact on this team."
Powell is an avid outdoorsman who enjoys hunting, fishing and skiing. He plans to major in Business and Economics at Roanoke College.