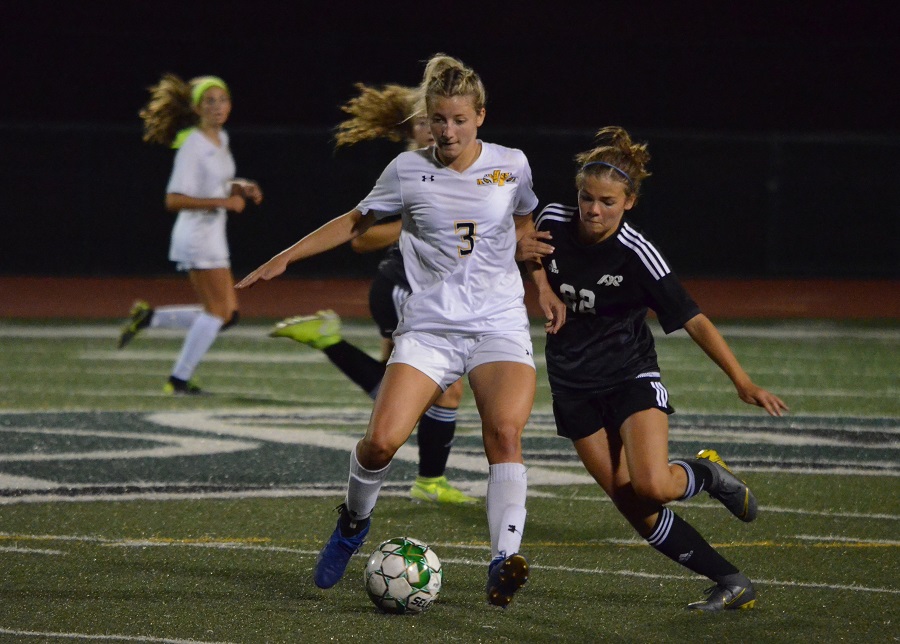 Student-Athlete Profile: Senior Forward Emma Bundy
Over the years, the Duquesne University women's soccer program has assembled a who's who of WPIAL stars. Another elite WPIAL performer that will join the Dukes next season is North Allegheny senior standout, Emma Bundy.
A four-year starter for the Tigers, Bundy made a splash her freshman season with 10 goals on her way to all-section honorable mention laurels. The strong rookie campaign in 2016, paired with exceptional performances on her club team and at college showcases, quickly put her on the radar of some NCAA Division I programs.
"I had always thought about playing in college," said Bundy. "Once I started playing club and attending college showcases my freshman year, that's when I realized I might be able to do this (at the next level)."
Bundy followed her phenomenal freshman season with an even better sophomore campaign. The NA forward tallied 11 goals during the 2017 season and earned All-WPIAL accolades and was named first-team all-section by the Big 56 Conference. By seasons end, Bundy's decision was made. She was bound for the bluff.
"I really like Pittsburgh and I wanted to stay close to my family. My club team, at the time, practiced at Duquesne's field and I loved being right in the city – it was so nice."
The individual success for Bundy coincided with an outstanding 2017 season for North Allegheny. After missing the playoffs in 2016 with a 7-10-1 record, the Tigers improved to 14-8-1 and reached the WPIAL semifinals and PIAA quarterfinals. The successful season laid the groundwork for a run to a championship just two years later.
With a strong nucleus of seven seniors, including Bundy, the Tigers had their best season in program history in 2019. Bundy netted 10 goals during her final season at NA, with game-winning markers against Pine-Richland and Fox Chapel to secure key section wins. The victories helped clinch NA's first undefeated section title in program history with a 12-0 record.
In the WPIAL playoffs, North Allegheny's flair for the dramatic continued with an overtime win in penalty kicks against Peters Township in the WPIAL semifinals. Bundy tallied one of four PK goals to propel the Tigers into the WPIAL championship. Then at Highmark Stadium on Oct. 31, North Allegheny blanked perennial powerhouse Norwin, 2-0, for the first WPIAL crown in program history.
"It was just so exciting. All of the seniors – we've always said we definitely wanted to win the championship our senior year. When we did, we were all in shock and so excited."
What made the 2019 WPIAL championship extra special for Bundy was the opportunity to share the title win with her younger sister, Anna, who was a freshman on the team.
"It's been really great having (Anna) on the team because I've never gotten to play on the same team with her, so this was the first time and it was really fun and exciting."
With another dazzling display on the pitch for North Allegheny as a senior, Bundy finished her career with 40 goals scored and was once again named All-WPIAL and first-team all-section by the Big 56. It was the third consecutive season she received such honors. While the accolades are nice, Bundy is most proud of how she personally evolved during her tenure on the team.
"I feel like I've grown a lot as a player and a person and mostly thanks to North Allegheny. I started as a freshman being really nervous and I didn't really know what role I would play but I ended up being a senior captain and more of a leader. I really changed as a player and person throughout my four years."
In addition to her excellence on the playing field, Bundy is involved in TigerThon, an annual dance marathon that raises money for pediatric cancer. She also volunteers for the Light of Life Rescue Mission and assists NA head coach Chuck Kelley at the Just 4 Girls summer camp.
At Duquesne University, Bundy plans to major in Biology and hopes to someday be a Physician's Assistant.