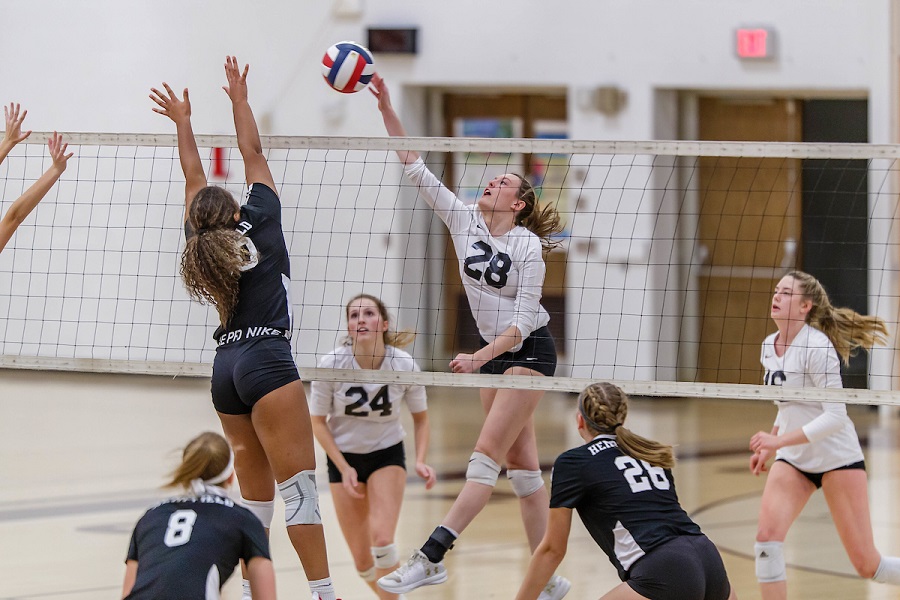 Student-Athlete Profile: Senior MH Maddi Curran
When the North Allegheny girls' volleyball team won its third straight PIAA championship last fall, it was one for the record books. North Allegheny became only the sixth team in PIAA girls' volleyball history to win three or more state championships in a row.
However, it was far from clear sailing for the 2019 Tigers. North Allegheny, and some members of the team, navigated through turbulent waters at times to reach their goals. Epitomizing this ability to persevere was senior Maddi Curran.
The 5'11" middle hitter played through most of the season with a sore shoulder and battled the pain of a torn labrum during the entire playoff run.
"There was one practice right before our first WPIAL playoff game where I felt that something was definitely wrong and I couldn't finish practice," said Curran. "I got an MRI to see what was wrong and that's when (the doctors) told me it was torn."
The doctors also informed Curran that she couldn't injure the shoulder any further if she played. It was a matter of dealing with the pain.
"Through the playoffs I didn't practice much and when I did all of my reps were limited. For games, I would it put it all out there and save myself for the next game. It was so nice to have the seniors by my side through it."
Following a first-round bye, Curran and her teammates earned wins over Seneca Valley and Moon en route to the WPIAL championship game. The semifinal win, in which Curran contributed four kills, marked the team's 65th consecutive victory. That astonishing winning streak came to a stunning end in the WPIAL title game as upstart Canon-McMillan beat NA in five sets, 3-2.
For a lesser team, a loss in the WPIAL championship would have signified the end of the line. But for North Allegheny, it gave the team a renewed sense of purpose.
"The practice after the WPIAL championship, coach Heidi Miller sat us all down and we had a really long talk. She told us that we're going to put everything we have toward winning the state championship."
North Allegheny started the PIAA playoffs with relatively easy wins over McDowell and State College, both 3-0 sweeps. In the state semifinals, the Tigers were tested but prevailed in a 3-1 triumph over Landisville Hempfield. Continuing to play through the aches and discomfort of her shoulder, Curran chipped in with timely plays from the middle and delivered six kills in the semifinal victory.
As the games became more important, Curran's ability to rise above the agony of her shoulder endured. In a five-set thriller for the state title, North Allegheny edged Bishop Shanahan for the crown, 3-2. In the final set, the Tigers prevailed, 16-14. Curran came through for nine kills in the PIAA final.
"The state championship was easily the best moment of my life. Match point was a rally that was going back-and-forth. We won the point and I was the first one sprinting onto the court. I fell to my knees. I was so happy I was crying."
What made the 2019 PIAA championship extra special for Curran was being able to share the moment with her younger sister, Caroline. Caroline Curran, a freshman defensive specialist, saw significant playing time during the postseason.
"Having to spend so much time together (this season), we got so much closer. Getting to experience something like that together, winning a state championship, was crazy. It was really nice."
By seasons' end, Curran also earned plenty of individual accolades. She was named first-team all-section by the Big 56 Conference and second-team All-WPIAL. The ultimate competitor, winning team titles is what matters most for Curran.
"Being a three-time state champ is not something that many high school athletes can say about themselves. I've been so lucky to be surrounded with great people."
In addition to volleyball, Curran is a member of the National Honor Society, a captain for TigerThon, and a manager for the North Allegheny boys' volleyball team.
On Dec. 20, Curran had surgery to repair her torn labrum and she is currently rehabbing in advance of the next chapter in her career. Next season, Curran will play Division I volleyball at Saint Francis University (PA) and plans to pursue a degree as a Physician Assistant.