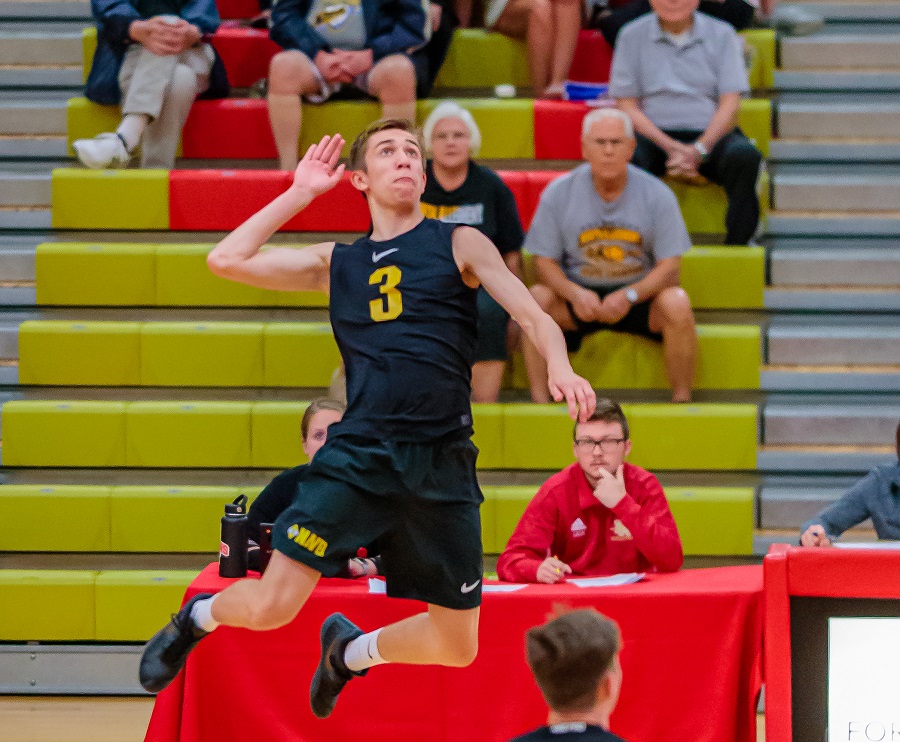 Student-Athlete Profile: Senior OH Ben Mendes
The preeminent boys' volleyball program in the WPIAL, North Allegheny has won 20 WPIAL titles and seven state crowns. During NA's reign of success, the Tigers have produced many standout athletes. North Allegheny head coach Dan Schall considers 6'2" senior Ben Mendes to be one of the most well-rounded players that have ever played for the black and gold.
"If I was asked to do something, I would go and just do it and it's kind of worked out," said Mendes of his versatility. "I think it's really useful in the volleyball sense to be able to do as many things as you can."
"As a sophomore, (Ben) had to fill the void at the setting position on the junior varsity team and learned the position from the ground up," said coach Schall. "Last year, as a junior, he was our starting opposite establishing himself as a go-to offensive weapon and excellent blocker."
Going from setter to opposite was a smooth transition for Mendes. In 2019, he finished second on the team in kills (224) and fifth in blocks (66). The breakout season earned Mendes third-team All-WPIAL recognition and second-team all-section laurels.
"I can't get a lot of kills without great passes," said Mendes. "All of our passers last year were really good. Sava (Topich) was really good at giving me the ball where I needed to hit it."
With the dynamic passing of Topich and the big swings from Mendes and others, North Allegheny had another championship season in 2019. The Tigers won their third straight WPIAL championship and second consecutive PIAA title, all while extending their winning streak to an astonishing 46 in a row.
"Last year was pretty special," said Mendes. "Sophomore year I was on the varsity team for the playoffs and it was fun to watch us go to the WPIAL and state championship. But junior year to be a part of the team, it was truly special."
Mendes was not only an active member of the team during the 2019 title run but he also delivered the match-ending kill to cap a 3-0 sweep of Central York in the state championship.
"That's a pretty cool moment," said Mendes. "Looking back on it, it is definitely one of the top moments of my life so far."
Continuing his ambidexterity, Mendes spent this off-season developing his skills as an outside hitter. Considered a "Player to Watch" in Class AAA by some local publications, Mendes is prepared to take over as a team leader.
"He has continually grown as a player," said coach Schall. "He is a natural leader on the court."
It's still undetermined as to whether the 2020 volleyball season will be played due to COVID-19. However, if the Tigers have an opportunity on the court, the expectations remain the same.
"We have a lot of young guys and they're really good," said Mendes. "The goal would be to win another WPIAL and PIAA championship."
Off the court, Mendes volunteers at Orchard Hill Church in Wexford. He will not play volleyball in college. Mendes plans to attend the University of Illinois and will major in Business.