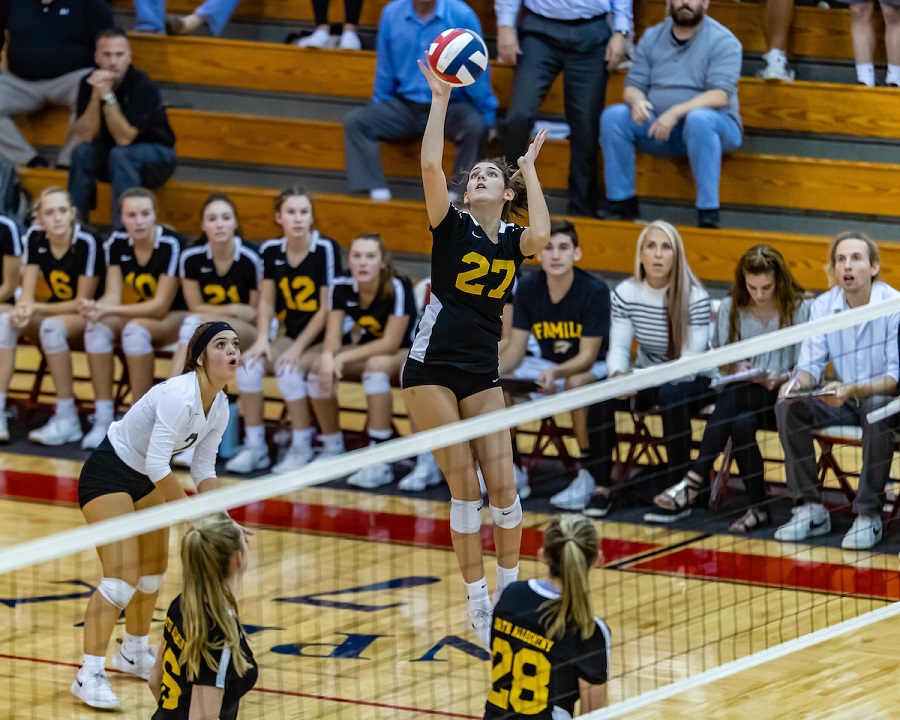 Student-Athlete Profile: Senior OH Hannah Phillips
In November of 2018, the North Allegheny girls' volleyball team had its sights set on a second straight Class AAAA state title. Heading into the PIAA semifinal match with Garnet Valley, then-junior Hannah Phillips had played sparingly during the season. After a strong week of practice, head coach Heidi Miller plugged Phillips into the lineup and the outside hitter took full advantage of her opportunity. Phillips had a breakout performance to help the Tigers to a 3-1 victory.
"Coach made the announcement that everyone always had to be ready," said Phillips about the events leading into the PIAA semifinal. "I was always ready to go in no matter if it was the first game of the season or if it was during states. I was given no warning (that I'd play) but I was still ready."
Picking up where she left off just days later, Phillips tallied three kills in the opening set of the PIAA championship as NA cruised to a 3-0 triumph over Bishop Shanahan.
Phillips parlayed the stunning finish to her junior season into a sensational senior season in 2019. As one of the top hitters for North Allegheny, Phillips earned All-WPIAL honorable mention recognition and first-team all-section laurels from the Big 56 Conference.
"(NA) had five players make first-team all-section and its incredible that all five of us could get the recognition that we had worked for. It was really exciting (for me) and amazing."
With the steady hand of Phillips, the Tigers won their third straight PIAA  championship by again beating Bishop Shanahan in the title tilt, 3-2. The victory marked only the sixth time in PIAA girls' volleyball history that a school has won three or more state championships in a row.
"I consider myself lucky to be under all the coaches that we have at NA and to have the opportunity to play with so many great players."
Coming from an athletic family, her mother, Sue, played tennis at Indiana University of Pennsylvania and her older sister, Kelsey, played golf at North Allegheny and Westminster College. On the Westminster women's golf team, Kelsey Phillips was crowned the Player of the Year in the Presidents' Athletic Conference in 2017 and 2018.
Hannah Phillips credits her older sister with getting her started in volleyball.
"In the summer going into seventh grade I did camps because my sister played volleyball in middle school and I wanted to be like her. You kind of look up to your older sister and think, it was successful for her and I want to be successful as well."
Similar to her older sister, Phillips tried a collection of different sports while growing up before eventually focusing on volleyball.
Phillips will continue her academic and volleyball career next season at Penn State-Behrend. She'll join a program that went 19-11 and won its fifth Allegheny Mountain Collegiate Conference championship this past fall.
"It kind of worked out that I really loved Behrend as a campus and a school, so having a great volleyball program accelerated me in choosing it."
Phillips plans to major in Biology at PSU-Behrend and hopes to specialize in Ecology.