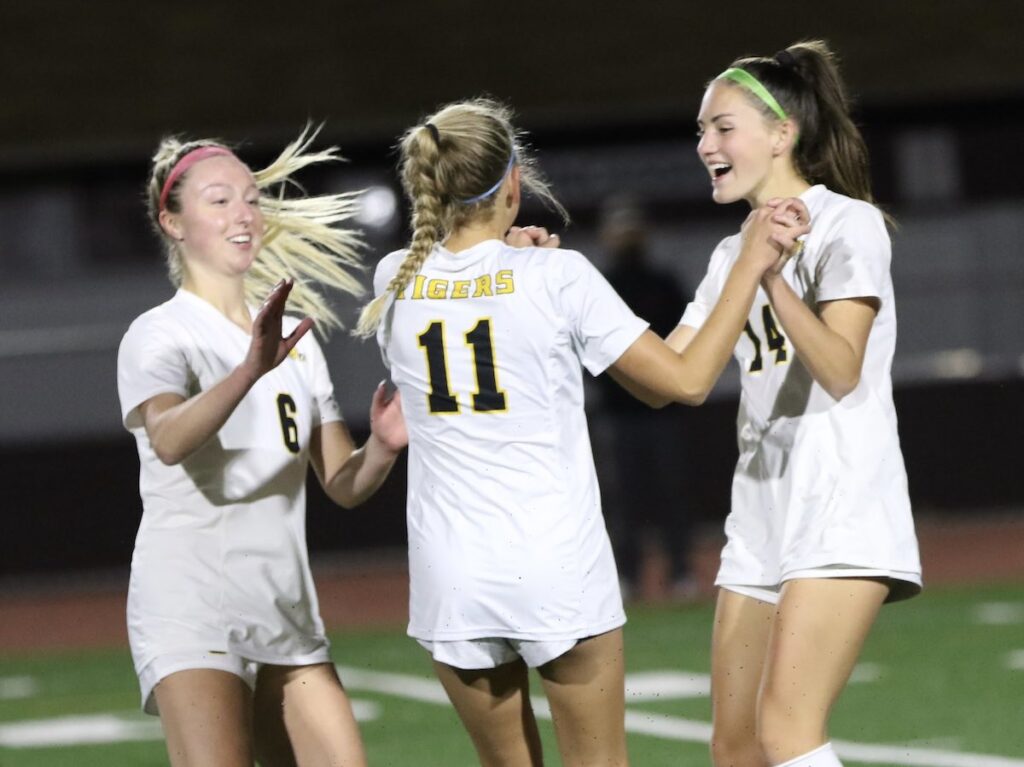 Tigers Advance in State Playoffs with 4-2 victory over Altoona
by: Bob Orkwis
After seeing their undefeated season and their hopes for a WPIAL championship spoiled by Fox Chapel, the Tigers set off on a quest for a state title.
The first step was a successful one, as North Allegheny scored a 4-2 victory over District 6 champion Altoona at Mansion Park.
It started well for Altoona, as their fantastic striker Hailey Kravetz scored her 45th goal of the season just four minutes into the match to give the Lady Lions a 1-0 lead.
But North Allegheny had the answer, and the response was three first half goals.
Abigail Stager notched the equalizer in the 12th minute, scoring from 18-yards out on a breakaway down the near side. The goal was the 32nd of the year for the Kentucky recruit.
Freshman Kieran Shannon put the Tigers in front 2-1 in the 24th minute. She got open on the right side and found the net for her 15th tally of the year.
With Maddie Miller off on a yellow card, the Tigers were awarded a free kick in the 35th minute. It was Ally Ruiz who knocked the shot home and the Tigers led 3-1 at intermission.
Coming out of the locker room, Altoona found a way to make it a one-goal game with a free kick strike of their own.
Freshman Ava Frey put home the shot in the upper near corner for her 4th goal of the year and it was a 3-2 contest with 15 minutes remaining.
Senior keeper Aubrey Dietzel made several great stops in the second half to keep the Lady Lions in the match.
North Allegheny would finally get the all-important insurance marker in the 79th minute of play.
Stager attacked on the right side and laid a great touch pass at the feet of Izzy Costa and the junior found the net for her first goal of the season to seal the 4-2 win for the Tigers.
Senior Natalie Rak earned the win in goal for North Allegheny, who improved to (21-1) on the season. Altoona sees their season end at (15-6).
With her 12th tally of the season and the eventual game winning goal, Highpoint recruit Ally Ruiz earned the Wright Automotive Player of the Game.
Next up for North Allegheny is a 4A PIAA Quarterfinal matchup against Central Dauphin. That match will be played Saturday at a site and time to be determined.