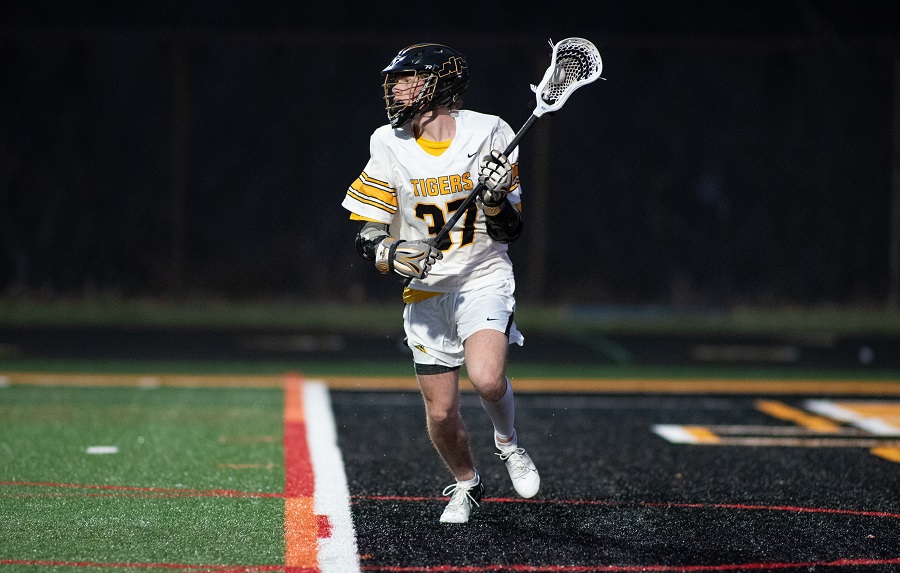 NA Secures Share Of Section Title With Win Over Pine-Richland, 14-4
by Bob Orkwis
The defending WPIAL 3A boy's lacrosse champions checked off another box at Newman Stadium tonight. By virtue of their 14-4 victory over the Rams, the Tigers (9-4, 7-0) clinched the section title. If North Allegheny would lose it's section finale against Norwin, and Shady Side Academy would win out, the two schools would end up tied in the section, but the Tigers own the tiebreaker courtesy of an 8-7 win over the Bulldogs.
North Allegheny struck for the for the first two goals of the night as Cole Bordo and Christian Tedder gave the Tigers a 2-0 lead 4:43 into the game. But Pine-Richland (5-9, 4-3) would answer with goals from Andrew Mellis and Will Hilton and the first quarter would end tied at 2-2.
The Tigers would own the second quarter, outscoring the Rams 5-0, on their way to scoring twelve of the game's last fourteen goals. Marco Pascarella scored in transition after a Marc Melanson save at 1:54 to give North Allegheny a lead they would never relinquish. Gavin Banyas, Travis Lamark of an Evan Lyon assist would also score before Tedder would complete the hat trick with a pair of goals.
Bordo started the second half with a goal, and after the Rams closed to within 8-3, Lamark with two goals and Bordo with two more would make the score North Allegheny 12-3 after the 3rd quarter.
The dangerous duo of the freshman Lamark and the senior Bordo would round out the scoring om the night for the Tigers. The Seton Hill bound Bordo led the Tigers with five goals in the win. Lamark finished with four goals of his own and was awarded the Wright Automotive Player of the Game honors. Junior Beck Taucher would finish out the game playing the fourth quarter in net for the Tigers.
The Tigers are next in action on Monday when they visit 2A Mars, one of the top teams in the WPIAL before closing out section play next Wednesday night at Norwin.
Boys Lacrosse Summary vs. Pine-Richland, 5-4-22
| GAME SUMMARY | | | | | |
| --- | --- | --- | --- | --- | --- |
| SCORE BY QUARTERS | 1 | 2 | 3 | 4 | FINAL |
| Pine-Richland | 2 | 0 | 1 | 1 | 4 |
| North Allegheny | 2 | 5 | 5 | 2 | 14 |