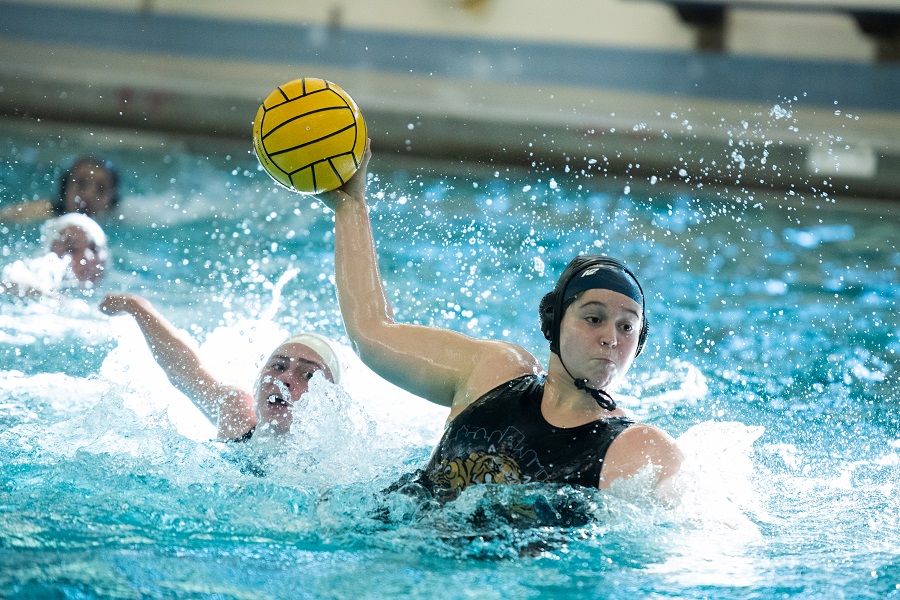 Tigers Conclude Season At State Championship
The North Allegheny girls' water polo team took part in the State Championships over the weekend at North Penn High School and came away with a fifth-place finish to end the 2019 season. In the process, four Tigers received all-state recognition, including senior captain Sarah Koehler who received first-team honors. Freshman Rebecca Melanson earned second-team recognition and was nominated for the All-Freshman Team. Sophomore Anna Kegel garnered third-team laurels and junior Emma Halle was an honorable mention selection.
The Lady Tigers opened the state tournament on Friday with a contest against Wissahickon, narrowly dropping a 9-8 decision. Koehler led the Tigers with four goals and seven steals in the defeat.
North Allegheny bounced back in a big way on Saturday morning with a 15-8 victory over Souderton. Trailing 4-3 at halftime, the Tigers buried Souderton with a seven-goal avalanche in the third period to take command of the game. Leading the outburst was Melanson, who netted seven goals. Koehler notched a hat trick, while Kegel, Halle and Marissa Dorman tallied one goal apiece. Sophomore goalie Hannah Ziegler made 15 saves to earn the victory.
In the fifth-place consolation, North Allegheny ended the season on a high note with an 8-4 triumph over McDowell. Tied 2-2 at the half, the Tigers again used a big third period to seize control. This time NA outscored the Trojans 4-1 in the third period en route to the victory. The Tigers were aided by another hat trick from Koehler and two goals each from Dorman and Melanson. Kegel chipped in with a marker and a team-high five steals. Ziegler stopped seven shots in the win.
The North Allegheny boys' water polo competed in the State Championship on Oct. 25-26 and claimed 7th place at the tournament. The Tigers fell in their first two games of the tournament with an 18-8 loss to Cumberland Valley and a 15-12 defeat to Governor Mifflin. David Lomakin led the team in both games with four goals in the first and seven in the second.  In the seventh-place consolation, Lomakin was once again the offensive catalyst with a seven-goal performance. Ben Phillips tallied a pair of goals and Tyler Tieppo added another. Goalies Eliot Maravich and Ben Pizov split time in net, combining for 10 saves in the victory.
Phillips earned second-team all-state recognition for his performance. Sean McClellan, Keller Sens and Asher Jones were all selected to the All-Freshman Team.
For the water polo teams, graduating seniors include Blake Camerlin, Akshana Dassanaike, Sarah Koehler, Rory Kooker and Ben Phillips.
The Lady Tigers conclude the season with a winning record, going 12-11 on the campaign The NA Boys finish out the year with a 6-17 mark.