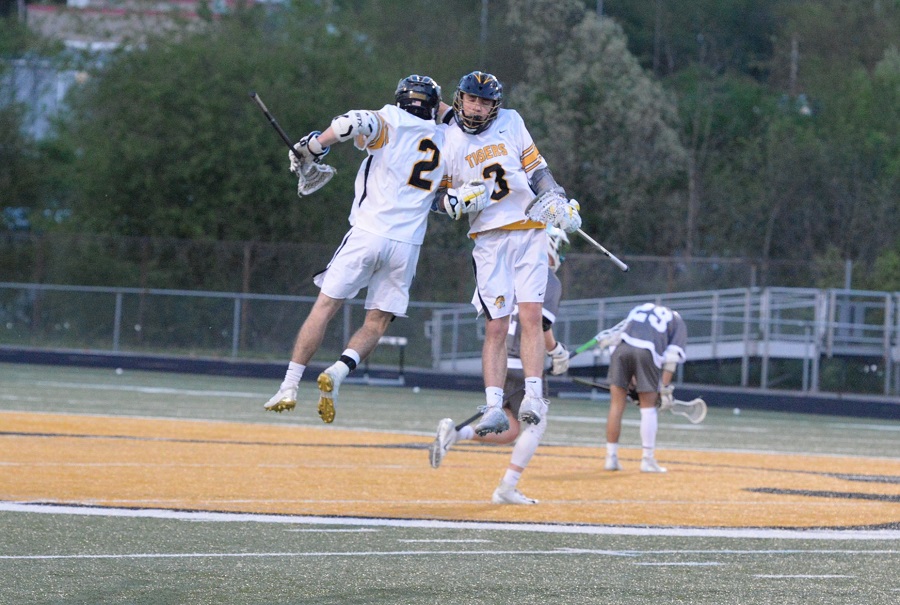 Tigers Humble Rams, 11-6, To Win Section
A hat-trick performance by a duo of Tigers led to way to an 11-6 victory over the Pine Richland Rams at Newman Stadium Monday night. The win secures first place in Section 2- AAA.
North Allegheny opened the scoring with three straight goals off the sticks of seniors Ben Maenza and Matt Osten. Osten scored back-to-back markers as the Tigers held a three-goal lead at the end of the first quarter.
The Rams rolled back into the contest with a trifecta of goals just about two minutes into the second quarter. Jon Scherer put PR on the board first, with Ben Barnes scoring again just 12 seconds later. Ryan Springer snagged a pass off of a turnover with one hand on the stick and found the back of the net in a spectacular play to tie the game at 3 apiece. Kyler Byerly and Isaiah Davis scored at the end of the half to give the Tigers a 5-3 lead at the half.
Davis was not done as he completed the natural hat trick with a pair of goals 40 seconds apart from each other extending the lead to 7-3 in the third quarter. Byerly added another goal to push the lead to 8-3. Dayne Goltz scored four minutes later to cut the lead in half, but Ryan Leonard added a tally with 22 seconds in the frame to take a 9-4 lead. The Rams' Ben Barnes scored his second goal of the night with no time left on the third quarter clock as the Tigers held a 9-5 lead after three.
Osten completed a hit trick as Leonard added a second goal in the fourth quarter and the Tigers jumped out to an 11-5 lead. Ryan Spring scored in garbage time as NA pulled off a huge section win, 11-6.
Davis earned Wright Automotive Player of the Game honors with his three goal and three assist performance. Osten scored three goals and scooped up five groundballs.  Sophomore Aiden Miller led the way defensively with six saves and three groundballs.
The Tigers improve to 7-1 in the section and 12-2 overall. The win grants NA a first-place finish in the section, tied with Pine-Richland, who also finishes at 7-1 in section play.  North Allegheny next takes on the Peters Township Indians Thursday at Newman Stadium in a rematch of last year's WPIAL championship game.