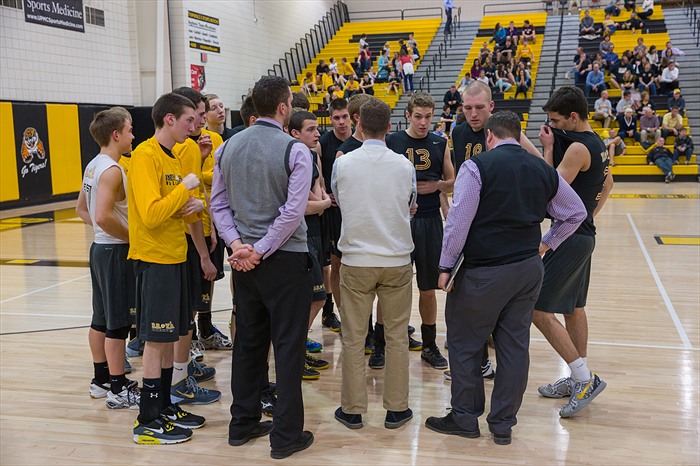 Tigers Reach Semifinals At Annual NA Invitational
The eight-time WPIAL champion North Allegheny Tigers opened the 2015 season by hosting the annual NA Invitational Tournament this weekend.  The Tigers were semifinalists at the tournament before falling to the reigning state champions, Central York, in a hotly contested match by a 28-26 decision.  Fox Chapel, fellow members from Section 2-AAA, won the tournament title by topping Central York in the championship, 25-16.
North Allegheny concluded pool play as the fifth seed in the 16-team playoff bracket.  NA defeated Upper St. Clair in the preliminary round, 25-18, and Ambridge in the quarterfinals, 25-20, before eventually falling to Central York in the semifinals.
The Tigers had numerous impressive performances over the weekend, including Nikola Topich and Canyon Tuman who posted 32 and 31 kills, respectively. Tuman was tops for the Tigers at the net with 12 blocks while Topich had a team-high eight aces. Defensively, David Henderson collected a team-best 34 digs. Setter Jeremy Best dished out 120 assists.
North Allegheny opens the section schedule with a tough test on Tuesday night as the Tigers visit the rival Seneca Valley Raiders. Start time is set for 7:00 pm.
JV Update: NA lost to Central York in the JV tournament championship, 25-15.
Pool B
NA defeated Bishop Guilfoyle 25-17
NA defeated Central Catholic 25-20
NA lost to Central York 19-25
Pool E
NA lost to Derry 0-2 (24-26; 18-25)
NA defeated Plum 2-0 (28-26; 25-15)
NA split with Fox Chapel (22-25; 25-19)
Playoffs
Preliminary Rd: NA defeated #12 Upper St. Clair 25-18
Quarters: NA defeated #4 Ambridge 25-20
Semis: NA lost to #1 Central York 26-28