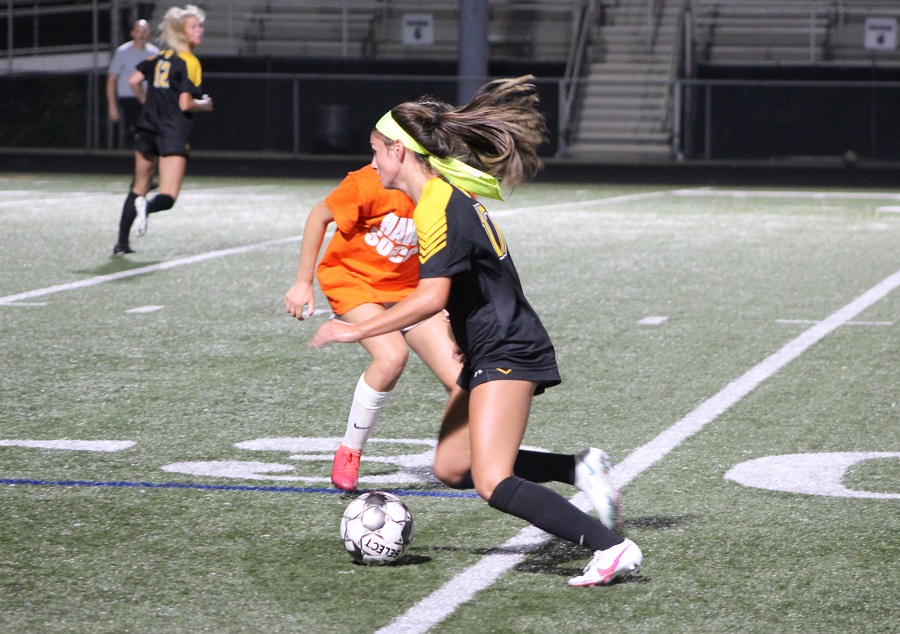 Tigers Take Care Of Business In Season Opener
by Jared Barton
It did not take long for the North Allegheny girls' soccer team to shake off the rust after a long offseason. The Tigers took down Shaler 5-0 at Newman Stadium in the season opener Thursday night.
Two players who were contributing members of last year's WPIAL Championship squad took control early in the first half. The scoring all started with sophomore midfielder Sarah Schupansky, who dribbled the ball into the offensive zone with a one-on-one chance and blasted the marker past Titans netminder Jocelyn Schwartz with 32:55 left in the first. It didn't take long for the next score, as sophomore forward Lucia Wells netted the team's second goal with 32:02 left in the half for a 2-0 lead. A few minutes later, the Tiger attack continued, as Wells struck again with an assist from sophomore Anna Bundy at 28:58 to bring the score to 3-0, NA. Schupansky added her second of the game off an Ellie Wrigley assist with 17:19 to go in the first for a 4-0 lead. Bundy had a chance of her own in the waning seconds, but her shot went wide.
Bundy would get a second chance to hit the net in the second half, as she scored her first of the year with 24:04 left in the game for a 5-0 NA advantage. Schupansky ensured the goal with an assist. Meanwhile, it was a quiet night for senior goalkeeper Julianna Werner, who earned the shutout.
Schupansky was named the Wright Automotive Player of the game for her three-point performance Thursday.
Shaler falls to 0-2 on the season, and will be back in action Monday night at 7:30 p.m. against Seneca Valley. North Allegheny improves to 1-0 overall and in conference play. The Tigers will be back on the pitch Saturday at Newman Stadium in a rematch of last year's WPIAL championship game against the Norwin Knights at 3:00 p.m.