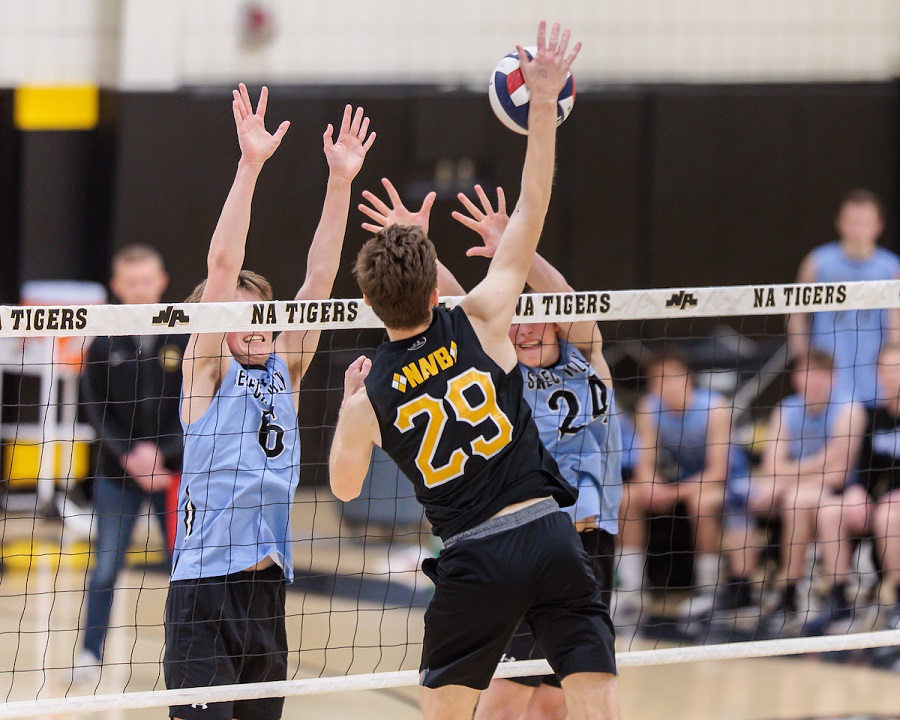 Tigers Take Third Place At State College Invitational
The North Allegheny boys' volleyball team participated in the annual State College Tournament on Saturday and claimed a third-place finish. Following pool play, the Tigers topped Cumberland Valley in the quarterfinals, 26-24, to reach the tournament semifinals. In the tournament's Final Four, section rival Seneca Valley defeated NA, 25-20. The Raiders would go on to beat Central York in two sets to win the tournament title.
There were several outstanding performances for the Tigers, including junior Nico Sfeir who belted out a team-best 31 kills and led NA at the net with four blocks. Junior Jax Wilhite contributed to the offense with 25 kills and senior Caleb Schall followed with 22 kills. Senior Titus LaMay tallied a team-leading 10 aces and added 20 kills.
Along with Sfeir's four blocks, seniors Zach Brkovich and Jack Birch helped clogged the middle with three blocks each. Birch also chipped in with 17 kills offensively.
Schall led in the assists department with a team-high 80 helpers, followed by senior Jake Koch's 39. Defensively, libero Ryan Treser led the team with 60 digs and added eight aces.
North Allegheny returns to section play on Tuesday night with a visit to Butler to take on the Golden Tornado.