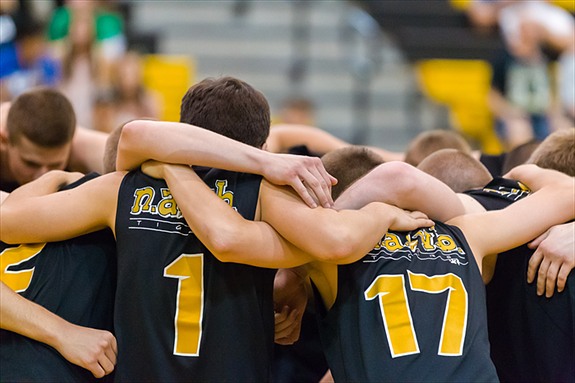 Tigers Volleyballers Take 2nd Place At NA Invitational
The North Allegheny Boys Volleyball Team began the 2014 season with a second place finish at the NA Invitational.  On Saturday, the Central York Panthers split with the Tigers in pool play and took the invitational title with a 25-17 win.
North Allegheny began pool play with wins over Central Catholic, Upper St. Clair and Derry. In Pool F, the Tigers split with Central York, but followed with victories over Penn-Trafford, State College and Montour.
Exiting pool play, the Tigers owned the third seed entering the 16-team playoff bracket. From there, NA defeated Manheim Central, Our Lady of Sacred Heart and Ambridge en route to the invitational title match with Central York. (All scores are listed below)
Individually, the Tigers were paced by David Haus with 52 kills and Mitch Higgins with 50. Brendan Brown and Robert Stiefvater stuffed the middle with 12 blocks apiece. Ethan DeRubbo notched 37 digs for the tournament and Antonios Balouris directed the offense with 137 assists.
North Allegheny will open its regular season schedule on Tuesday night with a home contest against the Shaler Titans.  The section match-up will be broadcast live via the internet on the North Allegheny Sports Network.  
Pool B
NA defeated Central Catholic 25-8
NA defeated Upper St. Clair 25-16
NA defeated Derry 25-19  
Pool F
NA split with Central York 2-0 (15-25; 25-20) N
A defeated Penn-Trafford 2-0 (25-17; 25-19)
NA defeated State College 2-0 (25-17; 25-20)
NA defeated Montour 2-0 (25-16; 25-20)
Tournament Play
Preliminary Rd: NA defeated Manheim Central 25-12
Quarters: NA defeated OLSH 25-21
Semis: NA defeated Ambridge 25-17
Championship: NA lost to Central York 17-25