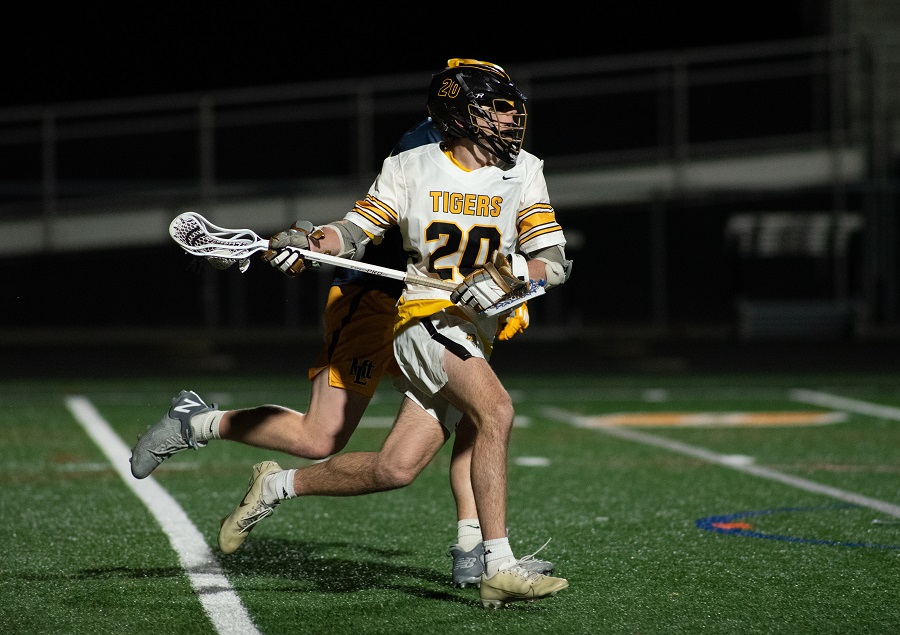 Tigers Whallop Warriors In WPIAL Quarterfinals, 20-3
Steady rains made for a slow start, but the second-seeded North Allegheny Boys Lacrosse Team took down No. 10 Penn Trafford, 20-3, at Newman Stadium Wednesday night.
The Warriors jumped out to an early lead in the first quarter off the strong play from senior midfielder Carter Green, who scored just about two minutes into the contest. That would be the only lead Penn Trafford could hold onto, as North Allegheny tied the game five minutes later. Junior Christian Tedder fed senior Gavin Banyas for the equalizer with about five minutes left in the frame. Tedder found the back of the net with less than two minutes to play in the first, assisted by Evan Lyon. Senior Cole Bordo added his first of the game with just over a minute to play in the quarter, assisted from Banyas. Junior Marco Pascarella took a feed from the faceoff circle administered by junior Trey Gallo to improve the lead to 4-1 before the quarter came to an end.
The Tigers scored 12 goals in the second quarter to put the game comfortably out of reach.
Freshman Travis Lamark ended the game with a four-goal night, while Bordo and junior Marc Bartolomucci each recorded hat tricks. Bartolomucci took a wicked backhanded shot with less than seven minutes to play in the second quarter to complete the trick. Lyon had a seven-point outburst including two goals. He joined Baynas and Tedder who recorded two goals and an assist each.  Other goal scorers included junior Sean Boal, Pascarella, freshman Sam Porter and sophomore Sam Palone.
Lyon took home Wright Automotive Player of the Game laurels for his two-goal, five-assist performance.
Penn Trafford additionally saw goals from Jackson Kerrigan and Bennett Dupilka.
The Tigers advance to the WPIAL Semifinals to take on third-seeded Shady Side Academy Monday, at a time and place to be determined. You can catch the game live on the North Allegheny Sports Network.