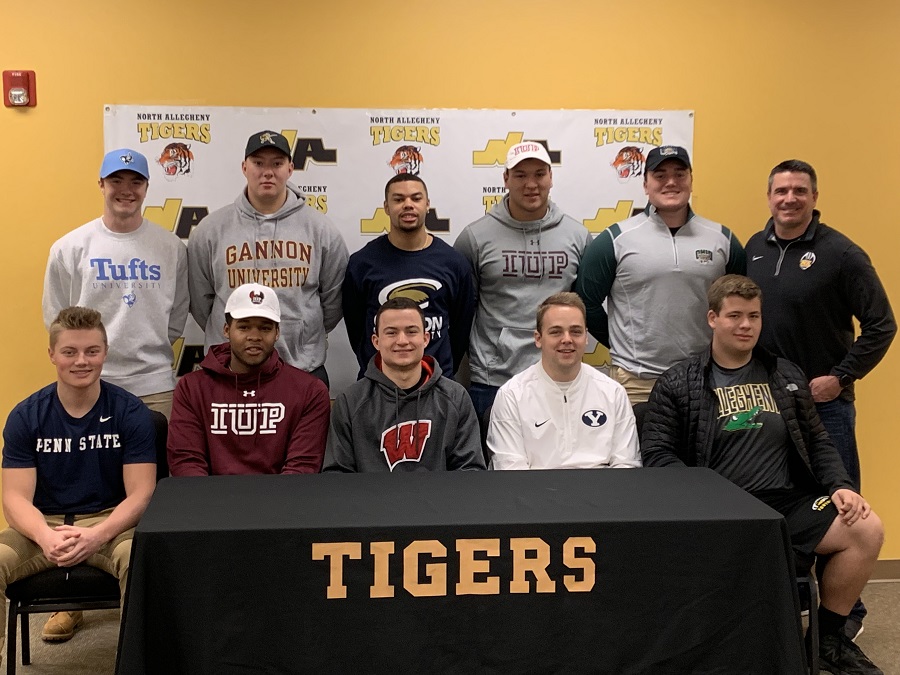 10 Tigers Ink Letters Of Intent
On National Signing Day, 10 North Allegheny football players made their college choices official. Signing their letters of intent on Wednesday morning were Corey Melzer (Penn State), Elijah Boyd (IUP), Dante Caputo (University of Wisconsin), Cade Hoke (BYU), Liam Alker-Connelly (Allegheny College), Gunnar Fisher (Tufts University), Quinn Rodak (Gannon University), Josh Dozier (Clarion University), Tyler Mangone (IUP) and Parker Titsworth (Ohio University). All are pictured above with North Allegheny head coach Art Walker.
Boyd, Titsworth and Rodak helped anchor an offensive line for a ground-oriented attack that averaged 252 rushing yards per game. Boyd was a Big 56 Conference first-team selection and Titsworth received second-team laurels this past fall.
Melzer was a Big 56 Conference honorable mention selection this season, leading the team with four interceptions on defense. As a wideout, Melzer hauled in seven passes for 156 yards and a touchdown.
Fisher was a versatile player, who was sprinkled into the offense at quarterback. Despite missing the first few weeks due to injury, Fisher still rushed for 244 yards and four touchdowns, while also passing for 165 yards and two more scores.
Alker-Connelly and Mangone were part of a stout defensive front line. Alker-Connelly led all NA defensive linemen with 34 tackles and five sacks on his way to a Big 56 honorable mention selection. Mangone took over a starting spot a few weeks into the season because of injuries and the defensive line didn't miss a beat. Mangone posted 16 tackles, nine for a loss, and 5.5 sacks.
At linebacker, the bone-tingling tackles of Hoke and Caputo were felt throughout Class 6A. Hoke led the Tigers in tackles with 86 stops, 14 for a loss, and added five sacks. Caputo, who led the Tigers in tackles in 2017, posted 43 tackles and two sacks in 2018. Hoke was a first-team all-conference selection, while Caputo grabbed second-team laurels.
In the secondary, Dozier made 24 tackles with one interception and one forced fumble.
All 10 North Allegheny players made valuable contributions to a 10-1 season and a Class 6A regular season conference championship.