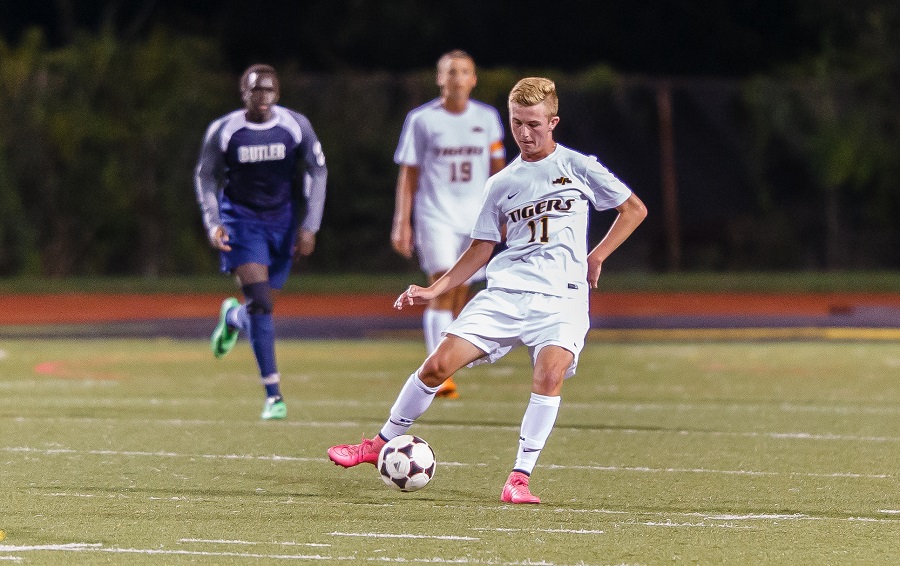 MOMENTUM SWING LIFTS TIGERS OVER TORNADO, 2-1
By Boys' Soccer Contributor
North Allegheny extended its unbeaten streak to eight in a row with a 2-1 victory over the Butler Golden Tornado in a Section 2-AAA contest on Thursday night.
Coming off an impressive win versus first-place Seneca Valley, the Tigers started the contest sluggish trying to get used to the Butler slow grass field while the Golden Tornado had two breakaways that were fortunately shot wide in the first ten minutes.  Jason Earle and Josh Luchini both put crosses in the box to forward Michael Peters, but both headers missed the mark.  The half ended with only one shot on goal from North Allegheny and none by Butler.
The second half started with head coach Bobby Vosmaer's squad working the middle more versus squeezing the side line which seemed to work as Luchini had a breakaway down the slot at 37:18, but his shot was saved by a sliding Butler goalie.  Momentum changed when Butler scored off a header from a free kick awarded and took a 1-0 lead.  Less than thirty seconds later though, at 31:53, Luchini took a pass from Jack Passodelis and buried the shot from 18 yards out, tying the game at 1-1 and switching the tide of play to the Tigers. Within the next ten minutes, Luchini, Michael Correa and Passodelis peppered the Butler goalie with shots on goal, but were saved keeping the score tied.  Then at 16:42 Luchini found Ben Cinker on a through ball whose wicked shot eluded the Tornado goalie to make it 2-1, Tigers.  Butler kept the pressure on trying to get the game to overtime but the North Allegheny defense stood tall.
The fourth-ranked ranked Tigers improved to 7-1-2 and 5-1-2 in Section 2, while Butler falls to 5-5 and 2-5 in the section.  The Tigers are next in action at home this coming Saturday against Plum in an out of section game. It's Soccer Fest and we hope to see your there to support the team.