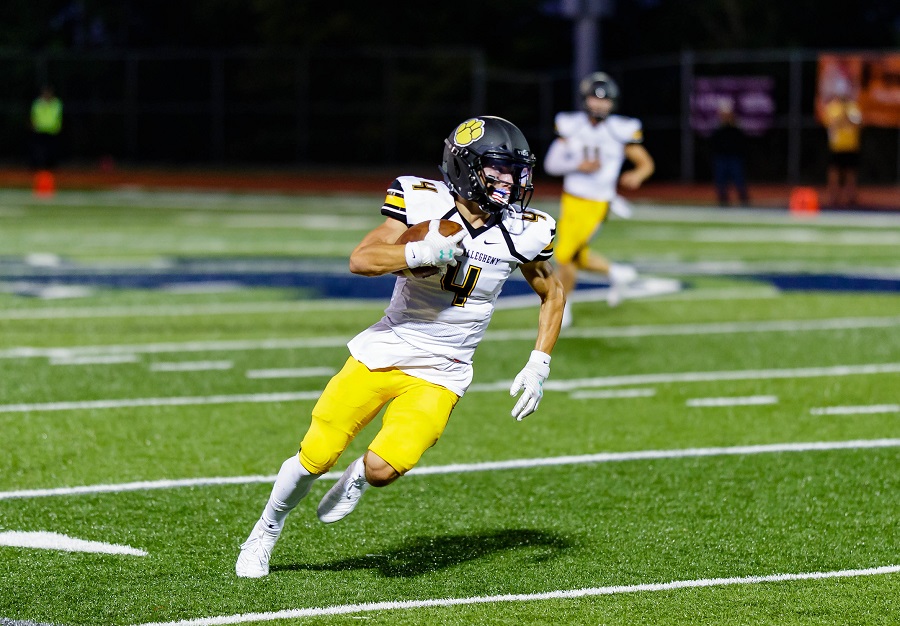 Student-Athlete Profile: Senior WR Luke Colella
When senior Luke Colella started playing youth football for Tiger Pride in the 6-to-7-year old age group, he initially was tabbed to play left tackle.
"As soon as we ran sprints at the end of practice I never went back to the offensive line," said Colella with a laugh. "I played back from there on out."
It was evident early on that Colella possessed game-breaking speed. By the end of his high school football career, the 5'11" multi-purpose back became one of the most elusive and versatile players in the WPIAL.
Growing up in an athletic family, Colella played a variety of sports growing up, including basketball and baseball. Along with football, Colella continued to play basketball throughout his high school career. A broken leg sidelined him in the spring of his freshman year, cutting short his baseball season and Colella never returned to the diamond.
After concluding physical therapy from his broken leg, Colella was fully healthy by the summer of 2017 and made the varsity football roster as a sophomore. Primarily playing on defense in 2017, Colella hauled in three interceptions, including an important goal line interception against Central Catholic in week two and an interception in the WPIAL quarterfinals against Mt. Lebanon. He showed flashes of brilliance on offense when given an opportunity, highlighted by a 56-yard touchdown run with a somersault into the end zone against Shaler.
For Colella's junior year in 2018, he earned a starting spot at wide receiver and led the run-first Tigers in receiving with 14 catches for 255 yards and a touchdown. He added 166 yards rushing and two more scores on the ground on his way to honorable mention all-conference honors in Class 6A from the Big 56 Conference.
"I think junior year was more of when I got to learn the offense. Junior year was a learning experience, getting my feet wet to see what I could do and what the coaches wanted me to do."
North Allegheny finished the 2018 season with a 10-1 record and were Quad County champions in Class 6A. Making Colella's junior season extra special was the opportunity to play on the same field as his older brother, Joey, who split time at quarterback that season for the Tigers.
"Playing alongside your brother was something you're not going to forget. It was a great experience.
"We were always in the back yard playing various sports growing up. He was a big influence; looking up to him and wanting to be like him."
With Colella's well-rounded skillset firmly in place, head coach Art Walker and the NA offense was ready to utilize their Swiss-Army Knife for the 2019 campaign. As a senior, Colella totaled career highs in rushing and receiving. He rushed for 266 yards and posted 535 receiving yards, combining for 13 total touchdowns. Colella lined up at running back, receiver and slot. There was even a "Wildcat Package" for Colella at quarterback.
"That's what I had the most fun with," said Colella of filling different roles on offense. "I was never doing the same motion over and over. I was always doing something different that had the other team confused."
With the help of Colella, the Tigers posted another 10-win season and earned a share of the conference regular season title. By seasons end, Colella was named first-team all-conference in Class 6A by the Big 56 and was selected to play in the PSFCA East/West All-Star Game.
"It was definitely one of my personal goals for my senior season to be one of the best in the conference. The hard work paid off."
Next season, Colella will continue his academic and football at career at Princeton University. He plans to major in Business.
"The way I grew up, it was always my grades first and a close second was football. I saw an opportunity (at Princeton) to get the best undergraduate degree in the country and still play the game I fell in love with when I was little. To me, it was a no brainer."
While Colella will remain a Tiger in college at Princeton University, his memories of being a North Allegheny Tiger will always be close to his heart.
"It's special. The mindset that the NA coaches create, and the family culture that they create as soon you walk in the door, makes you want to never leave. It's something that you feel you have to work for every day and obviously the results pay off."