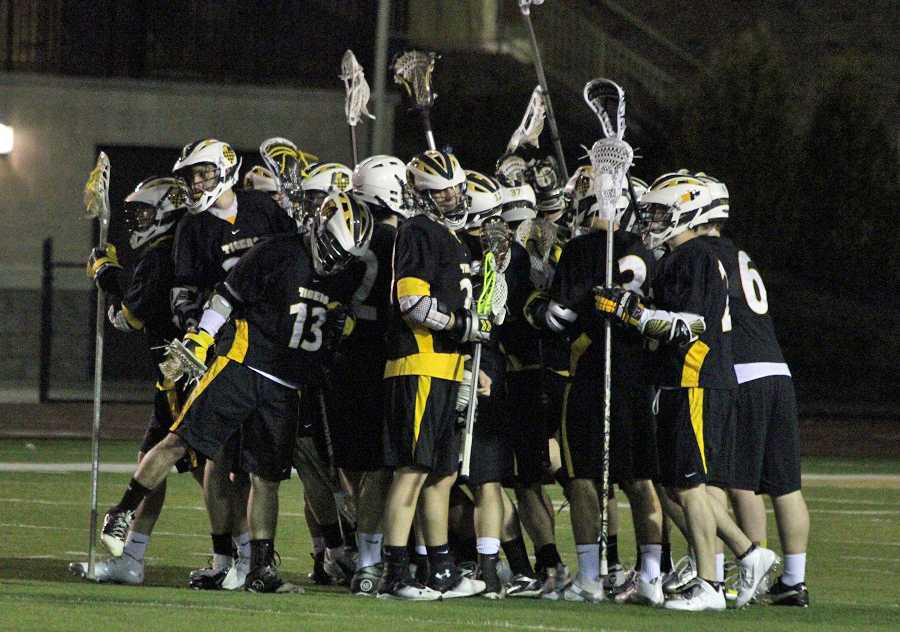 Third Quarter Flurry Lifts NA Past Fox Chapel, 11-6
Last week, Fox Chapel won their first section game in five years and the undefeated Foxes were hoping to claim another one with a visit to Newman Stadium on Wednesday night to face the North Allegheny Tigers.  NA proved to be unwelcoming hosts as two players claimed hat tricks and the Tigers sent the Foxes packing with an 11-6 defeat in WPIAL Division 1, Section 2 play.
Off to their best start in seven years with a 5-0 record, the Foxes opened up a 2-1 lead on the Tigers midway through the second period on goals by Tucker Root and Levi McCrady.  North Allegheny regrouped and tied the game before halftime on an Alec McGovern tally with 50 seconds left in the period.
Coming out of halftime, the Tigers unleashed a barrage of goals that left Fox Chapel shell-shocked. NA ran off a string of five straight third period goals to take a 7-2 lead.  Junior Kyle Rullan scored three of the five goals and was named the Wright Automotive Player of the Game for spearheading the momentum turning surge. Stephen Kelleher and Alec Vissotski also scored in the third period for the Tigers.
Fox Chapel refused to go away easily as McCrady notched back-to-back goals in the final minute of the quarter to trim the NA advantage to 7-4.  McCrady scored four of FC's six goals in the game. The Foxes would come not closer however with the Tigers putting the game away by scoring the next three goals en route to the 11-6 win.
Kelleher paced the Tigers with four goals on the night and has nine for the year. Rullan collected three goals and junior Ted Egnaczyk scored two goals in the NA victory. Senior goalie John Abbondanza had a fantastic evening as well with 12 saves, several of the spectacular variety. North Allegheny outshot Fox Chapel 30-23 in the game.
North Allegheny improves to 2-1 overall and 2-0 in section play. Fox Chapel drops to 5-1 overall and 1-1 in the section. The Tigers are back in action on Saturday afternoon with a visit to Hudson, Ohio to face the Explorers.
To listen to our pre-game interview with NA head coach John Rullan, click here. For the entire game broadcast of the Tigers win over Fox Chapel, click here.
Boys Lacrosse Summary vs. Fox Chapel, 4-2-14
| GAME SUMMARY | | | | | |
| --- | --- | --- | --- | --- | --- |
| SCORE BY QUARTERS | 1 | 2 | 3 | 4 | FINAL |
| Fox Chapel | 0 | 2 | 2 | 2 | 6 |
| North Allegheny | 0 | 2 | 5 | 4 | 11 |
Boys Lacrosse Individual Scoring vs. Fox Chapel
| INDIVIDUAL STATS | | |
| --- | --- | --- |
| FIRST QUARTER | | |
| | NO SCORING | |
| SECOND QUARTER | | |
| North Allegheny | Stephen Kelleher (Zech Nachazel) | 8:38 |
| Fox Chapel | Tucker Root | 7:13 |
| Fox Chapel | Levi McCrady | 5:39 |
| North Allegheny | Alec McGovern (Kyle Rullan) | 0:50 |
| THIRD QUARTER | | |
| North Allegheny | Kyle Rullan | 9:27 |
| North Allegheny | Kelleher (Rullan) | 6:21 |
| North Allegheny | Rullan | 5:40 |
| North Allegheny | Alec Vissotski (Kelleher) | 4:25 |
| North Allegheny | Rullan | 2:40 |
| Fox Chapel | McCrady | 0:42 |
| Fox Chapel | McCrady | 0:04 |
| FOURTH QUARTER | | |
| North Allegheny | Ted Egnaczyk (Nachazel) | 9:23 |
| North Allegheny | Kelleher (Rullan) | 9:15 |
| North Allegheny | Kelleher | 5:56 |
| Fox Chapel | McCrady | 4:01 |
| North Allegheny | Egnaczyk (Nick Koebley) | 3:19 |
| Fox Chapel | Colin Kielbasa | 0:37 |