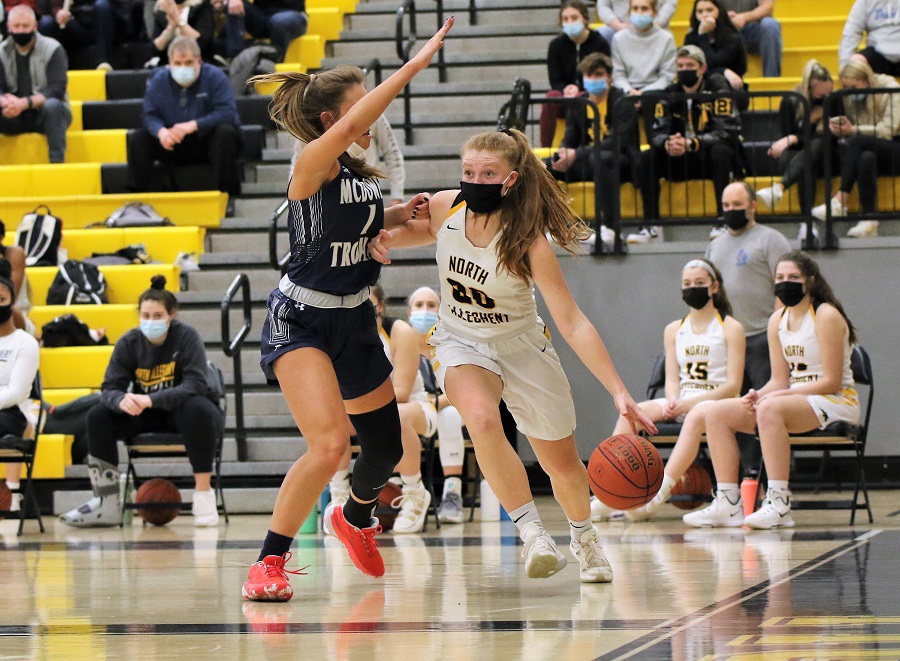 Tigers Tame Trojans, Advance To PIAA Semifinals
by Jared Barton
It didn't take long for North Allegheny to assert its dominance in the PIAA playoffs, as the Tigers beat the McDowell Trojans 60-30 at North Allegheny High School Friday night.
NA took the early lead and never looked back, as the Tigers scored the first 13 points of the game before the Trojans found the net. Early contributions on both sides of the court from junior Emma Fischer and freshman Kellie McConnell were key for NA to take a 25-6 lead after one quarter of play.
In the second quarter, the Tigers piled 15 more points on the score sheet. Sophomore Jasmine Timmerson continued her stellar play from the WPIAL title game against Upper St. Clair. Timmerson forced multiple turnovers in transition and contributed a few key baskets as well in the first half. Fellow sophomore Cam Phillips also found had the three point shooting touch off the bench. The Tigers led 40-13 at the half.
The Trojans found some success in the third quarter, as star senior Emina Selimovic and sophomore Jessica Hetz emerged as scoring threats. The duo ended the game with 12 and 10 respectively.  NA Senior Lizzy Groetsch was quiet early on, but she contributed 7 of her 11 points in the 2nd half.
Fischer was named the Wright Automotive Player of the Game for her 12-point performance, as all of the junior's scoring came from behind the arc. McConnell ended the game with a game-high 14 points.  Timmerson ended the game with 9 points and Phillips had 8.
The Tigers advance to the PIAA Semi-Finals on Monday to take on the Cumberland Valley Eagles, a game you can hear on the North Allegheny Sports Network. The site and time of the game are still to be determined.