View News For
2023-2024 News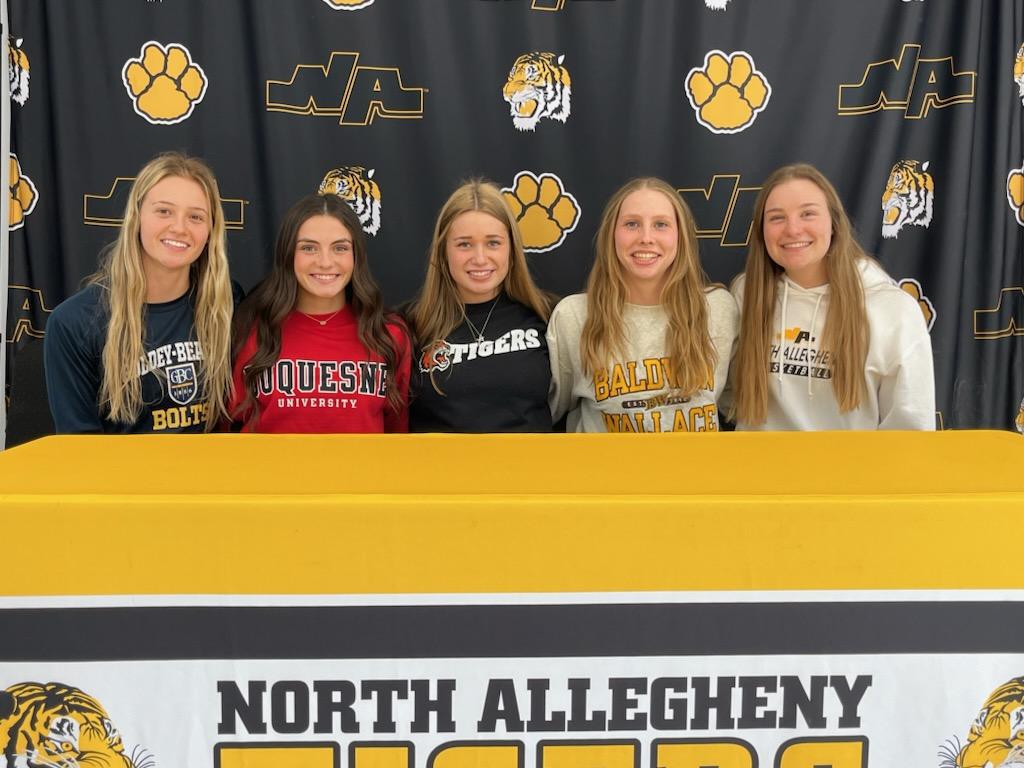 Four members of the North Allegheny girls' basketball team made their college choices official on National Signing Day. Seniors Lydia Betz (Goldey-Beacom College), Grace Heliger (Baldwin Wallace), Caroline Henderson (Rochester Institute of Technology) and Kellie McConnell (Duquesne University) all signed their letters of intent on Wednesday.
Betz will play for NCAA Division II Goldey-Beacom, in Pine Creek Valley, Delaware. Betz is a two-time Big 56 Conference all-section selection, including first-team laurels as a junior last season. She is undecided in her major.
Heliger will play for an NCAA Division III powerhouse at Baldwin Wallace. The Yellow Jackets, members of the Ohio Athletic Conference, went 22-6 and qualified for the National Tournament for a fourth consecutive season during the 2022-2023 campaign. Of their 22 wins, the Yellow Jackets defeated No. 2-ranked Trine University and 10th-ranked Ohio Northern. Heliger is undecided in her major.
Henderson is a valuable perimeter shooter for North Allegheny and earned second-team all-section accolades last season. The sharpshooter drained a trio of 3-pointers in North Allegheny's 71-45 win over Upper St. Clair in the WPIAL Class 6A championship game. Henderson will major in Engineering at RIT.
McConnell made a triumphant return to the court this season after missing all of her sophomore year with a knee injury. McConnell earned second-team all-section honors as a junior and Big 56 honorable mention recognition as a freshman. She will major in Education at Duquesne University.
All four players helped the Tigers to a 22-6 record last season and a WPIAL Class 6A championship.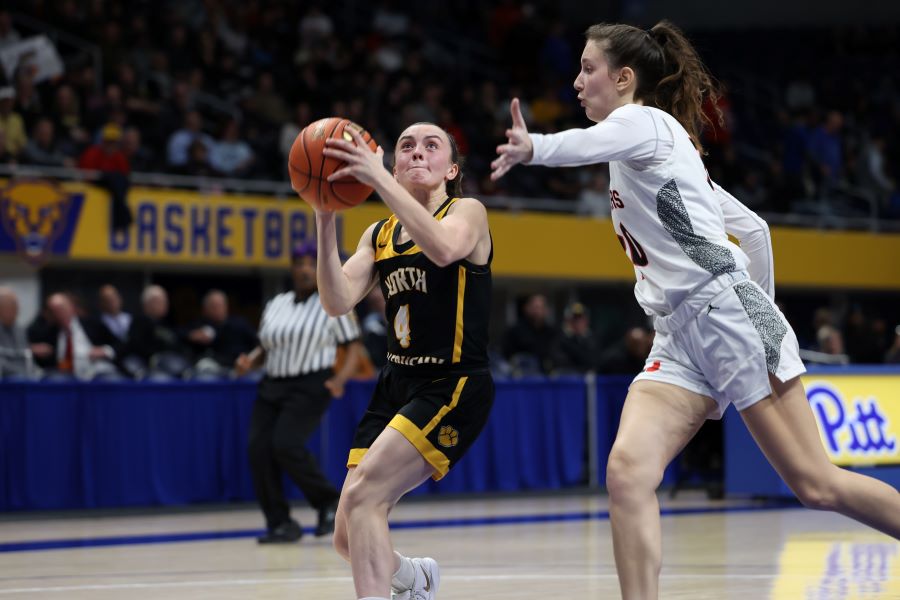 North Allegheny incoming senior, Kellie McConnell, will continue her athletic and academic career at Duquesne University. McConnell announced her decision via social media on Thursday.
McConnell made a splash as a freshman on North Allegheny's 2021 state championship team and was a Big 56 Conference All-Section honorable mention. Beset by a knee injury that kept her off the hardwood as a sophomore, McConnell made a triumphant return last season and helped the Tigers to a 22-6 record and another WPIAL Class 6A championship. She was named second-team all-section by the Big 56 Conference for her successful junior campaign.
At Duquesne University, McConnell will play alongside her cousin, Megan, who will be a junior with the Dukes this upcoming season. Continuing the family affair, McConnell will follow in her mother's foot steps in calling "The Bluff" home. Sherri (Hannan) McConnell started all four years of her collegiate career 1995-1999 and led the Dukes in assists, steals and foul shooting percentage. Sherri still ranks ninth all-time in steals (205) and 10th all-time in assists (392) at Duquesne.
Her older cousin, T.J. McConnell, played men's basketball at Duquesne as well. He just finished the eighth season of his NBA career, capping year four with the Indiana Pacers.
In 2022-23, the Dukes, led by head coach Dan Burt, went 19-12 and reached the second round of the Atlantic 10 tournament.
THE BLUFF IS HOME ❤️💙 #COMMITTED pic.twitter.com/ygX3e2VSIs

— Kellie McConnell (@kmcconnell_4) July 6, 2023