View News For
2022-2023 News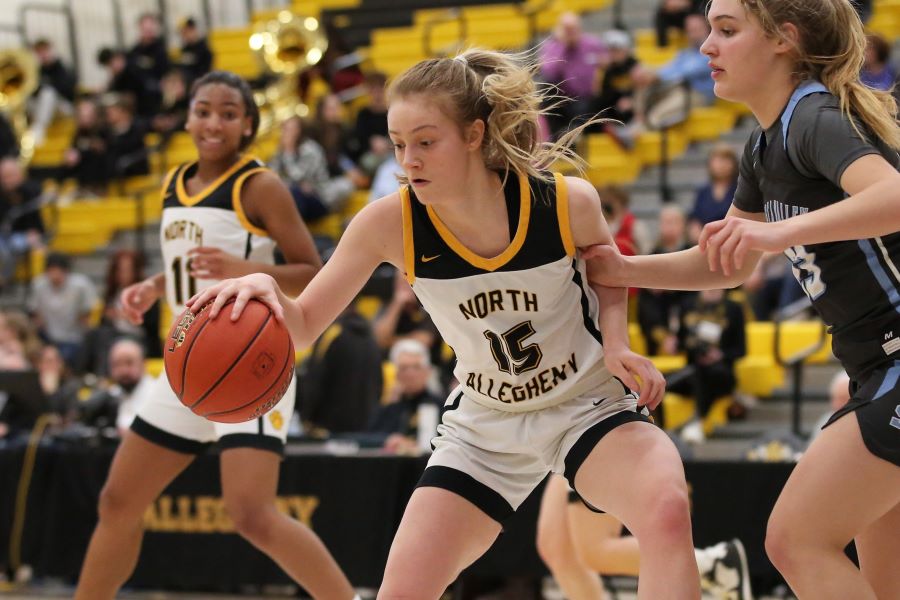 Six members of the North Allegheny girls' basketball team have been named to the Big 56 Conference all-section team for Section 1-6A, including two first-team selections.
Senior guard Jasmine Timmerson and junior forward Lydia Betz both received first-team all-section laurels. Timmerson ended the regular season as the fifth-leading scorer in all of Class 6A, averaging 17.1 points per game. It's the third consecutive season the University of Pittsburgh recruit has been named first team by the Big 56. After a breakout sophomore campaign earned her honorable mention recognition last year, Betz is making her first appearance as a first-team squad member.
Earning second-team all-section accolades were junior guards Kellie McConnell and Caroline Henderson. An honorable mention pick as a freshman, McConnell made a triumphant return to the court this season after missing all of last year with a knee injury. Henderson is making her first appearance on the all-section list.
Honorable mention recognition went to seniors Cam Phillips and Eva Prenatt. It's the third consecutive year Phillips has been named all-section, while Prenatt appears on the all-section squad for the first time in her career.
For a look at the entire Big 56 all-section team, click here.
All six players have been instrumental to North Allegheny's 17-5 season and 11th consecutive section championship. The Tigers will continue their quest for a WPIAL title on Thursday night when they host Pine-Richland in the WPIAL Class 6A quarterfinals. The game will be broadcast live by the North Allegheny Sports Network.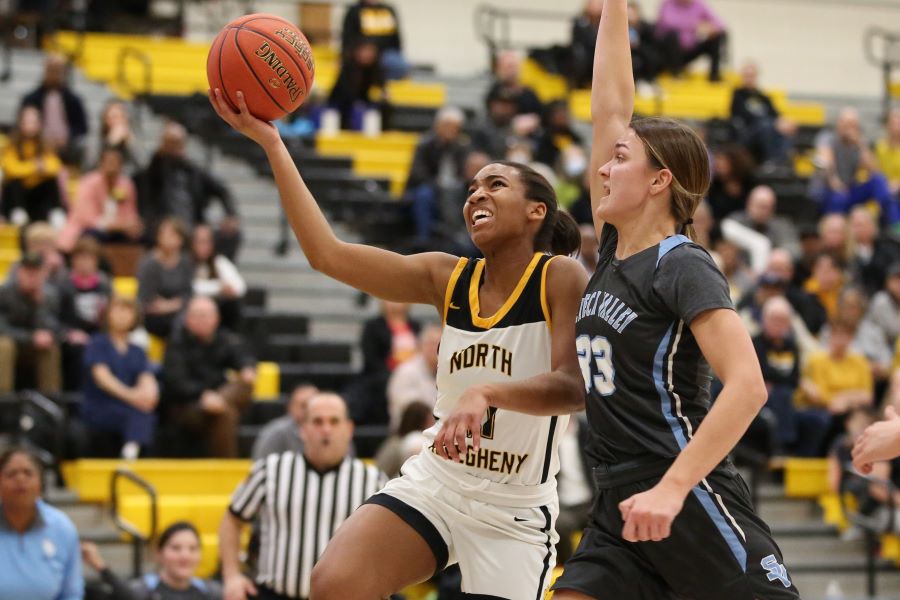 The WPIAL released its basketball playoff pairings on Monday afternoon and the North Allegheny girls' basketball team received the No. 2 seed in the Class 6A bracket.
In their first postseason game on Thursday, February 23, the Lady Tigers will host Pine-Richland at 7:00 pm. Winners of 11 consecutive section titles, North Allegheny is seeking a fifth WPIAL crown. Seventh-seeded Pine-Richland is appearing in the playoffs for the second time in the last three seasons. Prior to the 2021 season in which the WPIAL held an open tournament, PR's last playoff appearance was in 2018.
The WPIAL Class 6A championship game will be held at the Peterson Events Center on Friday, March 3 at 7:00 p.m. The North Allegheny Sports Network will have live coverage of every playoff game for the Lady Tigers.
For a look at the Class 6A bracket, click here.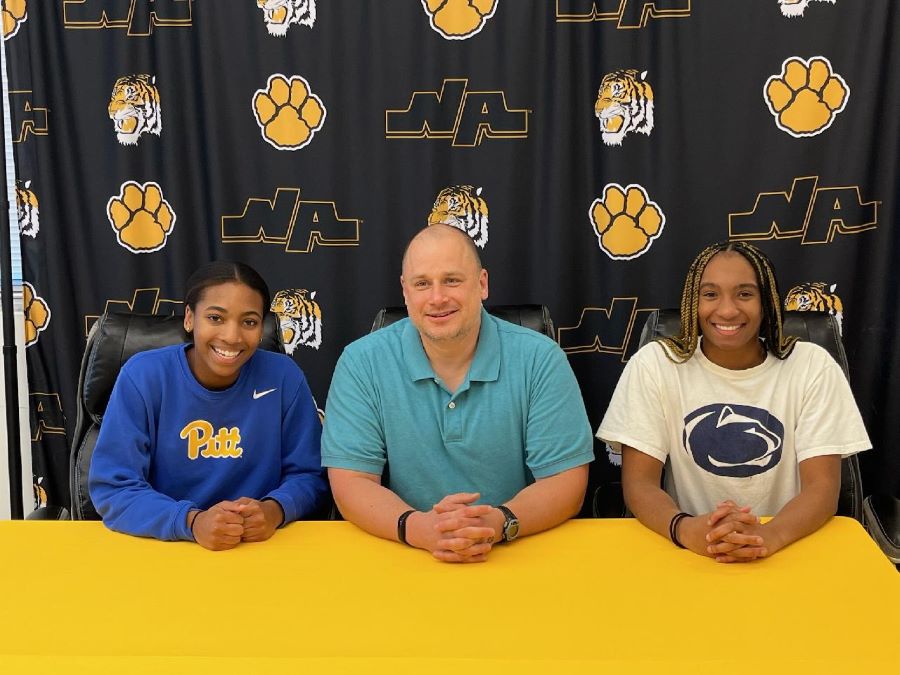 North Allegheny seniors Eva Prenatt and Jasmine Timmerson have signed their letters of intent to continue their academic and athletic careers in college next season. Prenatt inked her LOI with Penn State-Behrend and Timmerson signed to play at the University of Pittsburgh.
Prenatt joins a Penn-State Behrend program that competes in the NCAA Division III Allegheny Mountain Collegiate Conference. Last season, Lions posted a 21-6 overall record and reached the ECAC Tournament championship game. Prenatt will play for head coach Christine Van Hook, who was named the AMCC Coach of the Year last season.
Timmerson is a two-time All-State pick by the Pennsylvania Sports Writers, earning First Team honors as a junior and Third Team laurels as a sophomore. Timmerson is a four-year starter and averaged 14 points per game for the Tigers last season.
Prenatt plans to major in either Communications or Sport Management at Penn State-Behrend. Timmerson is undecided on her studies at Pitt. Both are pictured above with head coach Spencer Stefko.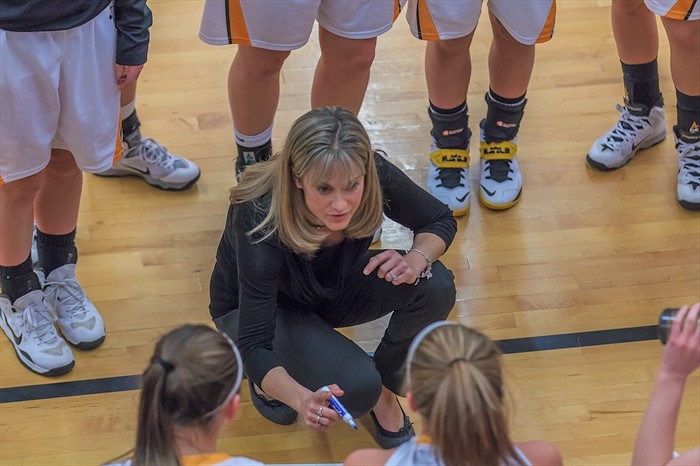 Sherri Hannan McConnell will be inducted into the Pittsburgh Basketball Club Women's Hall of Fame on Saturday, November 5th at the Rockefeller's Grille in Kennedy Township. Tickets or advertisements may be reserved by contacting John Giammarco at jgiammarco@verizon.net.
Sherri was a standout three-sport athlete and letter winner in volleyball, basketball and softball at North Allegheny. Sherri was an outstanding point guard scoring over 1,000 points for the Tigers. Sherri was named NA's Female Athlete of the Year for her senior class in 1994. She was also named MVP for basketball and softball. Sherri was a first team all-state selection in basketball and continued her academic and athletic career at Duquesne University. At Duquesne, she started all four years from 1995-1999 and led the Dukes in assists, steals and foul shooting percentage. Sherri still ranks ninth all-time in steals (205) and 10th all-time in assists (392) at Duquesne. Sherri was named GTE Academic All-American.
Sherri later became head coach of the North Allegheny girls' basketball team for eight seasons from 2007-2015 with a career record of 149-44 and led the Tigers to eight playoff appearances and three section titles, including the program's first appearance in the PIAA final four in 2014.
For more information on the Pittsburgh Basketball Club Women's Hall of Fame and the Induction Class of 2022, click here.