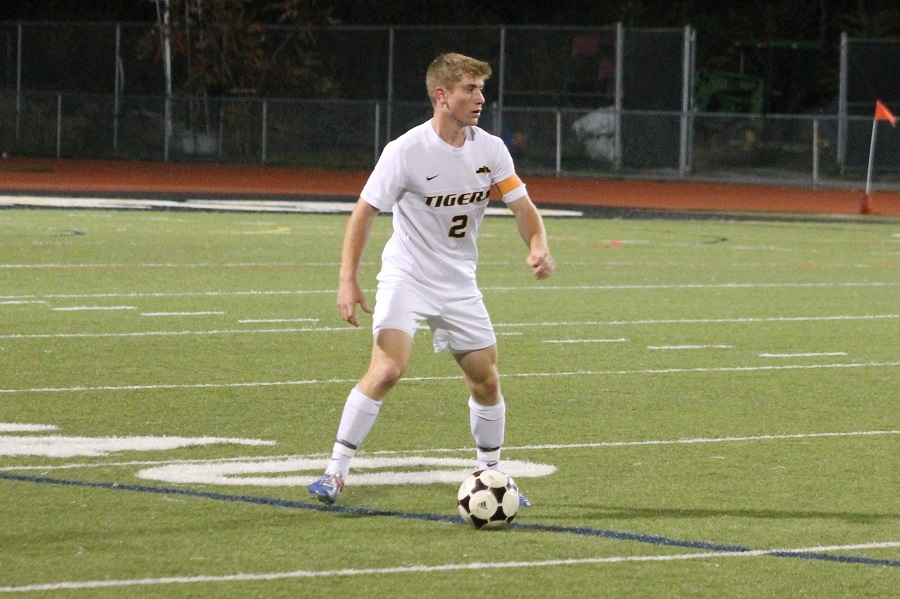 Top-Ranked Tigers Take Down No. 7 Norwin, 4-2
By Boys' Soccer Contributor
The North Allegheny boys' soccer team ran its unbeaten streak to 14 consecutive games with 4-2 victory over the Norwin Knights on Monday night.
Seventh-ranked Norwin came in with an impressive 13-4 overall record and at 39:31 put a shot from 15 yards out on Tiger goalie Grant Glorioso who made the save. At the 30:15 mark, Josh Luchini made a run along the baseline and crossed in front to Ben Cinker who tapped it home to give NA the 1-0 lead.  Glorioso, again at 17:30, came out to thwart a breakaway and kept the Knights scoreless.  It was a seesaw affair the rest of the half until with 23 seconds left Sean Atwater dished off to Luchini who sent it into the back of the net from 20 yards out, giving the Tigers a 2-0 half time advantage.
Luchini got into the act again at 30:23 for his second goal of the night as he and James Nolan took point blank shots at the net keeper that led to Luchini's header eluding the keeper and giving the Tigers a 3-0 advantage.  Less than two minutes later at 28:08, Nolan scored his first of the season off a rebound of a Zach Marzula shot making it 4-0, Tigers.  Norwin was having difficulty getting the ball past the Tiger back line as Chip Dougherty, Nick Thornton, Dillon Thoma and Spencer Heastings formed a wall in front of Glorioso with their aggressive play.  Norwin, to their credit though, didn't let up and at 21:28 and 14:03 scored goals and made the contest interesting at 4-2, but they couldn't get any closer as the Tigers extended their undefeated streak to 14 games.
With the win, No. 1 ranked North Allegheny improves to 12-1-3 while Norwin drops to 13-5.  The Tigers final regular season game concludes Tuesday at the high scoring Mars team that is ranked No. 1 in Class AA.