View Game Summaries For
2021-2022 Game Summaries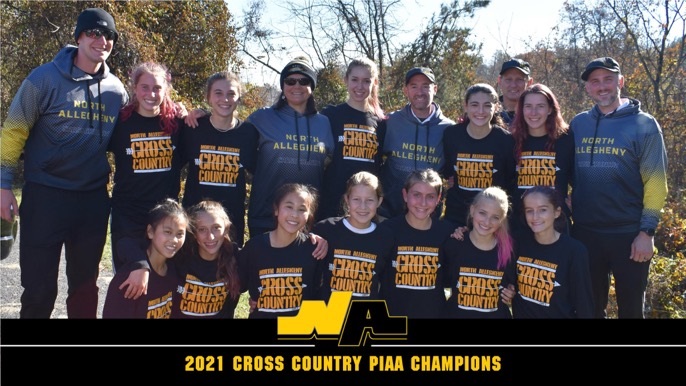 On Saturday, Nov. 6, the North Allegheny cross country teams defended their state titles and undefeated season in Hershey, PA.  This was the seventh team state championship won by NAXC in the last four years.
The NA girls team made history by being the first AAA team in PIAA history to win four state golds in a row.  Their margin of victory was an astonishing 87 points, posting only 62 points compare to the runner-up's 149.  Some Tigers got boxed in early in the race but they quickly asserted themselves as the team to beat by the one-mile maker. Though they had a large lead at that point, the Lady Tigers only improved their team score as the race endured. Sophomore Eva Kynaston saved her best race of the season for last, pacing the Tigers with an incredible fifth-place overall finish. Freshman Wren Kucler capped off an amazing rookie season, finishing just a couple seconds and one spot (6th overall) behind Kynaston.  Kucler was the number one freshman in the state on the day. Freshman Robin Kucler was also terrific, grabbing a 23rd place finishing medal in her first state race.  Next up was senior leader Maura Mlecko, who ran with heart and put an exclamation point on an outstanding cross country career with a 36th place finish. Mlecko has been instrumental in the team's state gold four-peat, placing in the Tiger's top five each of the last four years at states.  Sophomore Erin McGoey was the all-important fifth place finisher for the champs, running one of her best races, finishing 47th overall.  Freshmen Sydney Kuder was less than 10 seconds behind McGoey with a great second half of the race, passing 96 runners in the last two miles to finish 53rd overall.  Freshman Camille Swirsding was seventh for the Tigers and 82nd overall. Swirsding displaced runners from every team in the state helping the Tigers to seal the dominant finish.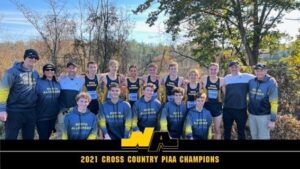 The NA boys claimed the title in dominant fashion, winning their second state championship in a row and their third in the last four years.  Sticking to their pre-race plan the boys went out conservatively and were in 12th place 1 mile into the 3.1-mile course. From there the Tigers moved up in the race consistently passing runners who went out more aggressively.  They moved up to second place by the second mile, but they were not done yet.  In the last 1.1 miles the Tigers went from being in second place by 11 points to winning the state championship by 62 points. Leading the Tigers for the first time this year was senior Scott Nalepa.  Nalepa capped off a phenomenal cross country career with his best race, finishing eighth overall.  Freshman Jack Bertram was fantastic, placing 13th overall as the top freshman in the state. Ryan Podnar capped off an incredible senior season with a 19th place medal.  Senior Graham Wolfe saved his best race of the season for when it mattered the most. Wolfe was very strong in the second half and placed 27th overall.  Sophomore Michael Gauntner ran extremely well and was the second fastest sophomore in the whole AAA race (31st overall).  Senior Caleb Schall was great in his last cross country race, placing sixth for NA and 60th overall.  Junior Gregory Kossuth was right behind Schall in 61st place, displacing the top five runners from every other team in the state.
All 14 runners wearing black and gold bested their time from the mid-season PIAA foundation meet. It was without a doubt an epic ending to a storybook season.
Complete results from the day's races can be found herehttp://runhigh.com/2021RESULTS/R110621AA.html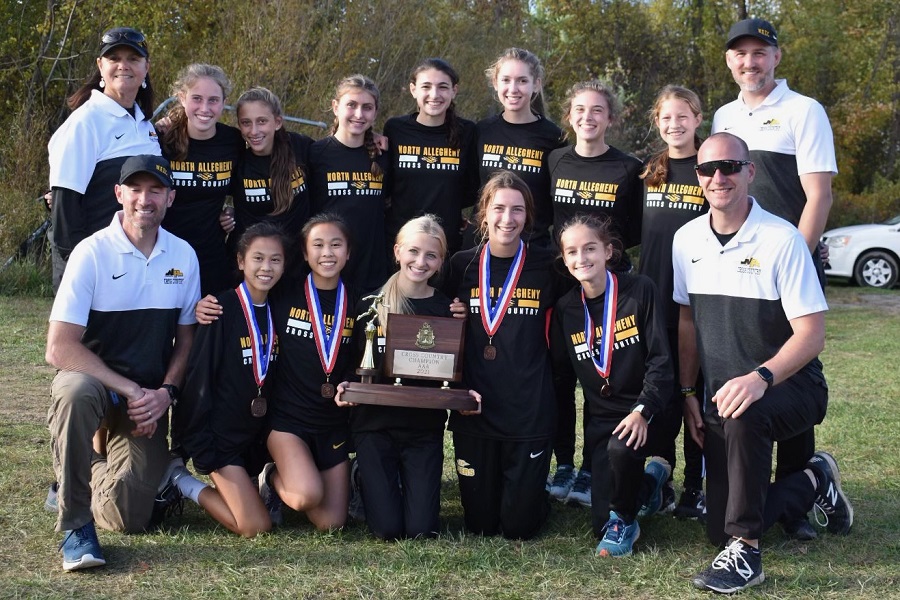 The North Allegheny boys' and girls' cross country teams won their four consecutive WPIAL championships on Thursday afternoon at California University of Pennsylvania.
The NA girls dominated the field, scoring 49 points, compared to 135 for the second place Pine-Richland Rams. The tough trio of Wren Kucler, Eva Kynaston and Robin Kucler were fantastic, placing third, fourth and sixth respectively.  Senior Maura Mlecko, who has run on all four WPIAL gold medal teams, ran strong earning a 15th-place finish.  Sophomore Erin McGoey had a strong race, placing 23rd overall.  Freshmen Sydney Kuder (27th overall) and Camille Swirsding (33rd) ran very well and displaced runners from every other WPIAL team.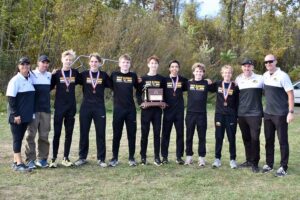 The NA boys won decisively, scoring 51 points compared to 86 points for second place Butler.  The Tigers had a nice 1-2 punch with freshman Jack Bertram taking bronze and senior Ryan Podnar grabbing sixth overall.  Sophomore Michael Gauntner was outstanding with a 12th place finish.  Senior Caleb Schall had perhaps his best race in a Tiger jersey, grabbing a 14th place medal. Junior Gregory Kossuth had a strong finish to round out the top five. Senior Graham Wolfe (19th) was only a second behind Kossuth and senior Jack Hickel (23rd) helped displace runners from all other teams.
Complete results can be found here: http://runhigh.com/2021RESULTS/R102821AA.html
The WPIAL champs will head to Hershey next Saturday to compete against the best teams in the state.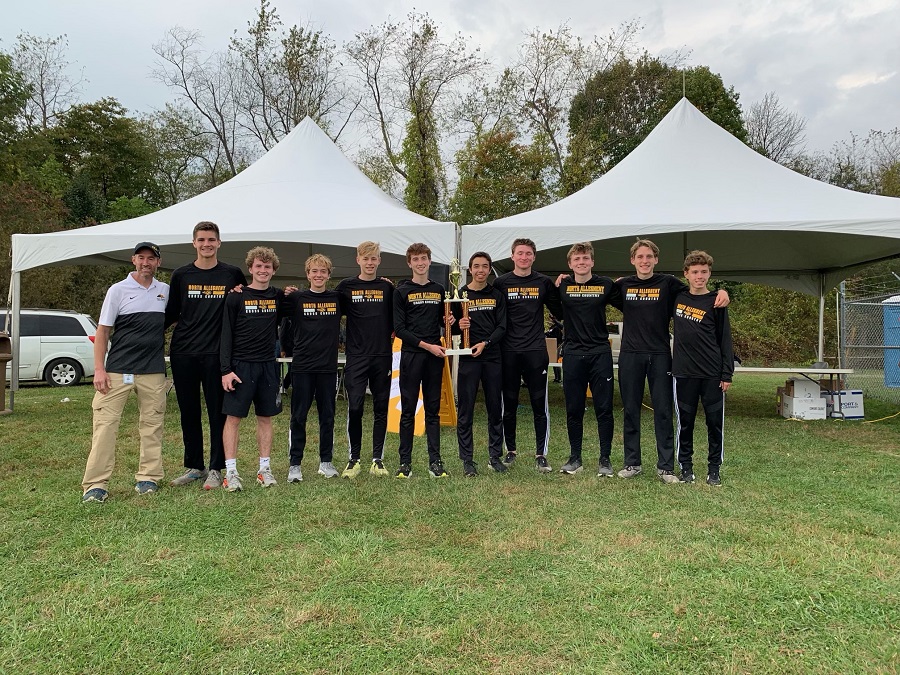 The North Allegheny boys' and girls' cross country teams were crowned champions at the TSTCA championships on Thursday afternoon. The Tigers traveled to California University of Pennsylvania to run on the same course as next week's WPIAL Championships.  Both teams dominated the competition. The NA Girls scored 32 points, beating the second-place team by 90 points. The NA Boys scored 42, besting the number two team by 57 points.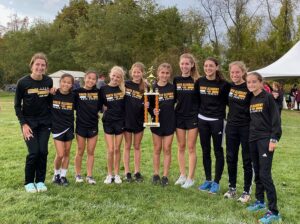 The Lady Tigers ran well, taking three out of the top four finishers and had all seven runners in the top 20. Below are the varsity performances:
1st Wren Kucler 18:51
3rd Robin Kucler 19:14
4th Eva Kynaston 19:14
11th Camille Swirsding 20:20
13th Maura Mlecko 20:27
17th Erin McGoey 20:36
18th Sydney Kuder 20:41
The NA Boys were fantastic and also had all seven in the top 20 of the event. Below are the performances from the top seven:
3rd Jack Bertram 16:25
8th Ryan Podnar 17:02
9th Graham Wolfe 17:05
10th Michael Gauntner 17:06
12th Gregory Kossuth 17:13
14th Caleb Schall 17:14
18th Jackson Hickel 17:31
Full results from all the day's races can be found here: http://smileymiles.com/2021Results.html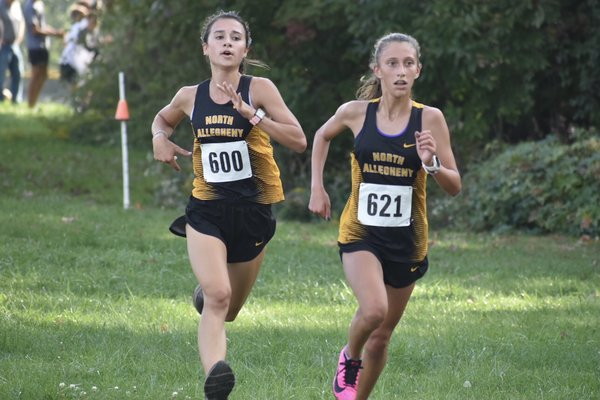 North Allegheny cross country teams traveled to Butler to finish off their dual meet season against section rivals Butler and Shaler.  It was hot day and the newly designed 3.07-mile course was full of tough hills.  The girls' and boys' team were 4-0 on the day, capping off an incredible undefeated dual meet season.
The girls' team bested Butler 20-43 and Shaler 15-incomplete. Sophomore Eva Kynaston led the tigers with a strong second place finish. Sophomore Erin McGoey who has been improving with every race was outstanding in 3rd overall. Right behind McGoey was senior Maura Mlecko with a great fourth-place finish. Freshman Camille Swirsding was solid again for the Tigers, placing fifth. Freshman Elizabeth Pizon ran a smart race moving up into sixth place by the end. Senior Adelle Snider was superb in her final dual meet, grabbing 7th overall. Junior Grace Rowley was awesome in eighth place, rounding out the scoring top seven.
The boys' team won a close battle with Butler 27-32 and handled Shaler 15-incomplete. The team was paced by freshman Jack Bertram, finishing third in the varsity race.  Senior Ryan Podnar and junior Greg Kossuth finished fourth and fifth respectively, both besting Butler's third place runner.  A pack of four tigers, including Jack Hickel, Zane Kinne, Jackson Pajak, and Nick Betler, sealed the win, all placing ahead of the Butler number four runner.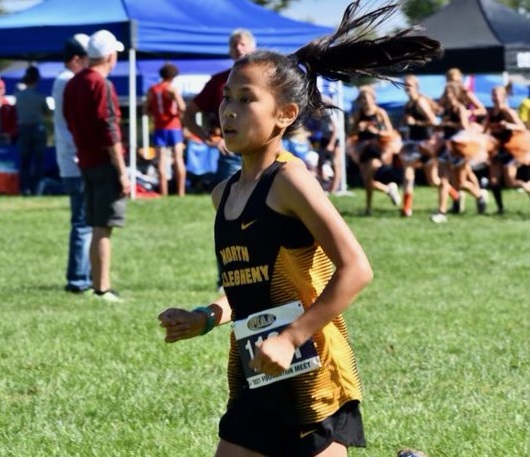 North Allegheny cross country teams traveled to Seneca Valley to race section opponents Seneca Valley and North Hills. The Tigers ran well and came out 4-0 when the races had concluded.
The NA girls' team was able to sweep North Hills 15-50 and handled Seneca 16-41.  It was a 1-2 finish from freshman sisters, Wren and Robin Kucler who both were able to break 19 minutes on the 5k course. Senior Maura Mlecko fought hard and ran well to grab third overall.  Having a breakout performance and coming in fourth overall was sophomore sensation, Erin McGoey. A Seneca runner took the next spot, then it was freshman Camille Swirsding coming in sixth denying three Seneca Valley runners that were in pursuit.  After the Raiders took spots 7-9, the Tigers claimed the next 12 spots. Junior standout Grace Rowley ran a great race in 10th. Speedy freshman Kendall Lucas had another great race to round out the top seven scorers in 11th place overall.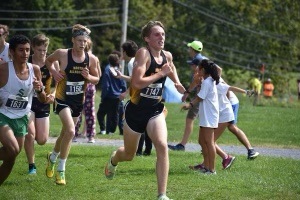 On the NA boys' side, the Tigers were perfect versus North Hills (15-50) and managed Seneca 19-42.  Leading the Tigers for the first time this season was sophomore stud, Michael Gauntner, winning the race outright with a great sub-17-minute performance. Junior Gregory Kossuth had a very nice race coming in third overall. A few seconds later came senior Scott Nalepa in fourth.  Junior standout Jackson Pajak was right behind Scott with a great finish in 5th. Seniors Danny Robles and Jackson Hickel had strong races in sixth and seventh place. Rounding out the top seven for the Tigers was a big race from junior Nicholas Betler.
The Tigers will take their undefeated records to Butler next Tuesday to face off against Butler and Shaler for the section finale.